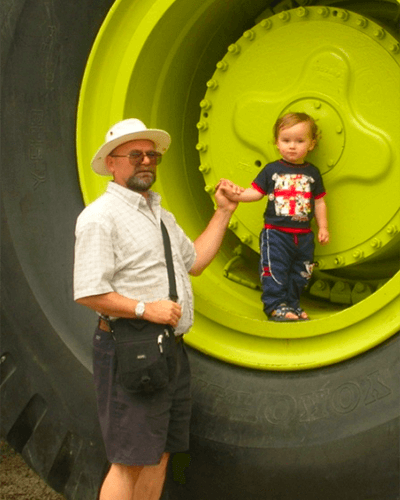 Philip L.
AGE: 66
PLACE: Southern Ontario
OCCUPATION: Retired
TFSA TOTAL: $70,000
STRATEGY: A unique strategy of Canadian dividend paying stocks transferred "in-kind" to and from his unregistered account annually
---
Philip's TFSA holdings
| Holding | Percentage |
| --- | --- |
| Bank of Nova Scotia | 19.70% |
| BCE Inc. | 28.30% |
| Corby Spirit and Wine - A | 31.90% |
| Inter Pipeline Ltd. | 12.60% |
| Plaza Retail REIT T/U | 7.50% |
| Total: $70,000 | 100% |
Philip is 66 years old and lives in southern Ontario. He used to be a computer programmer but has since retired and hopes to one day own a cottage in Ontario. "We moved here from B.C. a few years ago and wanted to live in a small city in Central Canada," says Philip. "We chose Peterborough and enjoy it here."
Philip hasn't always been a fan of TFSAs. "Well, to be frank, when they just started I didn't see much use for them," says Philip, who's changed his mind since then. "I maxed out me and my wife's RRSPs each year and added to my son's RESP so there was little left for TFSAs and there just didn't seem to be a great benefit."
After investing in a couple of stocks his first year—and losing 10% of his investment that year—Philip wasn't too impressed with their ability to generate wealth. "It was a Eureka moment for me," says Philip. "I had realized I had really lost money that I could never use as a deduction, and lost room in my TFSA I could never recover. It looked like a path to the poorhouse, and it made me feel angry and guilty for losing family money."
That's when Philip decided to set down some ground rules and develop his own unique TFSA investing strategy. First, Philip focuses on choosing companies he understands—Canadian stocks. He also knows that Canadian dividend stocks in a non-registered account can save on taxes, and he avoids having any U.S. investments in the TFSA. "About 90% of my TFSA is made up of Canadian stocks," he says. Right now, he's also holding some cash.
Here's Philip's investment strategy in a nutshell:
Never buy a risky stock in a TFSA account if there's a likelihood it may lose value. "I vied to hold those in my unsheltered account so the loss is tax deductible," says Philip.
Buy strong stable stocks that appreciate slowly and steadily over time, such as bank stocks, utility companies, REITs, and Telcos
Buy stocks that return dividends that also go up over time
If the stock does not have a DRIP (reinvestment option) take the dividends out as they accrue each month or quarter to use for whatever you want and keep track of the amount taken out since this adds room to the TFSA next year
Before the end of the year transfer "in kind" any stocks in the TFSA that went up and look hard at those that did not to see if selling is a good step or if holding on is better. Remember, they still generate dividends and most stocks like these do go up and down with the dividend cycle
In the new year, you can add all the dividend income back plus all the worth of the appreciated stocks transferred out and the next chunk of allowance ($5,000 or more)
Now you have expanded the room in the TFSA and doing this every year quickly increases the TFSA value so it is a worthwhile account that can also shelter a lot of income and capital gains
Philip never buys and sells stocks inside the TFSA since the commission just eats at the total value. Similarly, he doesn't own mutual funds or assets with high fees, or ones that he can't transfer in-kind or convert to stocks like ETFs can.
The hardest part of Philip's strategy? "Co-ordinating the year-end transfers and bookkeeping on the TFSA values. A lot of the self-directing brokerages now have added the "transfer in kind" feature from one account to another so there's not a long and tedious phone call to make to a broker."
With this strategy, Philip has improved the value of his TFSA account from the allowed $57,500 to about $70,000 at year-end.  "I believe, like compound interest, if you can accelerate the growth curve in an account early, it gives you the flexibility to hold or buy premium investments sooner."