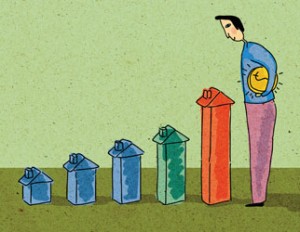 The latest phrase in use to predict the future of Canada's over-inflated housing market is: "A gradual, modest downward adjustment."
That's a far cry from the headlines that promised nothing short of a drastic housing price drop:
Be Very Afraid of the Canadian Housing Bubble (CBC.ca, April 16, 2012)
Merrill Lynch Warns of Canada Housing Bubble (Macleans.ca, Dec. 20, 2011)
Is Canada's Housing Rebound Forming a Bubble (realtytimes.com, Nov. 24, 2009)
Home Prices Could Dive If Rates Rise (Globe and Mail, Feb. 2, 2011)
Our Unstoppable Housing Market May Have Met It's Match (National Post, March 28, 2010)
Housing Prices Due to Fall, says think-tank (The Star, Aug. 31, 2010)
Canada Bank CEOs Warn On Housing, Not Europe (Reuters Canada, Jan. 10, 2012)
…and the list goes on.
The more sober call for a "gradual adjustment" comes from a recent TD Bank report. The report, released this week, suggests that the real rate of return for housing prices, post 2015, will be about 3.5%. This shift from the average 5.4% return we've seen year after year for the last decade is due, in part, to a number of macroeconomic fundamentals, such as a slow rise in average incomes, a close to stagnant national economic growth rate, Canada's aging population and immigration figures.
In short: we are returning to pre-1998 housing valuations, when nominal rates of return on real estate matched inflation at around 2%. (For those that keep track, there was a surge in home prices between 1982 and 1989, and again between 1972 and 1977).
The silver lining?
For the last few years economists, financial analysts, and bloggers have warned us about the forthcoming housing crash. Don't get me wrong, there's still a potential fall out when this nation of debtors finally comes face to face with the impact of rising rates, but the silver lining really is that housing prices in Canada are flattening out, and returning to stable levels.
While sellers may be disappointed, buyers won't be (nor should sellers, since most of us have to buy when we sell). This is particularly true for the next couple of years, as housing prices start to gradually drop in value.
As Kenneth Rosen, chairman of the Fisher Center for Real Estate and Urban Economics at the University of California-Berkeley, points out: "Prices are back to [increasing] 1% to 2% more than inflation over the next 10 years," right in line with long-term appreciation averages. According to data compiled by Yale University professor Robert Shiller, U.S. home prices increased, on average, by 0.5% per year from 1890 to 2008. A 3.5% real rate of return over the next 10 years doesn't look so bad.