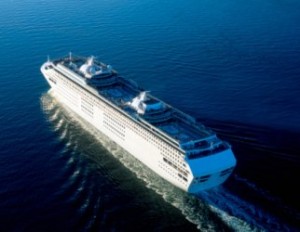 April is traditionally one of the cheapest months for cruises and cruise lines are more eager to please than ever after three separate vessels made international headlines in recent months.
Ships tend to relocate in early spring, with many moving from their winter homes in the Caribbean to more popular summertime destinations including Europe and Alaska, John Felice, vice-president of franchise operations for Expedia Cruise Ship Centers, explained in an email.
This makes for some unique limited-time only itineraries. On an April repositioning cruise you can travel from North America to Europe for instance or from Florida through the Panama Canal to Vancouver, and even on to Alaska if you want.
"These voyages are very popular because they are longer and often priced at exceptional value because the cruise lines want the ships to sail full," Felice said.
April is also sandwiched between the busy spring break and summer tourist seasons making it easier to score a deal.
A 3-night Bahamas cruise on board Royal Caribbean's Monarch of the Seas is currently listed at $197 plus taxes and fees at Expedia.ca. In May, that same trip costs $249. Other April bargains include a 7-night Mediterranean cruise for $379 (at Expedia) and comparable trip for $399 over at Travelocity.ca.
As we know, 2012 has proved a challenging year for cruise lines. Thirty-two people died when the Costa Concordia hit the rock off the Mediterranean island of Giglio on Jan. 13. Weeks later, a sister ship, the Costa Allegra, lost power and drifted for hours in pirate-infested waters on a voyage from Madagascar to the Seychelles. Most recently, Azamara Quest was disabled by an engine room fire en route to Malaysia. All 590 passengers and 411 crew members arrived at their destination safe and sound.
In a speech last month, Howard Frank, vice chairman of Carnival Corporation and chairman of the Cruise Lines International Association (CLIA), said, member cruise lines have taken additional steps to strengthen safety procedures beyond what is currently required by law.
"The cruise industry maintains an excellent safety record and every cruise operator recognizes that the safety and security of our guests and crew is our top priority…To that end, CLIA and its member lines are examining their safety practices and identifying areas for improvement," he said.
Onboard crime is rare and the fatality rate on cruise ships during the decade 2002 to 2011 was 0.13 per million people and 0.04 per million for passengers alone.
"This is no cause for complacency. Not a single fatality is acceptable to our industry. But it is a testament to our industry's commitment to continuous improvement," said CLIA's president and CEO, Christine Duffy.
The headlines came at time when cruise companies including Carnival and Royal Caribbean were adding capacity. Thirteen new ships were put on the water last year with 14 more coming in 2012, according to CLIA. The one-two punch of excess capacity combined with negative press has led to lower overall base fares.
In the weeks following the Concordia disaster, prices fell as much as 12%, according to the New York Times. Companies are also throwing in free extras, like $100 to spend onboard and spa vouchers.
"A strong Canadian dollar means cruises have never been better priced for Canadians," Felice said, adding that Europe appears to be the best deal this year thanks to a concentration of new vessels there.
"River cruising in Europe has also increased in popularity however since these ships only carry about 200 guests, they need to be booked much further ahead."
Dreaming of an Alaskan cruise? You might have better luck travelling between May and September when prices tend to dip.
Top 10 cruise tips (courtesy of Expedia):
When travelling with children, make sure to take advantage of the evening kid's programs so that you and your other guests can enjoy an adult evening (or two) out at one of the specialty restaurants.
Unless you live within driving distance of the pier, plan to stay at a nearby hotel the night before departure to minimize the stress and risk of missing the ship due to travel delays.  Be sure to choose a hotel that has free transfers to the pier as well.
When choosing your cabin, think about who you are travelling with and the amenities you will use the most. If travelling with children, pick a deck close to the kid's program area and the pool. If you plan to take advantage of the spa, look into the new spa cabins most lines now offer. On larger ships, make sure you look to be close to stairwells and elevators, as it can be a long walk to everything.
If you are travelling with more than three guests, think twice before you try to fit everyone into one cabin. You may be able to find a combination of two cabin categories that still fit within your budget and deliver a much better experience.
If you have small children and are not planning to carry your luggage onboard by yourself, make sure to pack a carry-on with sunscreen and bathing suits, as several hours can lapse between checking in and the arrival of your luggage in your cabin.
If you plan to dine in any of the alternative dining restaurants, book in advance if possible, or as soon as you get onboard – same goes for spa appointments and shore excursions. Consider the ship times in port when making reservations too. Sea days are the toughest to get reservations for anything, so book those first. Some cruise lines offer discounts on services on the days the ship is in port.
Remember to check cell phone charges with your carrier ahead of time. The roaming and data charges you might incur could be substantial and an unwelcome surprise on your return.
If you are pop drinker, purchase a beverage package, especially for teens and tweens. If you plan to drink more than a couple of pops per day, beverage packages are typically more economical. Make sure you confirm what is or is not included in the package.
There are normally no irons available on cruise ships, so one trick to use for wrinkly clothes is to hang them in the bathroom and run a very hot shower. The steam will remove the wrinkles. Bathrooms are normally small, so it doesn't take much time for them to steam up.
When trying to determine which Caribbean or Bahamas itinerary to choose, pick one that has a visit to a cruise line's private island (several lines own their own island). The private island stops are often cruisers' favorite parts of the trip.