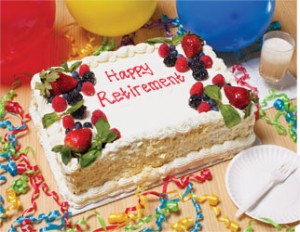 If you're an aging baby boomer thinking of life after work in the next few years, you might want to circle the day you turn 62 as a possible milestone. On Tuesday, the financial press trumpeted the imminent retirement of Sherry Cooper, the Bank of Montreal's chief economist, effective Jan. 30, 2013.
Meanwhile, later that day, prominent Mercer actuary Malcolm Hamilton bid adieu to colleagues, competitors and the press at a well-attended retirement party in downtown Toronto. Cooper is 62 while Hamilton turns 62 on Dec. 31, 2012, which is the last official day of his employment at Mercer.
While both use the term "retirement," naturally I view them as having achieved financial independence and from what I know, don't expect either public figure to suddenly do nothing at all in the sense of traditional retirement.
Semi-retirement more like it
As readers who listened to MoneySense's recent series of podcasts with Hamilton  already know, he had been in semi-retirement for the last year or two, gradually cutting back his hours while retaining those tasks that he enjoyed.  Based on the glowing tributes last night from colleagues and even competitors, this included writing of occasional insightful papers on Canada's pension and retirement industry, and translating complex concepts into colorful sound bytes for consumption by the general public via the mass media. (Hence the attendance last night of media members like CTV's Patricia Lovett-Reid, the Post's Jamie Golombek,  former Toronto Star reporter James Daw, as well as myself and others. Jim kindly supplied the photo above).
The Post's article on Cooper said that after 30 years with BMO, she plans to take the first full month off completely (in February), after which she'll be "open to different things, different opportunities." The Post also said she "plans to explore various possibilities that were not open to her as chief economist at a major bank."
That sounds to me more like semi-retirement than spending the rest of her days playing golf, reading books and watching TV. Like another former bank economist, Jeff Rubin, Cooper is an established book author and I'd be surprised if she didn't use her hard-won leisure to take another crack at a book. Her record as a market prognosticator also makes her a natural for the speech circuit.
Retirements new and real
Cooper has written a book entitled The New Retirement and one of Hamilton's rivals who showed up last night was Morneau Shepell's Fred Vettese, who has cowritten a book called The Real Retirement. Vettese is still in his late 50s and cutting back hours while taking on more of the industry voice role Hamilton has traditionally enjoyed with the press. Hamilton on the other hand has not yet authored a book, although I think there's certainly one in him.
From my chats last night with Malcolm, I had the impression there may also be a few more academic or government pension papers in him but I also perceived he really intends to savor his retirement or semi-retirement. Both his wife and two daughters were there last night and in his short speech, Malcolm mentioned the demands of the job and the sacrifices his family made so that he could make the impact he made in this industry.
There were even mentions of the fact Malcolm has always enjoyed watching a good television show (as I do myself, as I allude to in a recent blog spun out of the show Midsomer Murders). Then again, as I allude to in my own last book, I always think of the immortal words of retired computer consultant Art Benjamin when it comes to TV and the workplace: "Most jobs are marginally better than daytime television."
I suspect too that both Cooper and certainly Malcolm will continue to give generously of their time to the media, although sadly we will have to make do with less timely access to their wisdom.
I for one will miss the many interesting chats we had, which were always much more extensive than the nuggets that ended up in the newspaper or on blogs. And clearly, most of the industry felt the same way. While Malcolm himself seemed surprised by the turnout, he shouldn't have been: Fully 150 of the roughly 175 people who RSVP'd turned up last night, plus another 15 or more who "turned up unexpectedly," reports his assistant, Diana de Silva (who was also acknowledged for her contributions).
So there it is. Gradually, prominent Canadian baby boomers are leaving center stage, even if they intend to remain in the theater for a spell. As another semi-retired boomer friend of mine, Norman Evans, has aptly put it, "It's time for the boomers to get paid for what they know, not what they do."
That's my vision of Findependence: cutting back the hours, writing, occasionally public speaking, consulting and gradually passing the baton to the next generation. Note that personally I'm still very much employed full time but then again, I'm not yet 62.