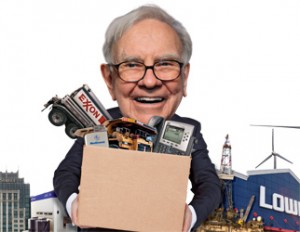 Warren Buffett is one of the best investors of our age and his extraordinary record spans many decades. Such is his renown as both an investor and businessman that even presidents seek his advice on economic matters.
But Buffett isn't shy about sharing the factors behind his investment success. While it's true he hasn't detailed his approach in a book of his own—many other authors have attempted to do so on his behalf—he has gotten close via his many letters to investors that accompany Berkshire Hathaway's annual report each year.
Buffett became CEO of Berkshire Hathaway when it was a struggling textile company in the mid-1960s. Since then it has become a colossal conglomerate with large insurance and stock holdings. After obtaining control, Buffett grew Berkshire Hathaway's book value by an average of 20% a year from 1965 to 2011. That's an astonishingly good record.
Buffett has always been a value investor and attributes much of his success to this strategy. What is value investing? It's the practice of buying businesses with high intrinsic values for low prices. Value investors are bargain hunters. They tend to avoid hot stocks and instead load up on dull, even hated names that are on sale. Later I'll share the names of 20 stocks Buffett might be interested in, but first let's take a closer look at the types of strategies he's become known for.
There are many flavours of value investing and its practitioners specialize in a variety of niches. After all, good values can be found in many nooks and crannies. For instance, some like to buy high-quality assets at moderate prices. Others specialize in weak and struggling firms at lower prices. A few are financial scrap dealers who trade the securities of distressed or bankrupt companies.
Those who follow Buffett know his value style has evolved over time. He started his career looking for lesser-known companies trading at bargain prices, but more recently has favoured larger, higher quality names at reasonable prices. The change was necessary because he now manages many billions of dollars at Berkshire Hathaway: buying small firms just doesn't make much difference to his overall results anymore.
Most will find Buffett's original style easier to master. In the early days he employed more common value investing methods, whereas he currently factors in the qualitative features of a business more heavily.
It also helps that Buffett's early career was highly influenced by his teacher and mentor of whom we know a great deal. Buffett finished his education at the Columbia Business School in New York because he wanted to take classes from Benjamin Graham. At the time Graham was already a famous investor in his own right. He was also an influential professor, and many of his students subsequently went on to become great investors themselves.