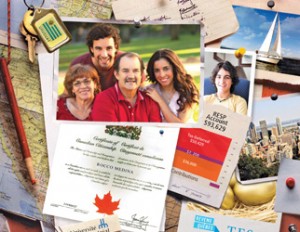 Last fall Rocco Medina had a financial epiphany. The 50-year-old software engineer was working at his new $80,000-a-year job in Montreal when he noticed some magazines lying on a desk. "I picked up MoneySense and read the Family Profile during my lunch break," says Rocco. "I was shocked. The couple in the article seemed to have a lot of savings compared to my own situation. I thought, 'Man, if these people are worried about their future, then my family and I are in trouble.'"
Rocco, his wife Catalina, and their three children—Peter, now 24, Salina, 18, and Paolo, 15—emigrated from Uruguay nine years ago with only $20,000 to their name. (We've changed names to protect privacy.) They decided to leave their native land after enduring two years of financial hardship. "In 2002, there was a huge economic crisis in Uruguay," says Catalina, 47, an accountant. "The currency lost over one-third of its value overnight and it was catastrophic for us. We lost all our savings."
Today the Medinas are slowly rebuilding their lives. They became Canadian citizens five years ago and bought a three-bedroom home in a middle-class suburb of Montreal. After struggling with several low-paying, dead-end jobs the family now has an annual household income of $145,000 and an annual surplus of about $36,000 after their taxes and monthly expenses have been looked after. That's the good news.

Unfortunately, they have virtually no savings and their assets are minuscule. They have a modest $250,000 home with a mortgage of $235,000 at 2.5%. Their RRSPs amount to just $5,000, and they need to pay back $11,000 they borrowed in 2009 through the RRSP Home Buyers' Plan. The family shares a Toyota Corolla worth $15,000 and still has $10,000 left on the car loan. All told, their net worth is just $25,000. "It's embarrassing," says Rocco.
The Medinas have three key goals. The first is to pay off their mortgage before Rocco is 65. The couple would also like to save enough money to give them an after-tax retirement income of $40,000. "I have a small $300 a month pension that will come from Uruguay when I'm 65, but nothing more than that," says Rocco.
Finally, they want to help Salina and Paolo pay for four years of post-secondary education. Peter graduated last year and the couple is thankful he has found a job he loves in video game design. "He's making $47,000 a year and is on his own now," says Rocco. "He loves his job and leads an active social life. We're so happy for him." The Medinas want to provide an eduction for their other two children to help them get good jobs, too.
While they have clear goals, the Medinas have no idea how to achieve them. "We came to Canada because we wanted to start fresh," says Rocco. "We knew it had a solid economy with a society that reflected our values. What we need now is a plan."
The Medinas were raised in middle-class families in Uruguay, and both attended university. They married in 1986. "From the start, I loved everything about Catalina," says Rocco. "She's smart, beautiful and very funny. Who could ask for more?"