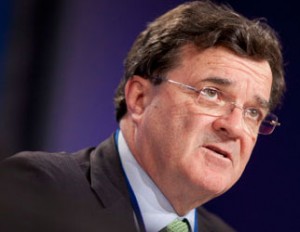 Finance Minister Jim Flaherty has announced plans to tighten borrowing rules in Canada. The CMHC will slash the current amortization period on mortgages from 30 to 25 years. Lines of credit will also be reined in. Borrowing against the value of a home will be limited to 80%, down from 85%. Ottawa has been hinting at the changes for months. Canadian average household debt ratios have now hit 152% of income—an all-time high—and there's fear many households won't be able to service their debts once interest rates begin to climb to more normal levels. Here's how the changes could affect you.
Canadians may not be putting enough time and energy into estate planning, according to CIBC. A recent poll by the bank found that 84%t of Canadians with a will say they have named a family member or friend as executor. That could be a risky move since most of us don't have experience dealing with wills.
The Royal Canadian Mint unveiled the first in a series of coins Monday in Halifax to mark the bicentennial of the War of 1812. Check it out.