Where does the money go? It's a question MoneySense hears from readers in all walks and stages of life. Even relatively high income earners are often puzzled to discover there's little or nothing left over for savings once they're finished paying the mortgage and utility bills and enjoying an occasional evening at a nice restaurant. The question is particularly pressing for couples in their 30s or 40s with children, who routinely find themselves in a mid-life financial crunch. And while it's fundamentally important, it's deceptively difficult to answer.
I would know. That's because I have an unusual habit: I've tracked virtually every cent I've earned and spent over the last dozen years. I'm not kidding. I've diligently recorded every cup of coffee, every subway token, every library fine. I've tracked every stinking mortgage and auto loan payment, broken down into principal and interest. I've even logged every transaction between my children and the tooth fairy. I've done this using personal accounting software that displays my financial life as a series of line charts and bar graphs.
Occasionally I meet someone who reacts to this confession by nodding and saying, "That's a smashing idea!" But more often people say it sounds about as appealing as wading into the mosh pit at a death metal concert. Still, even if you're not inclined to track your spending as obsessively as me, I can still help you answer that question about where the money goes. I've crunched data from Statistics Canada and presented it along with a few lessons I've learned from my years in the trenches. I've done it so you don't have to.
I'm 39, married with two children, aged six and two. My wife and I both work and earn a decent income. (I'm a journalist, mind you, not a hedge fund manager.) But all the expenses that come with the mid-life crunch have taken their toll. The foregone income from parental leaves in recent years also hurt. Circumstances have compelled us to shift our priorities to meeting short-term needs at the expense of bigger dreams. That savings account we opened to set aside money for overseas vacations is feeling woefully neglected.
MoneySense regularly hears from readers who are in similar situations, particularly those in their 30s and 40s with young families. People navigating this phase of life often bought a home recently, have two cars and commute to work. Dual-income families are also the most prolific users of child care—that veritable weapon of mass financial destruction. It shouldn't be surprising that they're feeling the crunch.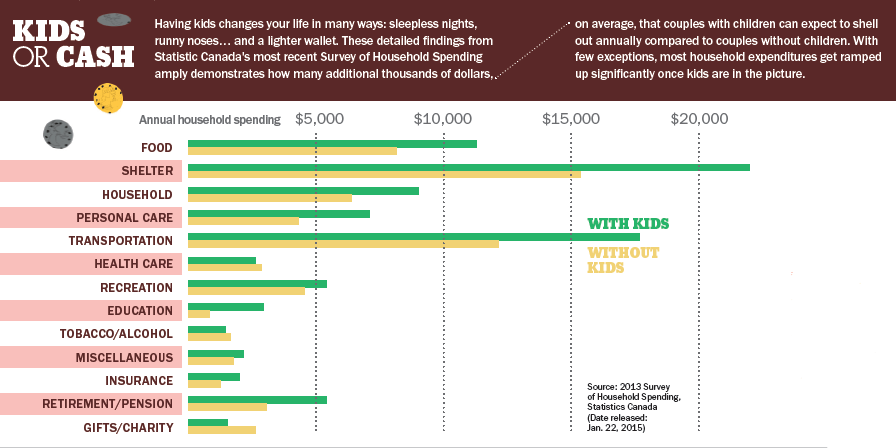 I don't want to overstate this plight. It's hardly the stuff of Dickens; I'm not aware of any shantytowns in this country teeming with formerly upper middle-class families driven into poverty by the birth of their latest child. But the typical household spending pattern resembles a mountain, and people in their 30s and 40s are near the summit. "Young families will often transition from a relatively carefree financial existence to 10 or 20 years of having no room to maneuver at all," says Malcolm Hamilton, a retired actuary and senior fellow at the C.D. Howe Institute. "If you have two children, the worst of it comes just after the birth of the second child."
Statistics Canada's latest data bear this out. The Survey of Household Spending, released in January, shows that in 2013 the average Canadian household spent just over $79,000. Of that, $59,000 went to goods and services. The rest went to income taxes, pension contributions, insurance premiums and cash gifts. That's just a national average, and there's considerable variation by household type, age and income level.