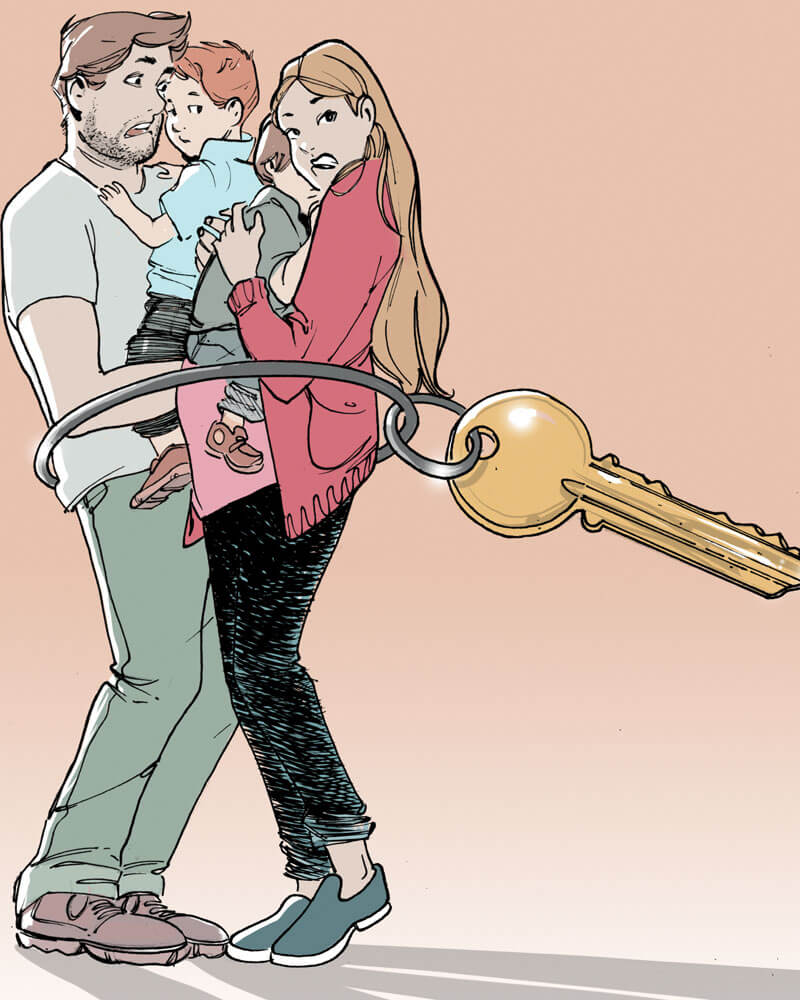 Julie and Noel Bond seemed well on their way to realizing the Canadian dream when they moved east of Vancouver to the small community of Mission in 2014 so they could afford a three-bedroom house for their growing family. They now have two pre-school children and are expecting a baby in March.
While Julie plans to stay home to look after the kids for a year after the baby's birth, the couple face a tricky financial dilemma over what to do after that. For Julie to return to her part-time $30,000-a-year teaching job would be pointless because her entire paycheque would be eaten up by child-care costs. But the $80,000 a year Noel earns as a railway worker isn't enough by itself to cover the mortgage and other expenses if Julie stays home to look after the kids. Whether Julie, who is 36, returns to her old job or stays home, they expect ongoing expenses to exceed take-home pay by about $1,000 a month. That leaves Julie looking for solutions and wondering, "What will my family do?"
Caught in the crunch
The Bonds are in the midst of what many Canadians find to be the most challenging interval on the entire road to retirement, a period sometimes referred to as the "crunch" years. You may experience its bite after buying a house and starting a family, when you shoulder the dual burden of a huge mortgage and expensive child care costs. While the crunch has been a fact of financial life for decades, it has bitten deeper in recent years as house prices have continued to escalate in major cities like Toronto and Vancouver. In what follows, we'll describe the crunch and what you need to do to get through it. We'll also show you what help government provides and compare it to benefits for seniors, while raising the challenging question of whether more should be done.
Driving the crunch these days is the fact that soaring house prices have changed the fortunes of older and younger Canadians in a very different fashion. They have enriched the net worth and eased the path to retirement for those old enough to have bought homes before much of the run-up, while burdening younger Canadians who are new to the housing market. "Housing has become a generational tipping point in Canada these days," says Paul Kershaw, executive chair of the Association for Generational Equity (AGE), an advocacy group for Canadians in their 20s, 30s and 40s. "The squeeze is so significant that it is transforming expectations with respect to home ownership, even for talented, successful, well-educated young people," says Kershaw.
It's not just advocates from a younger generation who think so. "I think they have a real point," says Malcolm Hamilton, a retired actuary and fellow with the C.D. Howe Institute, and one of Canada's foremost retirement experts. "In what kind of country can a couple (like the Bonds) with $110,000 in income not be able to afford to have a house and two children? And yet there are parts of Canada where that's a real challenge," he says. "We're very miserly in our support for poor struggling young people. Yet we treat seniors much, much better and have for decades."
When it comes to the crunch, we need to rethink what "high income" means. While couples with low or average incomes and children may be priced out of a house purchase altogether in the more expensive housing markets, even couples like the Bonds with incomes over $100,000 can struggle. "They're more or less viewed as privileged people who can afford mortgages and children," says Hamilton. But despite high gross incomes, what's often left over after paying the mortgage, debts, child-care costs, income taxes and other costs is liable to leave them in difficulty trying to make ends meet. "Even with incomes of between $100,000 and $150,000 in Toronto or Vancouver, you'd better think it through because housing is expensive, the payments are going to be large and daycare is expensive, too."
Avoiding a pitfall
When applying for a mortgage, it's surprisingly easy to take on more than you can afford if you also have kids soon after. That's because financial institutions generally base their test of income sufficiency on two ratios (known as the "gross debt service" ratio and the "total debt service" ratio) that don't take into account child-care costs. That means if you take the biggest mortgage the bank will give you and you don't have kids, your finances will probably feel tight but okay. But then if you have a couple of kids and start paying hefty daycare costs (or drop one of the incomes), that can easily put you over the edge of what you can afford. "They aren't a good limit for people who are going to have children," says Hamilton.
The result is a potential financial trap for the unwary. To show what can happen, we've created a budget for a fictional couple we'll call Amy and Tyler Spencer. We enlisted

the help of chartered professional accountant Ali Jaffer and staff at AR Jaffer Professional Corporation to calculate taxes and benefits for 2015. The Spencers live in Toronto and earn a little bit more than the real-life Bonds. They have combined salaries of $120,000 (one spouse earns $80,000 and the other earns $40,000). They have taken on as big a mortgage as their financial institution will allow in order to buy the best house they can for their kids. They have two preschool-aged children in private daycare and pay $26,000 a year in fees, a typical amount in Toronto these days. We put together a fairly bare-bones budget for them and found they ended up with a shortfall of more than $10,000 a year.