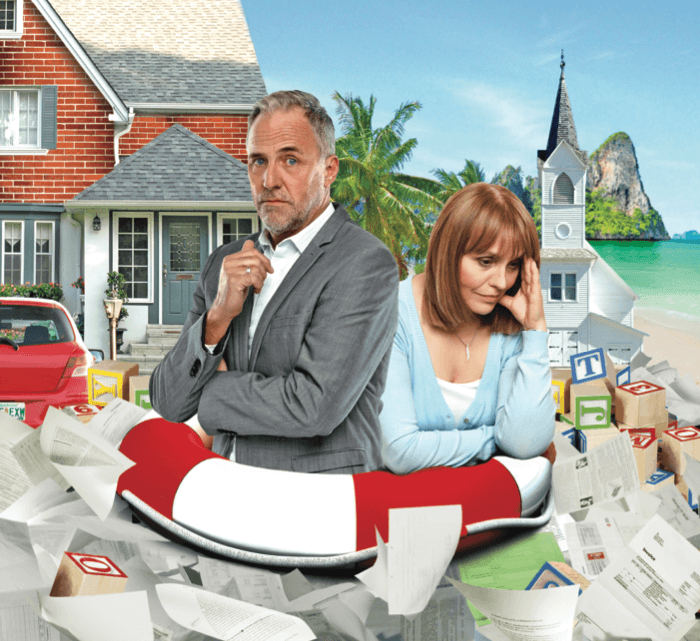 Jared and Keena Fraser are hard-working people who have fallen on hard times. Despite pulling in a combined income of $99,000—Jared works as a nurse, Keena runs a home daycare—the Saskatchewan couple's resources have been stretched to the limit due to health problems that put them deep into debt, and even have them contemplating selling their home. The distressing truth is the Frasers, parents to two boys, are entering their fifties with a net worth of only $75,580—and debts totalling a whopping $438,187. The notion of ever being able to enjoy their golden years seems like an impossible dream.

"We've had several setbacks in the last few years," says Keena, 48. "We built a custom home for ourselves in 2009 to house my growing daycare business and it cost more than we planned. Then I had to have surgery and all the money we had saved and more was needed to pay the bills while I was recuperating. We are worried that with so little in savings we won't have anything for retirement. Time is not on our side."
The Frasers (whose names we've changed to protect privacy) have spent hours pouring over their bank and credit card statements, trying to come up with a plan that will allow them to pay off their debt quickly and save enough for retirement. It hasn't been easy. In fact, the new home they enjoyed building five years ago now feels like a noose around their necks. "We got in way over our heads," admits Jared, 51. "More space meant more furniture and a landscaped yard for Keena's daycare business. We didn't realize all the extra expenses there would be."
It wasn't long before the Frasers started using their line of credit and credit cards to keep up with the unforeseen expenses. Still, neither Jared or Keena actually regret upsizing their home to grow the daycare­, because it enabled them to help their oldest son. Kevin, then in junior high school, was having behavioural problems and several times a month the school principal would call Keena at work to tell her they were sending him home. "My office jobs weren't flexible so I had to find a way to be with my son when he needed me and at the same time, earn an income," she says. "I felt the direction he was going in would land him in jail."
To her surprise, it was just months after starting her daycare business that she observed a big change in Kevin. "He started to enjoy school for the first time in a long time. I saw the difference in his attitude right away." Today, Kevin's 19 and attending the local university, with plans to eventually enroll in medical school. "He was our best investment," says Jared. "We're proud of him and happy to see his progress."
Just two years ago the Frasers thought they were on the right track and making real progress on paying down their debt. The bank had allowed them to re-mortgage their home and consolidate some of their accounts, reducing their annual payments. But then adversity struck again: Keena was told she needed stomach surgery and the recovery was longer than expected. "There were complications and I wasn't able to return to work as quickly as I'd planned," she says. "This meant less income for a while and the credit charges rose a little more."
Thankfully, Keena is healthy again and back running her home daycare, but she and Jared's financial problems are now more imposing then ever. Today, they have $32,535 in consumer debt, a $20,877 car loan and $384,775 left on the mortgage of their $440,000 home. While the couple would like to get started on a retirement savings plan, they're not even sure that's possible. Right now, the Frasers are paying $9,812 annually toward their consumer debt (including car payments), with the goal of eliminating it within five years. After all of their other expenses are taken care of (including mortgage payments), that leaves them with $5,221 a year in disposable income—an amount they're at loggerheads over what to do with.
For his part, Jared believes they should be solely focused on debt repayment. But Keena isn't so sure that's best in the long run. She'd like to use the $5,221 to start a savings and investing plan. She's taken some workshops in do-it-yourself investing and is interested in putting her new knowledge to work.