Call it the fixed-income quandary. Your investment-grade fixed income doesn't yield much anymore. And the capital gains you enjoyed when interest rates were falling have pretty much dried up. But you still need a sizeable load of them for the stability it provides your portfolio. Think of it as the ballast in the hold of your equity-powered racing schooner that will help keep it from capsizing during the next storm.
While there is no escaping this dilemma, you can still make the most of these frustrating but necessary investments by choosing them wisely. You can enhance yields modestly with little added risk by going more for investment-grade corporate bonds than government bonds, or by picking higher-yielding GICs offered by small institutions, and by keeping investment fees low. You should also go for a long-enough term to generate some yield without making yourself too vulnerable to potential rises in interest rates.
Remember that fixed-income holdings play defence for your portfolio. The core of these holdings needs to be in investment-grade corporate and government bonds (those rated BBB or higher by major credit rating agencies) or GICs covered by government deposit insurance (with credit risk equivalent to government bonds). You can probably enhance yield a little without too much risk by taking on a small amount of high-yield debt (below BBB), but my advice is keep these "non-core" investments to 10% or 20% of fixed income at most if you're moderately conservative and avoid the riskier end of the high-yield spectrum. Expect high-yield debt to fall in value more like equities when stock markets sell off.
Passive vs. Active
Your main choices for core fixed-income holdings are between active bond mutual funds, passive bond ETFs or GICs. With interest rates so low, it is important to be stingy about fees no matter which way you decide to go.
For do-it-yourselfers, low fees give passive ETFs an advantage over the average active investment-grade bond mutual fund. "It is hard for active managers to add value in fixed income, especially in the mutual fund space where you are sometimes adding 60 to 80 to 100 basis points or more in fees," says Jeffrey Bunce, Manager Research Analyst at Morningstar Research, Inc. Active managers can add some value by adroit buying or selling of mispriced bonds, but it's tough to make enough of an impact to offset a big fee disadvantage. Do-it-yourselfers can improve their odds with an active approach by going with proven top-notch mutual funds with relatively low fees.
As the accompanying table above shows the broad-based Canadian bond mutual funds with the highest Morningstar analyst ratings have achieved 10-year annualized returns that were pretty similar to 10-year returns achieved by the iShares Canadian Universe Bond Index ETF.
Active managers may also have a better chance to add value during challenging times like a credit crisis or if interest rates start to take off, says Bunce. If you invest through an advisor, total fees for bonds vary widely whether you go active or passive–and passive isn't always cheaper.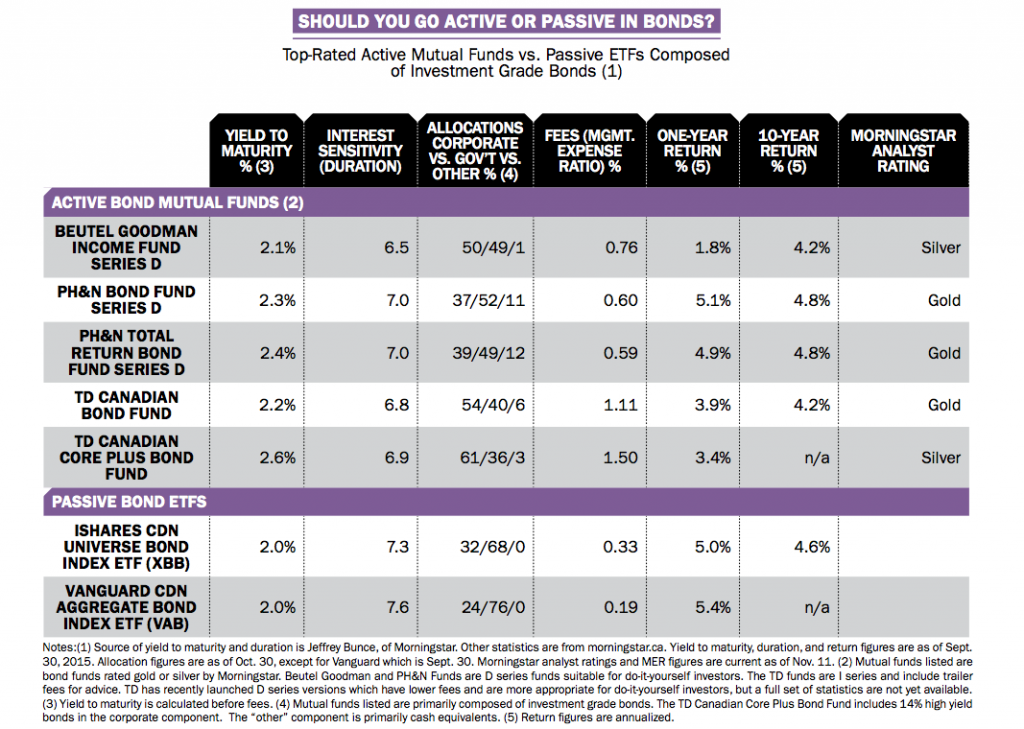 Underappreciated GICs
One good option that is often overlooked for fixed income is GICs. These days the best five-year GIC rates are much better than yields for government bonds of comparable term and similar to what you might get for A-rated corporate bonds held in an ETF.