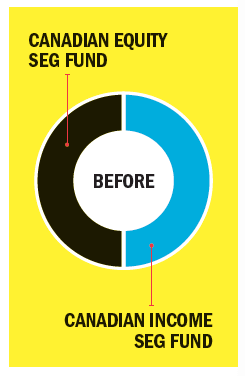 Acting on a friend's advice, Sarah Tarraf, 32, recently switched the holdings of her $43,000 RRSP to an all-Canadian portfolio of equity and fixed-income segregated funds. So-called "seg funds" are an insurance product that guarantees a portion of your investment against loss—in this case, Tarraf can't lose more than 25% of her principal. The trade-off is an exorbitant management expense ratio (MER) of 3.5%, as well as steep fees for accessing capital early—something Sarah didn't appreciate until later. If she wants out, she can wait until 2020 to sell with no penalty. Or, she can take out 10% a year from each fund at no cost.
Certified financial planner Vickie Campbell of Ryan Lamontagne Inc. in Ottawa doesn't like that Sarah's portfolio is now 100% invested in Canadian funds, and she says the 3.5% MER is too high a price to pay for peace of mind. "It's not the right choice for someone this young," says Campbell. "She has the time horizon to weather the market's ups and downs, and can get better long-term returns at a much lower cost."
Campbell wants Sarah to unravel her seg funds and put the proceeds in a self-directed RRSP that holds a low-fee balanced mutual fund with a well-diversified mix of stocks and bonds—her recommendation is the Mawer Balanced Fund, which has a 0.96% MER. Sarah has two options for unravelling her seg funds. The first is to withdraw the allowable 10% a year from each fund. That may avoid any seg fund penalties, says Campbell, but Sarah's best option is to sell her seg funds immediately. Even though she'll have to pay a $2,500 penalty, the annual fees on the seg fund are so high, she'll still come out ahead by moving her money to Mawer.
Based on historical annual average returns of 4% for the seg funds and 8% for the Mawer Balanced Fund, Sarah's $43,000 alone will grow to $64,000 with Mawer by 2020 but only to $54,000 with the seg funds—a $10,000 difference. Combined with ongoing monthly purchases of the Mawer units in her self-directed RRSP, Campbell says that Sarah's portfolio will be well-positioned for good long-term returns. "It's a simple solution."