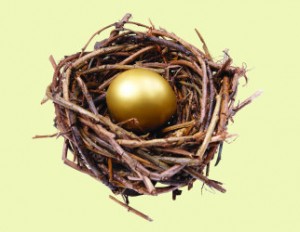 From February 16 to 19, 2010, MoneySense.ca's top financial planners are answering your RRSP questions. For the full list of questions answered — or to submit a question of your own — click here.
I am currently making $75,000 per annum. I will be leaving on maternity leave (I work in Ontario) in May. I have a lot of room left in my RRSP contributions, and currently have about $9,000 in RRSPs. I have approx. $30,000 in cash sitting in an high interest bank account.
My plan was to take the $30k and put it in RRSPs this tax year, netting a substantial tax savings, and withdraw it next year while I'm on maternity leave at a lower income. I will be earning $75,000 from Jan-May and collecting the max. EI from May-Dec. Will this result in a tax savings? — Thanks
Barbara Garbens: If you are leaving on Maternity Leave in May (say May 1), your salaried earnings for the year will be $25,000 (4/12 of $75K) and your EI income will be $15,995 ($457 x 35 pay periods) for total earnings of $40,995.  Total tax on this level of income is about $6,000 (I didn't assume any other credits other than the personal amount).  With an RRSP contribution of $30,000, you will get this back but you will not need to use all of the contribution as a deduction in order to bring your tax to $0.  You will need to play with the contribution amount, something your tax preparer could do.
In 2011 if you are back to work in May, your salaried earnings will be $50,000 (8/12 x $75,000) and EI will be $7769 ($457 x 17) for total income of $57,769.  An additional $30,000 of RRSP income will give you total income of $87,769 and taxes payable on this are $21,000.  Without the RRSP withdrawal, taxes payable are $11,184.  The difference is about $10,000.  Therefore, it does not make sense to withdraw the RRSP money in 2011 since you will save only $6K in taxes but pay $10K on its withdrawal.  You could of course leave the money in the RRSP for future growth.
Next question: Should we withdraw to pay down our mortgage?
Want to offer your own advice? Let us know in the comments.