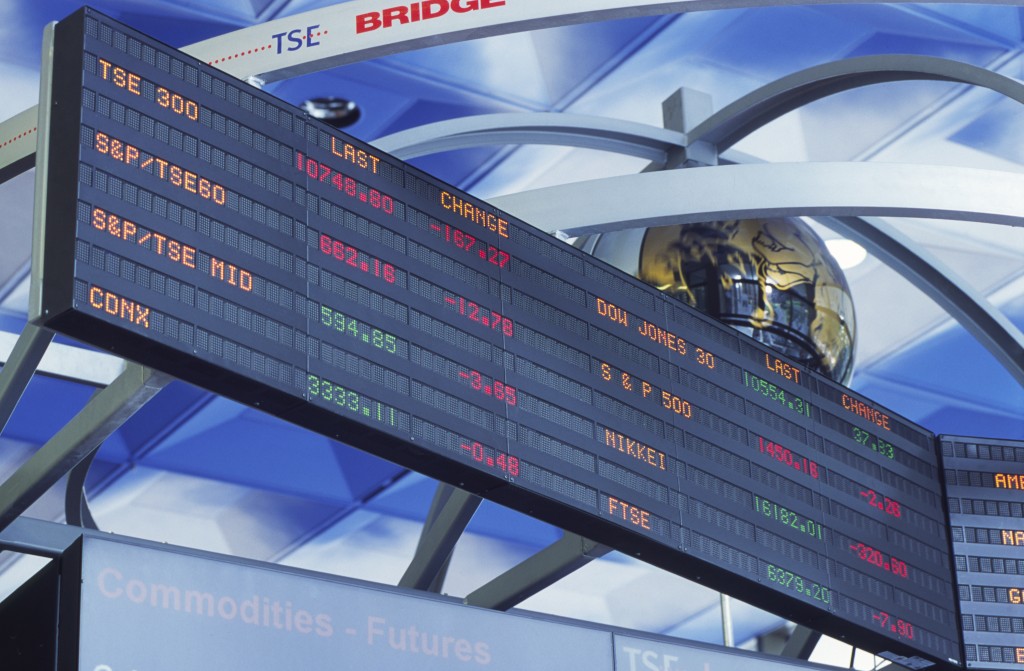 Investors can win with dividend stocks and they do even better with value. But triple plays are possible when the two are combined and momentum is added into the mix.
My search for triple play stocks started this week with Canadian dividend payers. Not only do dividend stocks provide income, but they also tend to outperform over the long term.'
While dividends are nice, I'm always on the lookout for a good deal. That's why I opted for stocks with a combination of low price-to-earnings (P/E) and low price-to-book-value (P/B) ratios.
Last, but not least, in an effort to avoid leveraged oil firms plumbing new lows, I stuck to stocks trading near their 52-week highs.
The five firms that pass my triple play test are presented below, in order of decreasing market capitalization (or size).
Toronto-based Fairfax (FFH) leads the list with a market capitalization of $13.6 billion.  The insurance conglomerate also happens to be the most expensive of the bunch with a P/B of 1.25 and a P/E of 13.9.  The firm recently paid a $10US per share annual dividend and yields 2.0%. (It's also a personal holding.)
Dorel (DII.B) is the next largest company with a market capitalization of $1.3 billion. The conglomerate based in Westmount, Que. makes bicycles, home furniture, and products for kids ranging from strollers to car seats. Its stock trades at 71% of book value and 13.1 times earnings. Dividend investors will appreciate its 3.3% yield.
Uni-Select (UNS) is based in Boucherville, Que. and has a market capitalization of only $650 million. The auto-parts distributor is a good value because it trades at 1.1 times book value and 11.0 times earnings. It also pays a 2.0% dividend yield.
Vecima Networks (VCM) is a small stock with a market capitalization of $213 million. The network company based in Victoria, B.C. focuses on products that bridge the "last mile" between customers and telecoms. It pays a 1.9% dividend yield. The stock trades at 8.3 times earnings and 1.5 times book value.
Supremex (SXP) is based LaSalle, Que. and has a tiny a market capitalization of $91 million, which makes it too small for most investors. The company produces envelopes, labels, and other "leading edge" products.  Watch out for those paper cuts.) Its stock trades at 1.4 times books value and 8.4 times earnings. While the firm provides a juicy 6.3% dividend yield, if it hits hard times, the dividend will likely be cut.
While these triple play stocks might not hit a home run, they're worth a second look.
Safer Canadian Dogs
Investors following the Dogs of the Dow strategy want to buy the 10 highest yielding stocks in the Dow Jones Industrial Average (DJIA), hold them for a year, and then move into the new list of top yielders.
The Dogs of the TSX works the same way but swaps the DJIA for the S&P/TSX 60, which contains 60 of the largest stocks in Canada.
My safer variant of the Dogs of the TSX tracks the 10 stocks in the index with the highest dividend yields provided they also pass a series of safety tests, such as earning more than they pay in dividends. The idea is to weed out companies that might cut their dividends in the near term. Just be warned, it's a task that's easier said than done.
Here's the updated Safer Dogs of the TSX, representing the top yielders as of Jan. 16. The list is a good starting point for those who want to put some money to work this week. Just keep in mind, the idea is to hold the stocks for at least a year after purchase–barring some calamity.
| Name | Price | P/B | P/E | Earnings Yield | Dividend Yield |
| --- | --- | --- | --- | --- | --- |
| CIBC (CM) | $90.58 | 2.04 | 11.52 | 8.68% | 4.55% |
| National Bank (NA) | $44.66 | 1.73 | 10.24 | 9.76% | 4.48% |
| BCE (BCE) | $56.91 | 4.42 | 19.1 | 5.24% | 4.34% |
| Cenovus Energy (CVE) | $24.64 | 1.74 | 16.1 | 6.21% | 4.32% |
| Bank of Nova Scotia (BNS) | $61.62 | 1.67 | 10.83 | 9.23% | 4.28% |
| Bank of Montreal (BMO) | $75.68 | 1.57 | 11.75 | 8.51% | 4.23% |
| Potash Corp (POT) | $42.01 | 3.55 | 24.02 | 4.16% | 3.99% |
| Shaw (SJR.B) | $29.75 | 3.01 | 16.62 | 6.02% | 3.98% |
| Royal Bank of Canada (RY) | $75.51 | 2.24 | 12.54 | 7.97% | 3.97% |
| Power Corp of Canada (POW) | $29.52 | 1.25 | 11.27 | 8.88% | 3.93% |
Notes
Source: Bloomberg, Jan. 16, 2015
Price: Closing price per share
P/B: Price to Book Value Ratio
P/E: Price to Earnings Ratio
Earnings Yield: Earnings divided by Price, expressed as a percentage
Dividend Yield: Expected-Annual-Dividend divided by Price, expressed as a percentage
As always, do your due diligence before buying any stock, including those featured here. Make sure its situation hasn't changed in some important way, read the latest press releases and regulatory filings and take special care with stocks that trade infrequently.  Remember, stocks can be risky.  So, be careful out there. (Norm may own shares of some, or all, of the stocks mentioned here.)
New & Noteworthy
Pat Dorsey talks about moats and valuation to the nice people at Google.
Just For Fun
Richest 1% will own more than all the rest by 2016