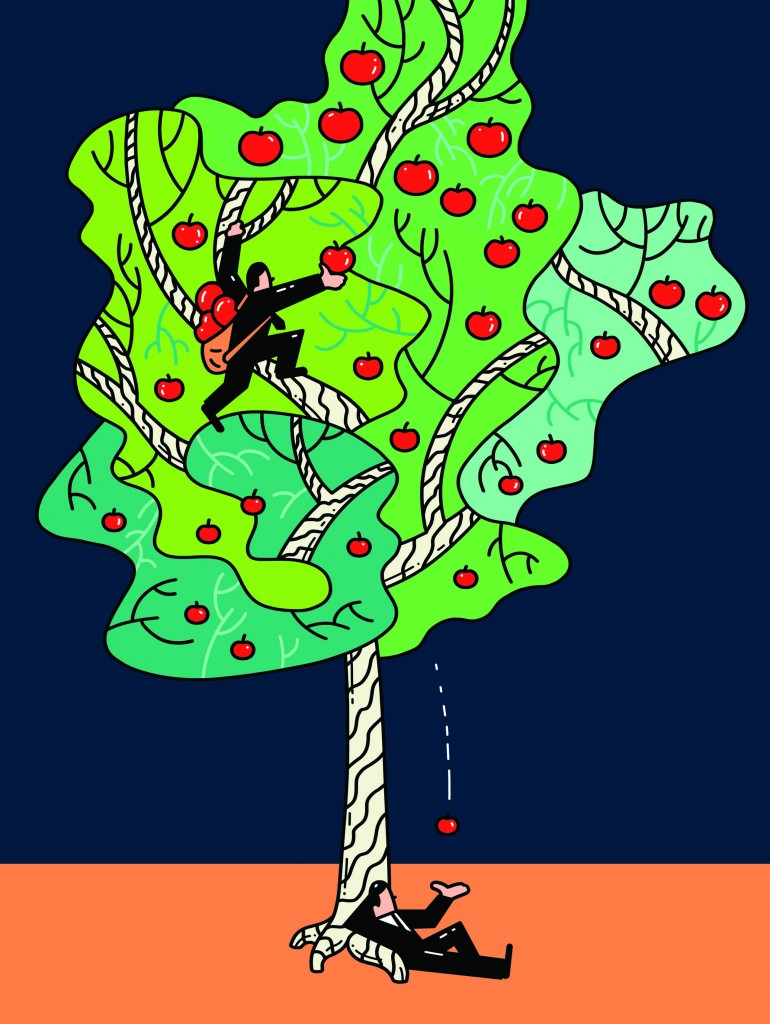 If you've been investing for a while, you've seen the stock market do some pretty crazy things. Who can forget the tech boom of the 1990s? Or the devastating market meltdown of 2008-2009?
I respect Mr. Market—the manic-depressive character legendary investor Benjamin Graham used to describe the ever-changing whims of the stock market—but I prefer not to be obligated to always buy what Mr. Market is buying and always sell what Mr. Market is selling. I don't necessarily want to have most of my Canadian stocks in banks and resource companies just because that's what the index says I should do. Instead, I would rather try to invest for the long term in companies that provide quality and value at a reasonable price while being diversified by sector. I want to follow my own risk profile in picking investments, rather than implicitly take on the average risk profile of the overall market at that particular moment. That's why I invest most of my money through skilled advisors and money managers who share this outlook and charge what I regard as reasonable fees.
All that makes me an active investor, and by extension, a heretic here at MoneySense. You may be aware there is a great debate these days between the advocates of active investing, who choose investments they believe will outperform the markets' benchmark indexes, and passive investors, who buy index funds and ETFs meant to match the benchmarks' returns. While active investing is what investors have traditionally done and most still do, passive investing or index investing is gaining adherents and has had the upper hand in articles in academia and the media, including at this magazine. To be sure, advocates of passive investing make a sound case that most active investors underperform the market after fees and therefore most people can do better by investing passively in index ETFs with low fees. So passive investing is a great way to invest, but that doesn't mean it is always the best way to invest for everyone.
I believe there is a case to be made for active investing for many investors, provided it is done the right way. To make active investing work effectively, you need to be able to do three key things. First, you need to be highly selective in the investments you choose, focusing on ones with a proven long-term approach. Secondly, you need to set an appropriate asset allocation and follow a disciplined investment process, which includes rebalancing. Thirdly, you need to make sure the investment fees you pay are reasonable.

In what follows, I will take you through each of those three key tasks. I focus primarily on active investors who use mutual funds to invest in stocks, rather than those who want to select their own individual securities, since that involves different and more complicated issues. (See "So you want to pick your own stocks" for more on how to build a portfolio stock by stock.)
A tough crowd to beat
There is lots of evidence that, on average, mutual funds and other active investment vehicles underperform the market after fees. The proportion of U.S. mutual funds that have underperformed the market over 10 years is roughly 70%, according to research by Lipper Associates. More recent Morningstar research by Christopher Davis and Michael Keaveney found that 86% of funds in the broad Canadian Equity category underperformed their benchmarks over the previous decade. As respected investing authority and Winning the Loser's Game author Charles Ellis has written: "The cruel irony is that so many active managers are so skillful, hardworking, and capable that they collectively dominate the market and thus few, if any, can beat the crowd." Put another way, active managers pretty much are the market, so it is impossible for them as a group to outperform themselves, particularly after deducting fees.
Given all that evidence, most people would logically conclude that they should instead invest in broad-based index exchange-traded funds (ETFs) with really low fees, and take what the market hands you at a lower cost. But passive investing has its shortcomings, particularly in its classic form based on using market capitalization to weight the stocks that go into an ETF. That approach loads you up on sectors and stocks that are hot, like Nortel and Blackberry during their heydays, or resource stocks during the commodity boom. Then you're forced to unload them when they grow cold. A purely passive approach means your Canadian investments should be heavily allocated to resources and financials because that is what's in the index, whether those sector weightings fit your needs or not.
If the markets were completely efficient, meaning that all stocks are always priced at what they are actually worth, then indexing would probably be the way to go. But the bulk of evidence now shows that's not the case. "The financial literature no longer stands firmly in the efficient markets camp," says Eric Kirzner, professor of finance at the Rotman School of Management, University of Toronto. "Markets are at times efficient, at other times not efficient. Markets for some stocks are and markets for some stocks aren't. You do go through periods where it may be possible to find undervalued securities because of the extreme emotions that investors bring to the marketplace."