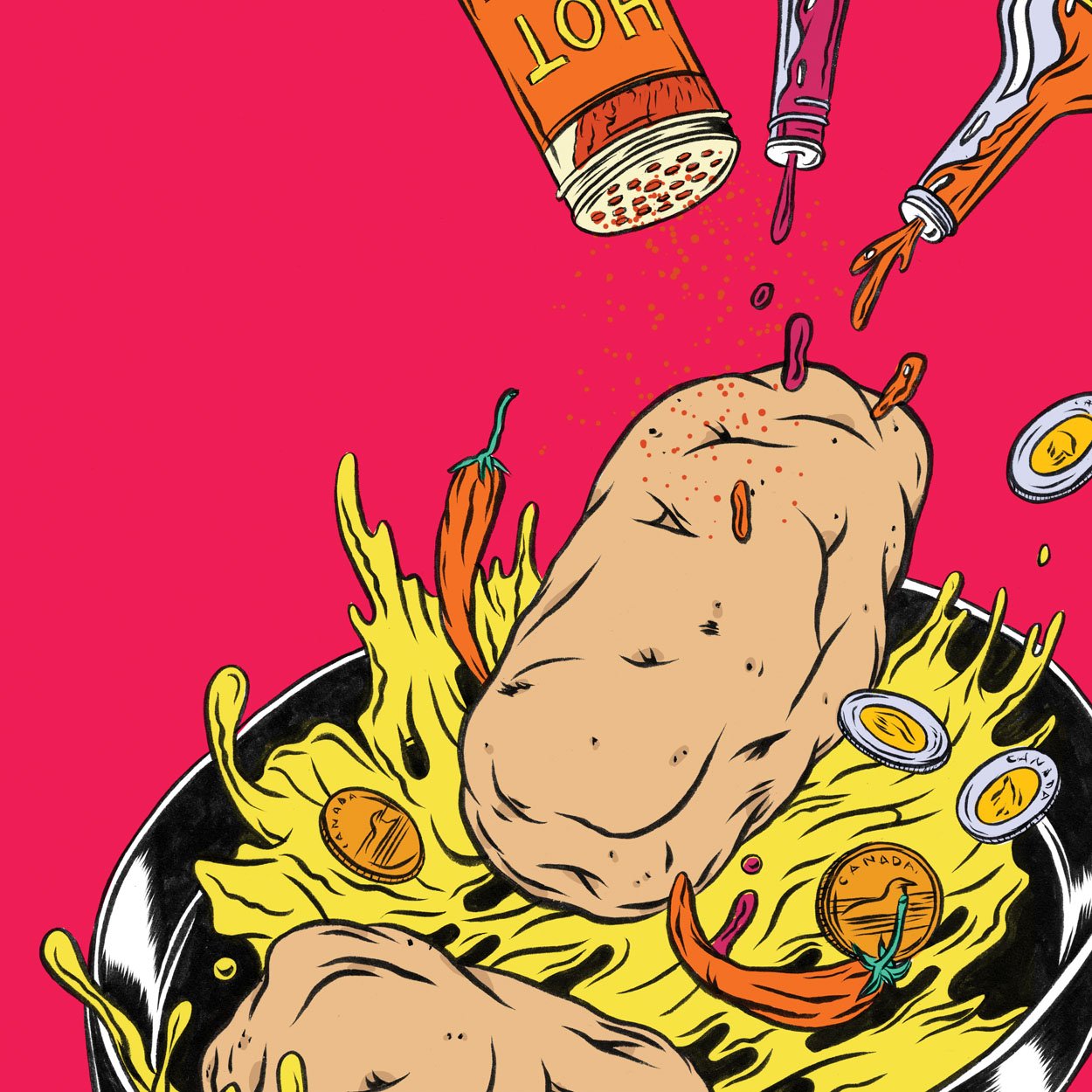 Some people add chili peppers to almost everything. They gobble down jalapeños and savour habaneros. But even the bravest chili heads balk when it comes to noshing on the hottest peppers in the world. The current king of heat? The Carolina Reaper. You can find videos online of people trying the reaper. They're not pretty.
When it comes to investing, many prefer plain portfolios while others like to spice things up. To the more daring, I offer a fiery take on MoneySense's conservative Couch Potato portfolio. Call it the Hot Potato.
Before we start slathering on the sriracha sauce, it's worth remembering what the classic Couch Potato is all about. It dishes out a variety of low-fee diversified portfolios of broad-market index funds (and exchange-traded funds) that can be held for a long time—usually 10 years or more. The only trading they require comes from deposits, withdrawals and the occasional rebalancing, which helps maintain the portfolio's desired asset mix.
The basic Couch Potato method represents a low-cost conventional approach to money management that is suitable for a large number of investors. If you're the passive buy-and-hold type then the Couch Potato might be just the thing for you.
But if you're more adventuresome and want a more active and somewhat unconventional approach, then the unabashedly momentum-based Hot Potato is worth exploring. Like the classic Couch Potato, it comes in several varieties and uses the same low-fee index funds (and exchange-traded funds) as building blocks. But the Hot Potato diverges significantly from the classic version because it employs shorter holding periods and focuses on a single asset class at a time. It adds a lot more zip to money management.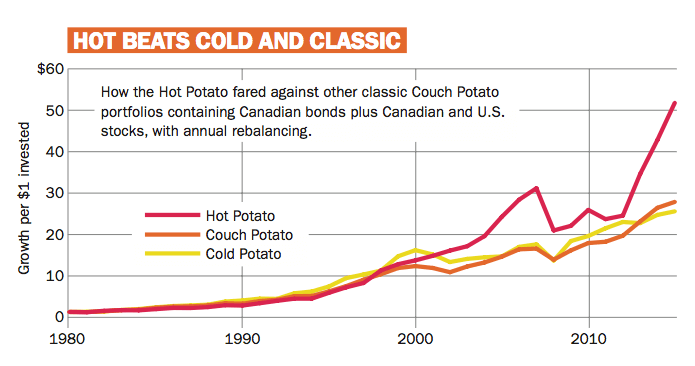 Sizzling tubers: Heat outperforms over time
The basic Hot Potato method is inspired by money manager James Montier's 2003 article "Cheap Countries Outperform," which can be found in his book Behavioural Investing. Montier noted that the stock markets of countries that fared the best over the prior 12 months continued to outperform. It is a classic case of momentum in markets and we wanted to test whether a similar approach would work for Canadians.
To find out, we start with the original Couch Potato portfolio as a baseline. The original portfolio contains equal dollar amounts of Canadian bonds, Canadian stocks, and U.S. stocks. This no-fuss approach fared well from 1981 through 2015 with average annual returns of 10.0%. That assumes annual rebalancing back to an equal dollar amount of each index. (We used the FTSE TMX Canada Bond Universe index, the S&P/TSX Composite index and the S&P 500 for the performance calculations. All figures include the reinvestment of dividends and interest income, but not fees and taxes, which vary depending on personal circumstances.)