Canadian All-Stars
Coming off a negative year for Canadian equities, few stocks were able to pass all of our tests last year. But this year is a different story. We identify 14 All-Star Stocks, three more than last year.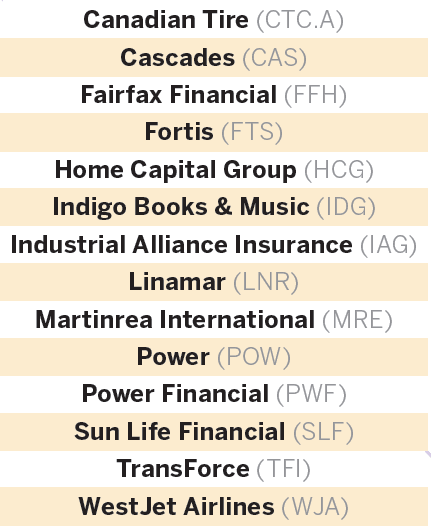 Only one stock made it to the very top of the Canadian class this year by earning both an A for value and an A for growth. The coveted double-A prize went to Toronto-based Fairfax Financial. The insurance-based conglomerate is run by value investor Prem Watsa in a style similar to his hero Warren Buffett's Berkshire Hathaway. As it happens, Berkshire is on the U.S. All-Star list this year and I own shares of both firms.
The other 13 members of the All-Star team earned at least one A and one B on our value and growth tests. The team is larger than usual this year and we hope that's a sign that the Canadian market isn't over extended.
Five of this year's All-Stars, including Fairfax, were also on the All-Star team last year. Two of the returning team members are Power Corp of Canada and its subsidiary Power Financial. Both firms are based in Montreal and have interests in insurance, money-management and a slew of other businesses. They also happen to pay generous dividend yields of 4.7% and 5.0%, respectively, and I own shares of both. Fortis was the next company to make the team again. It's an electric and gas utility based in St. John's, Nfld. that recently made a splash by buying U.S.-based ITC Holdings. The last returning team member is auto parts firm Linamar, which makes its home in Guelph, Ont. The company's sales and earnings have been zooming ahead at a ferocious clip over the last three years.
The new members of the All-Star team include two well-known Toronto-based retailers. They are Indigo Books & Music and Canadian Tire. The former has, against the expectations of many, survived the digital revolution and chalked up an impressive 53% total return over the last year. The latter is a staple for handymen across the nation and its stock has rebounded nicely from its lows in 2009.
Two life and health insurance companies also made the grade. The first is Sun Life Financial, which makes its home in Toronto. The second is Industrial Alliance Insurance, which is based in Quebec City.