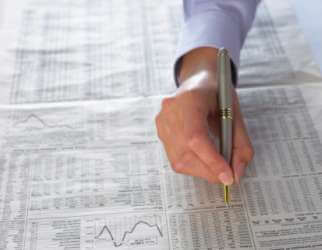 Dividend investors tend to be a conservative bunch.  But sometimes it's worth looking for stocks with pep. That's why this week I scoured the TSX for Canadian dividend stocks with momentum.
The search took me far from the comforts of the large stocks of the S&P/TSX 60 (discussed in the next section) and well into small stock territory.  However, I stayed away from tiny stocks with market capitalizations (the number of shares a company has times its price per share) of less than $100 million.
On the dividend side of the equation, I looked for stocks with yields of 3% or more. But, for safety sake, prospective candidates had to earn more over the last year than they pay out in dividends.
Peppy stocks score well on two momentum factors.  They trade near their 52-week highs and sport big returns over the last year.  The theory being that such stocks will continue to outperform over the next year.  (Just be aware that theory and practice sometimes diverge in the stock market.)
After cranking up the old Bloomberg machine and feeding in the criteria, an interesting list of stocks tumbled out.  Here's a brief look at some of them starting with the largest, by market capitalization, and proceeding to the smallest.
Russel Metals (RUS) is the biggest of the bunch with a market capitalization near $2.2 billion.  The Mississauga, Ont.-based metal processor and distributor pays a 4.2% dividend yield and its shareholders have enjoyed 45% returns over the last year.  On the downside, its price-to-earnings ratio is rather high at 22.
Western Forest Products (WEF) is the second largest candidate with a market capitalization of almost $1 billion.  It's an integrated softwood forest products company based in Vancouver that pays a dividend yield of 3.3%.  Despite seeing its shares gain almost 80% over the last year, the firm still trades at only 9 times earnings.
Contrans Group (CSS) took third spot with a market capitalization of about $520 million.  The trucking company is headquartered in Woodstock, Ont. and pays a 3.9% dividend yield.  Its stock returned 51% over the last year and the gains pushed up its price-to-earnings ratio to 16, which is a little higher than I'd like.