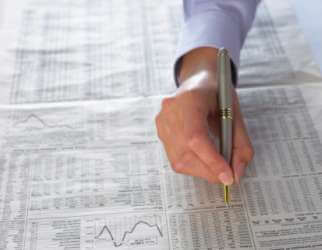 Dividend investors tend to be a conservative bunch.  But sometimes it's worth looking for stocks with pep. That's why this week I scoured the TSX for Canadian dividend stocks with momentum.
The search took me far from the comforts of the large stocks of the S&P/TSX 60 (discussed in the next section) and well into small stock territory.  However, I stayed away from tiny stocks with market capitalizations (the number of shares a company has times its price per share) of less than $100 million.
On the dividend side of the equation, I looked for stocks with yields of 3% or more. But, for safety sake, prospective candidates had to earn more over the last year than they pay out in dividends.
Peppy stocks score well on two momentum factors.  They trade near their 52-week highs and sport big returns over the last year.  The theory being that such stocks will continue to outperform over the next year.  (Just be aware that theory and practice sometimes diverge in the stock market.)
After cranking up the old Bloomberg machine and feeding in the criteria, an interesting list of stocks tumbled out.  Here's a brief look at some of them starting with the largest, by market capitalization, and proceeding to the smallest.
Russel Metals (RUS) is the biggest of the bunch with a market capitalization near $2.2 billion.  The Mississauga, Ont.-based metal processor and distributor pays a 4.2% dividend yield and its shareholders have enjoyed 45% returns over the last year.  On the downside, its price-to-earnings ratio is rather high at 22.
Western Forest Products (WEF) is the second largest candidate with a market capitalization of almost $1 billion.  It's an integrated softwood forest products company based in Vancouver that pays a dividend yield of 3.3%.  Despite seeing its shares gain almost 80% over the last year, the firm still trades at only 9 times earnings.
Contrans Group (CSS) took third spot with a market capitalization of about $520 million.  The trucking company is headquartered in Woodstock, Ont. and pays a 3.9% dividend yield.  Its stock returned 51% over the last year and the gains pushed up its price-to-earnings ratio to 16, which is a little higher than I'd like.
The final three companies are all quite small.
High Arctic Energy Services (HWO) is based in Red Deer, Alta. and provides contract drilling and other oilfield services.  It pays a dividend yield of 3.4% and its shareholders are partying because its stock jumped a whopping 110% over the last year.  Despite the gains, thrifty investors will take note that it currently trades at only 9 times earnings.
Trimac Transportation (TMA) is the second trucking company in the group and calls Calgary its home.  The stock yields 3.9% and sports gains of 47% over the last year.  Trimac trades at a moderate 13 times earnings.
The smallest stock of the bunch is Strad Energy Services (SDY), which hails from Calgary.  It pays a hefty yield of 5.6%, trades at 13 times earnings, and is very close to its 52-week high.
Just remember that this sort of screen represents the first step in a good investment process.  It is important to do a good deal more due diligence before investing.  Nonetheless, such screens often lead to very interesting stocks that tend to be overlooked by most dividend investors.
Safer Canadian Dogs
Investors following the Dogs of the Dow strategy want to buy the 10 highest yielding stocks in the Dow Jones Industrial Average (DJIA), hold them for a year, and then move into the new list of top yielders.
The Dogs of the TSX works the same way but swaps the DJIA for the S&P/TSX 60, which contains 60 of the largest stocks in Canada.
My safer variant of the Dogs of the TSX tracks the 10 stocks in the index with the highest dividend yields provided they also pass a series of safety tests, such as earning more than they pay in dividends. The idea is to weed out companies that might cut their dividends in the near term. Just be warned, it's a task that's easier said than done.
Here's the updated Safer Dogs of the TSX, representing the top yielders as of Aug. 29. The list is a good starting point for those who want to put some money to work this week.  Just keep in mind, the idea is to hold the stocks for at least a year after purchase—barring some calamity.

| Name | Price | P/B | P/E | Earnings Yield | Dividend Yield |
| --- | --- | --- | --- | --- | --- |
| Canadian Oil Sands (COS) | $23.42 | 2.37 | 14.46 | 6.92% | 5.98% |
| BCE (BCE) | $48.95 | 3.4 | 18.47 | 5.41% | 5.05% |
| Rogers (RCI.B) | $44.32 | 4.45 | 15.23 | 6.57% | 4.13% |
| Shaw (SJR.B) | $27.39 | 2.72 | 16.3 | 6.13% | 4.02% |
| Potash Corp (POT) | $38.19 | 3.32 | 21.69 | 4.61% | 4.00% |
| CIBC (CM) | $103.91 | 2.42 | 13.12 | 7.62% | 3.85% |
| TELUS (T) | $39.65 | 2.99 | 17.54 | 5.70% | 3.83% |
| Fortis (FTS) | $33.52 | 1.47 | 21.08 | 4.74% | 3.82% |
| Bank of Montreal (BMO) | $83.66 | 1.79 | 12.89 | 7.76% | 3.73% |
| Royal Bank of Canada (RY) | $80.77 | 2.48 | 13.78 | 7.26% | 3.71% |
Notes
Source: Bloomberg, Aug. 29, 2014
Price: Closing price per share
P/B: Price to Book Value Ratio
P/E: Price to Earnings Ratio
Earnings Yield: Earnings divided by Price, expressed as a percentage
Dividend Yield: Expected-Annual-Dividend divided by Price, expressed as a percentage
As always, do your due diligence before buying any stock, including those featured here. Make sure its situation hasn't changed in some important way, read the latest press releases and regulatory filings and take special care with stocks that trade infrequently.  Remember, stocks can be risky.  So, be careful out there. (Norm may own shares of some, or all, of the stocks mentioned here.)
New & Noteworthy
Barry Ritholtz interviews James O'Shaughnessy
If you have a few minutes to spare, listen to what the author of What Works on Wall Street has to say in this interview.  It'll be well worth your time.
Just For Frugal Fun
Great Depression Cooking with Clara: Poor Man's Feast
Clara, a 93-year-old cook and great grandmother, talks about her childhood during the Great Depression while preparing a meal of lentils and rice accompanied by thin strips of lemon beef. The video is a charming reminder that you don't have to break the bank to eat well.
Norm Rothery, CFA, PhD, is the founder of StingyInvestor.com