I've been working away on the latest edition of the MoneySense Small Cap 100, which is devoted to small U.S. stocks. It reveals the best pint-sized firms using the same methodology as the Top 200 and Top 500. Keep an eye out for it in the next issue of the magazine.
I'm pleased to say that last year's small-cap All Stars outperformed the market handily. But it was a bad year for stocks generally and for small stocks in particular.
The Small Cap 100 uses a database of U.S. firms that have annual revenues of $200 million or more. As of the second week of February, the average stock in the database had declined by 19.3% over the prior 12 months, including reinvested dividends. Stocks with market capitalizations of less than $2 billion suffered from an average loss of 25.4%. Firms under $1 billion were down by 29.5% on average. That's a whole bunch of red ink.
During trying times it's useful to take a step back to get a little historical perspective. For some numbers I turn to data collected by Professor Kenneth French. In one study he split the U.S. stock market into three groups by market capitalization. Each group was tracked for a year and then the process was repeated.  In this way he was able to determine the performance of the three groups over time.
I plotted drawdowns for the large and small groups in the following graph. The monthly data starts in 1966 and goes to the end of January 2016. (The middle group was omitted because the graph is complicated enough without it.)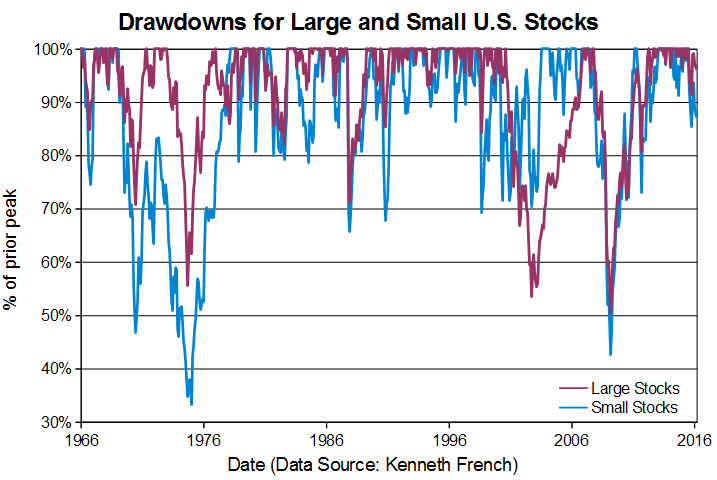 You'll immediately notice that stocks rarely make new highs and instead spend most of their time below them. (Nonetheless, the market has done very well over the long-term.)
It is also obvious that small stocks tend to suffer more than large stocks during downturns.  (The Internet bubble was an exception.) Declines of 20% are relatively common for small stocks and they have fallen to about 40% of their former highs on a couple of occasions since the 1960s.