Three firms got top marks this year by earning both an A for value and for growth. The double-A prize went to Power Corp of Canada (POW) and its subsidiary Power Financial (PWF). They're both based in Montreal and have interests in insurance, money management and other businesses. Fortis (FTS) also got double As. It's an electric and gas utility based in St. John's, Nfld., that has customers in Canada, the U.S. and the Caribbean.
The remaining eight All-Stars earned one A and one B on our value and growth tests. They include insurance-based conglomerates Fairfax Financial (FFH) and E-L Financial (ELF). (Disclosure: I own shares of both.) They're accompanied by home-improvement chain Rona (RON) and home-furnishing retailer Leon's Furniture (LNF). In addition, auto parts companies Linamar (LNR) and Magna International (MG) made the grade. Finally, engineering firm WSP Global (WSP) and steel-component maker Canam Group (CAM) round out the list.
All-Star stocks
This year's big winners did well on both our Growth test and our Value test, earning at least one A and one B.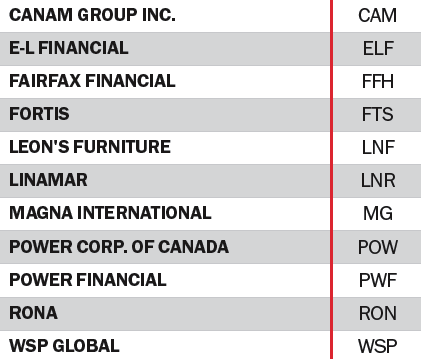 Value Team
These 20 stocks earned an A for being great bargains—they have low prices relative to their book value.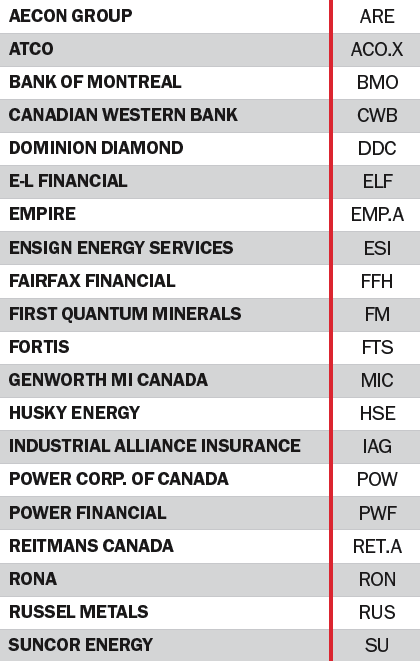 Growth team
These 20 stocks earned an A for above-average earnings and sales growth over the past three year.
Before skating off to buy any stock, do your own due diligence and make sure its situation hasn't changed in any important way. Read the latest press releases and regulatory filings, scan newspaper stories and get up to speed on all the recent developments. (Take particular care buying or selling stocks that trade infrequently.) If you do, you'll be in a better position to weather the market's changing seasons.
SUBSCRIBERS ONLY: Download The Top Stocks Premium Package »