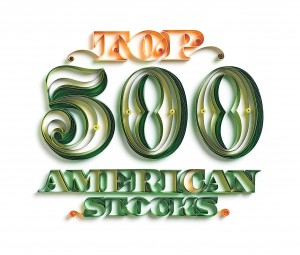 Many Canadians cross the border to indulge in a little shopping. Bargain hunters are lured by low prices while others seek a wider selection of goods. But shoppers shouldn't be the only ones beating a path to the border. Investors should also think of taking a trip to the U.S. stock market.
To help find the best stocks on offer we're pleased to present this year's MoneySense Top 500 guide to U.S. stocks. Like the Canadian Top 200, we grade the largest U.S. stocks for their appeal as value and growth investments. Those at the top of the class make it into our All-Star team.
Last year's All-Star stocks turned out to be great buys, gaining an average 38.7%. In comparison, the U.S. stock market, represented by the S&P 500 (SPY), climbed only 23.3% since last time. The U.S. All-Stars beat the market by 15.4 percentage points, not including dividends.
To find the best prospects we use the same numbers-based methodology as in the Top 200. In brief, we start with the 500 largest public companies in the U.S. based on revenues, using Bloomberg data. Each stock is sized up for its growth potential. Stocks with the best records are awarded As, the next best get Bs, and so on, down to Fs for those in need of improvement. Then we grade each stock based on its appeal as a value investment. The best bargains get As while pricey firms that trade at sky-high prices take home Fs. To get top marks each stock must pass a series of strict tests. For growth, we favour firms that are increasing sales and earnings per share at a good clip. We like strong returns on equity, healthy market performance over the last year, and low-to-moderate price-to-sales ratios. For value, we seek stocks selling at modest price-to-book-value ratios compared to peers and markets overall. We view high debt loads negatively and give extra points to profitable firms paying dividends. To get to the top of the class, and into the All-Star team, stocks must possess all these qualities but may squeak by with one B if found slightly wanting.
Top prospects get a coveted double-A rating, making them outstanding growth and value candidates. Only a few get the award each year. This time, four stocks won the double-A prize, but 24 others scored at least an A and a B. Both groups are worth considering.
Remember that all stocks have risks. While we believe our top stocks have what it takes to succeed, the future is far from certain and some of them will disappoint. Alas, there are no guarantees when it comes to the market.
To see the top American stocks plus our grades for the Top 200 Canadian Stocks and our All-Star stocks, pick up the December/January issue of MoneySense on newsstands now. Or download the full package online including bonus picks and a worksheet. The download is FREE for subscribers.