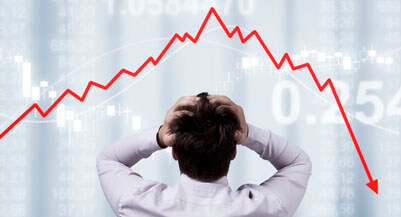 It drives me crazy. Whenever we go through a down draft in the stock market, like the one we had at the beginning of this year, investors are universally scared and discouraged. Their mood is inextricably linked to their paper losses and the doom and gloom they're reading about in the media.
I certainly wasn't immune. I was concerned about my declining net worth and what's going on in the world around us—negative interest rates, a slowdown in China, and piles and piles of debt are big issues. But fear isn't an equal opportunity emotion; bad news and weak stock markets impact people differently.
Retired investors who are drawing an income from their portfolio have reason to be concerned. If they haven't got enough cash in reserve, then they're forced to sell holdings at reduced prices. But younger investors who are working and regularly contributing to their portfolio—accumulators as we call them—shouldn't be fearful. What they should be doing is licking their chops, jumping up and down and scrambling to find more money to invest.
What happens is that stock markets overreact to news, both good and bad. The latest black clouds hanging over financial markets might increase or decrease the potential of a stock, but their long-term impact is usually negligible. When CN Rail drops 10% in sympathy with a weak overall market, has the long-term value of the company dropped $6 billion? Has some monthly data out of China really impaired CNR's value that severely? For a portfolio that holds a number of companies spread across different industries and geographies, the underlying value varies very little day-to-day, no matter what the news might be.
So if you're an accumulator who is regularly buying assets, a sharp market decline is a great thing. It's like going to the checkout in a store and finding out that everything you were going to buy anyway is actually on sale. Then you end up buying more shares that you want to own, at a lower price.
Doubters might see my expectations for investors as unrealistic. Are there good reasons why accumulators should be discouraged when markets are down? The three I hear the most are: one, prices have further to fall; two, the stock market is broken; and three, I'm investing in my house. Let me address each of them.
1. At $20, the stock is more attractive today than it was last month, but it could drop even further
Of course, built into this view is the assumption that we can determine where the market is going in the short term. Unfortunately, we can't. Nobody can. The stock could go to $17, but could also be $25 next month.