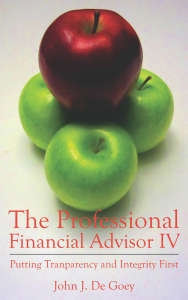 It might be said that for many years the pre-eminent way of looking at investing was through security selection and market timing. These are the primary tenets of active management as practiced currently.
Many of these ideas were first spelled out by the great Benjamin Graham in his books Security Analysis and The Intelligent Investor, both written before 1950. More than half a century ago, a man from Princeton named John Bogle created what many now view as the world's first index fund. Instead of doing things the way that Mr. Graham advocated, Mr. Bogle put forward the idea that cost was a major drag on investment performance. Some years (and more than a few slammed doors) later, Bogle founded a mutual fund company called Vanguard. You may have heard of it.
Despite considerable backlash—including allegations that Bogle was "un-American"—Vanguard is now one of the largest money managers on the planet and is taking in net new assets to the tune of about a billion dollars a day. Mr. Bogle likes to quip that he is less concerned with the efficient market hypothesis than he is with the "cost-matters hypothesis." In essence, he doesn't care about how efficient or inefficient markets are. Rather, his concern is one of simple cost minimization.
Cost minimization
Many people, me included, are primarily opposed to most active management because of the associated costs. If someone could come up with a competitively priced active product, most—perhaps even all—objections would disappear.
By way of example, many people are surprised to learn that about a third of Vanguard's total assets under management are managed actively. Rather than picking stocks directly or using mutual funds where a manager is trading stocks on behalf of similarly minded investors, traditional index funds aim to replicate the returns of any given benchmark while aiming to minimize both costs and something called tracking error. In essence, many index funds pride themselves on just how accurately they can track their respective benchmarks. Less tracking error means you have a better, more reliable product.
Similarly, a little over a quarter century ago, the world's first exchange-traded fund (ETF) started trading right here in Canada. In a nutshell, ETFs are a lot like index funds because they aim to track a given benchmark. The difference is mostly one of structure. In contrast to mutual funds, which trade once a day based on the market's closing price, ETFs, as the name implies, trade on stock exchanges throughout the day like a traditional stock.
Rules-based strategies
In the time between the creation of the index fund and the creation of the exchange-traded fund, a third kind of company was founded. In 1981, David G. Booth and Rex Sinquefield, both graduates of the University of Chicago's School of Business (now known as the Booth School of Business) founded Dimensional Fund Advisors (DFA). Dimensional has grown to manage $663 billion in assets under management as of late May 2017.