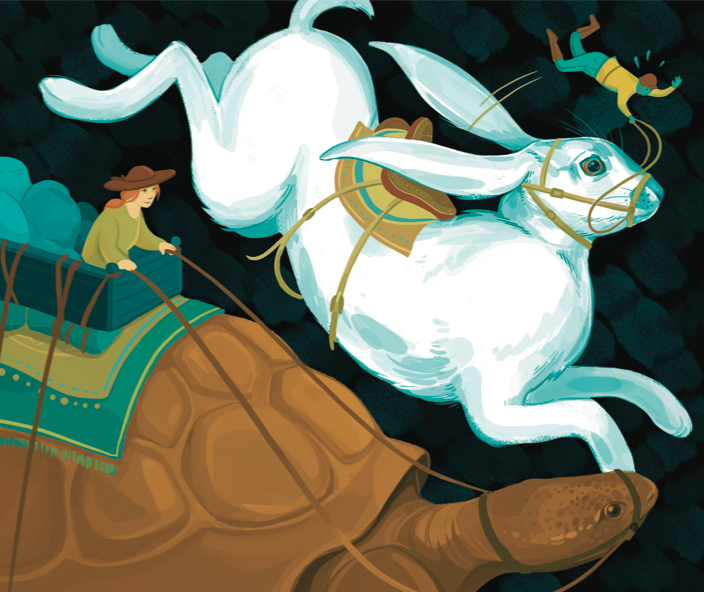 You know the tale about how the slow-but-steady tortoise perseveres to beat the speedy-but-inconsistent hare. It turns out that lesson applies to investing in retirement, too.
It's easy to be attracted to investments that surge ahead like the hare when the going is good. You might end up with considerable wealth if you're fortunate—but you just might run out of money later in life if you're not. If you're trying to protect yourself from risk as you seek rewards, it's better to follow the tortoise approach: you're more likely to achieve a comfortable retirement with little chance of outliving your money.
In what follows, we'll show you how a slow-and-steady investment approach can achieve what I believe is a superior combination of risk and reward. We'll explain how to structure your portfolio to meet both short- and long-term needs, select conservative investments, and follow through with a long-term investment process.
Risks that matter most
Before we discuss structuring your portfolio, it's important to understand the nature of stock market risk. Finance experts often equate risk with volatility—or how much stock returns can vary from year to year—but that can be misleading. A better definition is "the probability of a permanent loss of capital," says George Athanassakos, professor of finance at the Ivey Business School at Western University.
Certainly volatile stocks, like those in oil and gas or mining, also tend to be stocks that can permanently lose money. Less volatile stocks, like those in the consumer staples sector, are unlikely to go bust. But even high-quality, dividend-paying companies with competitive advantages, low debt and reliable cash flows can see their stock prices bounce around, points out Athanassakos. "For these companies, if you have a long-term horizon, short-term volatility is immaterial," he argues. "In the long-run you know as a group they're going to go up. So why do you care about the short-term ups and downs?"
Surprisingly, there's plenty of evidence that low-volatility stocks have actually delivered better returns than those with higher risk. This historical result is called the "low-risk anomaly," because it's completely contrary to what financial theory would predict. One recent study by Malcolm Baker of Harvard Business School and colleagues found dramatic results: from 1968 to 2012 a dollar invested in the 20% of U.S. stocks with the lowest volatility grew to $81.66, while a dollar invested in the 20% with the highest volatility grew to only $9.76. (There is plenty of debate about whether this pattern will continue, so it is a good idea not to count on it.)
Human nature makes it hard to ignore volatility, and as you get older it's even more difficult. As your investment horizon shrinks, it's hard to stomach a loss for a few years, even if you believe things will eventually recover. If you're drawing on your investments to support yourself in retirement you may not have the luxury of time. "The ideal investor is Rip Van Winkle," says Eric Kirzner, professor of finance at the Rotman School of Management, University of Toronto. "You buy yourself a nice portfolio and go to sleep for 40 years. You wake up and you have this terrific return. Most of us can't do that. Most of us don't have that time period."
The long and short of it
Investors in or near retirement are in a tricky position. They have an immediate need for steady cash flow to live on, but they also need their wealth to last for a potentially long life. If they're caught by a big downturn around the time they retire, they could be forced to sell investments at beaten down prices in order to provide money to live on. This is called "sequence of returns risk," and it can have a devastating effect on the sustainability of your portfolio. That's why investors at this stage can't easily wait out temporary dips in stock prices, even if they have the psychological fortitude for it. Fortunately, the tortoise approach can help.