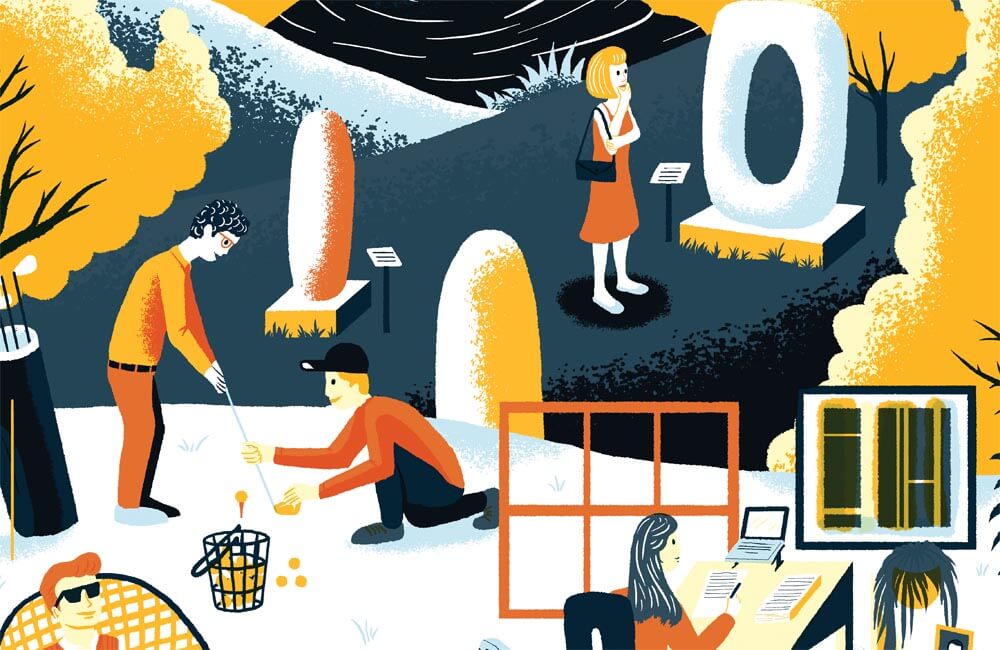 When Eric Jackson began mapping out his retirement plans a number of years ago, the Ottawa-based chiropractor thought he had it all figured out. Jackson realized the thrill of owning and operating his own wellness clinic was starting to wane, so he set about finding a successor to buy the business he and his wife Catherine had spent more than three decades building. When that was accomplished they'd be financially set and free to pursue all kinds of different, exciting activities—like indulging in longer trips with the new motor home they planned to buy, not to mention spending more time with their kids and grandkids. Sounds like an ideal retirement, right? Well, not quite.
What threw Jackson's plans for a major loop was his wife's one and only request—more of a demand, really—that he must find something new to occupy himself with when it came to their normal everyday routines. "Catherine said to me, 'If you retire I don't care if you go out to drink coffee with your buddies or go golfing, but three days a week you're not allowed to be in the house,'" recalls Jackson, now 60. "My retirement scared the hell out of her. I don't enjoy a lot of down time, and she knows that."
It was at that moment Jackson realized he had overlooked one very key aspect of retirement planning: What would he actually be doing on a regular basis to find purpose and fulfillment once he stopped working? Answering that question required a lot of serious contemplation, he admits. As someone heavily involved in his church, he thought he might spend more time mentoring teens. But in the end, he realized continuing to work part-time in the profession he loved was the right call. "I arranged a deal where I now work three days a week and take off 12 weeks a year for vacation. So I'm not fully retired but it's very freeing."
Jackson's story is one a growing number of Canadians can relate to. Whereas for previous generations retirement planning simply meant working at the same company for 30 to 40 years before retreating into a life of leisure, such old-fashioned notions rarely apply anymore. Shifting job landscapes might force you to retire earlier or work longer than expected, but increased life expectancy means more of us are actually pursuing second or even third careers in our "post-working" years. In fact, Statistics Canada shows that many of us are retiring later. In 1997, just 31% of men and 16% of women 55 and over were still in the workforce. But by 2010, almost 40% of men and 29% of women in that age range were still working.
The point is, there's no longer a one-size-fits-all approach for planning for your golden years. What worked for Eric Jackson may not necessarily work for you, but there is a holistic approach to retirement that everyone should follow that accounts for more than just money. At the heart of it is your "psychological portfolio," a term coined by U.S. retirement expert Dr. Nancy K. Schlossberg to focus attention on how our identity, relationships, support systems and purpose will be impacted once our traditional working lives end. You need to know what's going to work for you. In the following pages, we'll show you how to ensure that your retirement is rich—not just in finances, but also in new and rewarding experiences.
Read: What kind of retiree are you?
Get to know yourself
Once you know retirement is on the horizon, it's important to start articulating your plans four to five years out. "That would be the sweet spot," says Tom Feigs, a Calgary-based money coach and MoneySense Approved financial advisor. "People are able to articulate the next year or the year after that, but by the time they get to five years it starts getting too far out. Looking forward into the future beyond that becomes quite cloudy."
So how exactly do you kick off this protracted process? To avoid getting overwhelmed or even frightened, you need to become familiar with your psychological portfolio. "That's your identity and purpose," explains Schlossberg, who has authored multiple books on transitioning into retirement. "In your working life you have an identity that's tied to your job title, and we have to realize that when we retire there will be some issues about that identity—because related to that is your purpose." Even Schlossberg herself had difficulty navigating her new life once she retired from her position as professor of counselling at the University of Maryland. "Because I had voluntarily retired, I thought it would be a piece of cake. Well, it wasn't. It took me a while to figure out that I'd continue to be a writer."