The RRSP deadline looms and the new year brings an additional $5,500 of contribution room for Tax-Free Savings Accounts. You'd probably love to maximize contributions to both RRSPs and TFSAs, but most people can't afford to do that—especially if they're carrying a mortgage and trying to sock a little away for their children's education. So what's the best way to save for retirement if you have limited funds?
With so many options fighting for your retirement dollar, the choice is not easy. Fortunately, we can help. In what follows, we'll show you how to find the best strategy for your situation. As it turns out, the RRSP is ideal if you're in a high tax bracket now and expect to end up with a solid middle-class retirement. But TFSAs are more flexible and work better if you retire with either a very high or very low income. Let's delve into the details.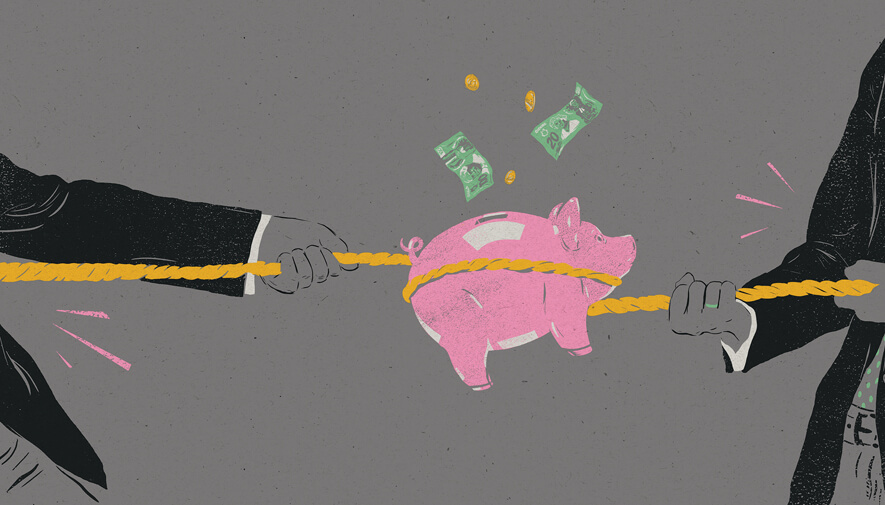 The main event
In the tug-of-war between RRSPs and TFSAs, the former is the reigning champion, since it's where Canadians have most of their personal nest eggs. This year you have until March 3 to contribute for the 2013 tax year. But you should also consider the main contender for the savings crown, the TFSA, introduced in 2009. You can contribute up to $5,500 for 2014, or more if you have unused room from previous years.
Both RRSPs and TFSAs shelter you from tax as long as the investments are held within the account. With an RRSP, you can deduct the contribution from your income, which earns you a tax refund, but the money becomes fully taxable when you take it out. The TFSA is the reverse: you don't get a tax break on contributions, but you don't pay tax on withdrawals either. So if you're deciding between the two options, the question boils down to whether you should pay the taxman now or later.
The answer depends on your tax rate. If you're in a higher tax bracket when you put the money in than when you take it out, then it's better to use an RRSP. It's easy to understand why: your original RRSP contribution gives you a juicy tax rebate now, and the taxman takes a smaller bite on withdrawal. However, if you take the money out when you're in a higher tax bracket than you're in now, it's better to go with a TFSA. If your tax rates are the same when the money goes in and out, then the choices are equivalent.
While that idea is simple, putting it into practice is far more difficult. After all, it's impossible to forecast what tax bracket you're going to be in decades from now. But while you can't make precise predictions, most people live on far less income in retirement than they earned in their peak working years. So RRSPs make sense in many situations. In particular, they provide outstanding results if you're a high-income earner saving for a typical middle-class retirement.
Here's an example. (See Scenario 1 in "RRSP vs. TFSA: Which nets you more money?" below.) Say your current income is a healthy $90,000, and you believe you're on track to have an income of $38,000 in today's dollars when you retire in 30 years. In Ontario (where tax rates are close to the Canadian average), your salary would put you in a 43% tax bracket now, but you would pay only 26% in tax when you take the money out of an RRSP later, assuming rates stay constant and tax brackets keep pace with inflation. Thus, if you contributed $1,000 plus the tax rebate to your RRSP and you earn moderate returns, you could expect that money to be worth roughly $3,165 (in today's dollars) after tax when you eventually draw it in 30 years. Putting the same amount into a TFSA would net you only $2,430. So the RRSP wins this bout by a wide margin.
But this example is a bit lopsided, because the difference in tax rates is so large. If the gap were smaller, the RRSP would still put you ahead, but not by as much.