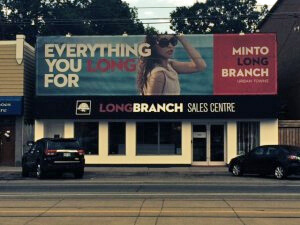 Once it's no longer necessary to commute to and from a downtown or suburban corporate job, where in the world do you want to be? I touched on this in a recent blog on reverse mortgages. Most full-time retirees know they want to be close to hospitals, universities and libraries. They don't need to be as close to the downtown core or even be near major transit systems though that can be a nice extra if they value city culture and/or friends and family still live there.
Throughout my personal Findependence journey this summer I've been posting photos of the community I live in: Long Branch, Ont. It's closer to downtown Toronto than its trendier neighbour to the west, Port Credit. The photo below, for example, I put on social media after biking along the (relatively) new boardwalk at the foot of 41st Street. At first glance you may think the photo is of some exotic beach somewhere down south—it's hard to believe it's a mere 15-minute GO Train ride from downtown Toronto. When I had one-hour commutes either to Don Mills or Bloor & Sherbourne, it sometimes seemed our home's location was a bit of an inconvenience. It took a 12-minute car ride (or bus) just to get to the subway, which is why the three members of our family have three cars (though the youngest member is abroad so the car is on blocks).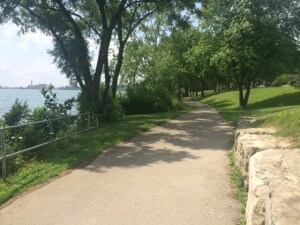 Now that I'm semi-retired (that's what I'm calling it for the balance of the summer, anyway!), I've really come to appreciate the community in which we live. In addition to the beach and bike paths that go from Mississauga to downtown Toronto, there's a post office (convenient in my line of work), a library (ditto!) and quite recently a Starbucks set up shop: always a good sign for impending gentrification. The photo below of the path by the lake is the indirect route from the Starbucks to my home, during which time I generally carry back a library book or two that was on hold, and listen to podcasts. Not a bad commute!
---
READ: Canada's top 10 places to retire »
---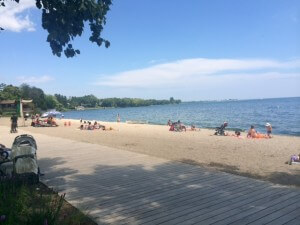 Mind you, one couple I know on our street doesn't like all this change and are preparing to beat a retreat for small-town Ontario. Not us: for now, this place is perfect; it's a great base for full-time employment or part-time and if and when it comes time to "fully retire," it has all the necessary amenities. If you're still on the "before" end of Findependence, you might want to think about the place you want to be once you do achieve it. Hopefully this blog gives you a few ideas of what's important.
I've not included photos of medical facilities but clearly that should be a consideration too: there are walk-in clinics and hospitals here. Local universities or colleges are a nice extra too: my parents enjoyed their last years in London, Ont. because they were right next door to the University of Western Ontario and took full advantage of it.
Jonathan Chevreau is the editor-at-large of MoneySense. He blogs here and at findependenceday.com. Find him on Twitter @jonchevreau.