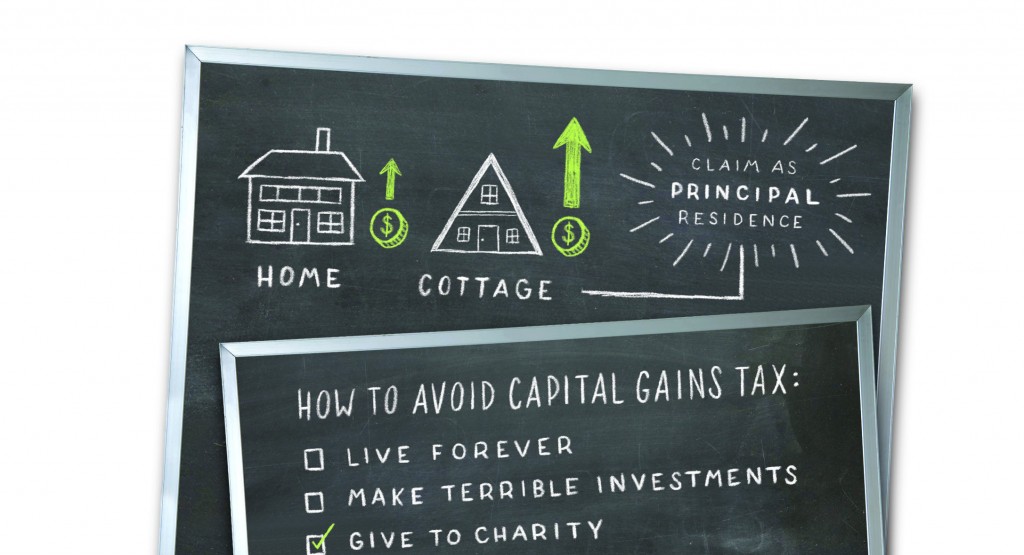 Of all the questions MoneySense receives (and we get a lot), the most popular is "How can I avoid capital gains taxes?" No wonder: capital gains taxes can take a big bite out of your wealth. It seems unfair that you have to fork over money to the government just for investing well, and most of us would rather run across hot coals than pay them.
Unfortunately, the sad truth is that—with a few important exceptions—you have to pay capital gains taxes whenever you sell investments, property or other assets for more than you bought them for. So if you buy a stock for $100 and sell it for $150 a few years later, your capital gain is $50 (less commissions or other expenses), and you have to pay tax on that amount.
The good news is that unlike regular income, only 50% of capital gains are taxable. Plus, you don't have to pay until you sell the asset. Bottom line is—despite their bad rap—capital gains can actually be the most tax-friendly of all investment returns, and there are plenty of ways to defer, reduce or even avoid them altogether. Read on as we answer the most pressing capital gains questions sent to us by MoneySense readers.
Q. Can I avoid capital gains taxes by gifting assets to a family member?
Usually not, though you may be able to defer them. Normally, when you give assets such as stocks or property to someone, you trigger a "deemed disposition." This means that even though you didn't actually sell the asset (you just gave it to someone else) you're on the hook for capital gains taxes as if you had sold it at its fair market value.
The one notable exception is gifting between spouses or common-law partners, which does not trigger a deemed disposition. But be aware of the Canada Revenue Agency's attribution rules: when assets are gifted to a spouse, all interest, dividends and capital gains (or losses) are attributed back to the gifting spouse. So if you were to give $10,000 worth of shares to your husband, no tax would be payable immediately. But when he eventually sells them, you'd be responsible for any capital gains taxes due.
There is one way to legally avoid or reduce capital gains taxes if two spouses have a huge difference in income: the high-income earner can loan money to the low-income partner, who can use it to buy investments. (You must charge the CRA's prescribed interest rate, which is currently 1%.) Unlike gifts, spousal loans do not trigger the attribution rules, so the low-income spouse will be responsible for paying any capital gains taxes at a lower rate.
Q. Can I use capital losses from past years to offset future capital gains?
Absolutely. If you realize a capital loss (by selling an asset for less than you paid for it) you can use that loss to reduce any capital gains you had on other assets that year. After that, you can use any remaining capital losses to offset gains you reported in any of the previous three years (you'll need to submit a request to CRA).
Additionally, you can carry forward capital losses indefinitely, which means you can use them to reduce capital gains you might realize in the future. If your income is likely to be higher in later years, carrying your capital losses forward can be a smart move.