Conventional wisdom may lead you to believe that if you have bad credit, you should swear off credit cards. But if you want to improve your credit score you'll have to show you can handle credit responsibly—and the only way to do that is (you guessed it) to have a credit card. Used properly, it can actually be a helpful tool to assist in rebuilding bad credit—and, luckily, there is a whole host of products catered to people with poor credit scores. While these often come with higher interest rates and lower spending limits, they can be a good starting point to re-establishing a good credit score, which in turn will help you get approved for loans, a line of credit, or even a mortgage down the line.
Best credit cards for bad credit in Canada
Secured credit cards vs unsecured credit cards
When selecting a credit card to rebuild your credit score, you'll need to choose between a secured and unsecured product. A secured credit card is one that's offered on the condition that you "secure" it with collateral, usually in the form of a refundable deposit that can be claimed by the lender if you default on your payments. These cards are marketed directly to those with bad credit (so they have an easier approval process, and come with no frills), but they work—lenders report back your activity to the credit bureau which builds up your score as you continue to repay responsibly.
While not generally available to those with bad credit, unsecured cards are occasionally offered to consumers with "fair" credit scores (generally in the 600 to 650 range). As the name suggests, an unsecured card doesn't require a deposit, and so it might seem like an obvious choice. Plus, unlike secured cards, many unsecured credit cards offer rewards (think travel points or cash back). That said, they can command tougher approval requirements than unsecured cards. It's always a good idea to read the fine print when selecting your product.
---
Best secured card (no fee)
Home Trust Secured Visa (No Annual Fee)*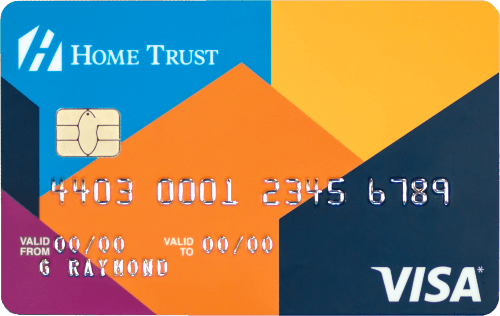 The Home Trust Secured Visa stands out because it's a secured credit card that has no annual fee. To open an account, a $500 deposit is all you need to put down. And while the interest rate is standard at 19.99%, this won't kick in unless you carry a  balance—and if you're looking to build your credit, you should aim for that not to happen. As with other secured credit cards, you can improve your credit score by making payments on time, preferably in full. Note that if you don't use your card at least once every 12 months, you'll be subject to a $12 inactivity fee, so make to charge at least one purchase to the card annually. 
Annual Fee: $0
Interest rate: 19.99% on purchases
Personal income required: $0
Note: This card is not available to residents of Quebec.
Get more details about the Home Trust Secured (no fee)*
---
Best secured card (low interest)