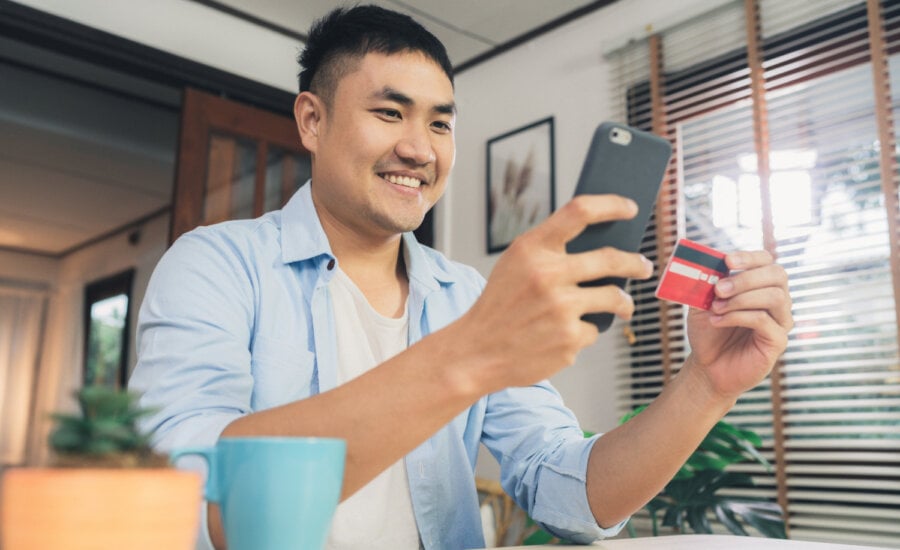 There are many great reasons to carry a credit card. Beyond the convenience and purchase protection included with many credit card purchases, they're also important financial tools for establishing your credit history and borrowing money—both of which you'll need if you want to make a major purchase, get a loan or take out a mortgage. "The longer you have a credit account open and in use, the better it is for your score. Your credit score may be lower if you have credit accounts that are relatively new," reports the Financial Consumer Agency of Canada (FCAC). Applying for a credit card is a financial commitment to be taken seriously, but the process is considerably simpler than applying for a mortgage or a personal loan. If you want to know how to apply for a credit card, and how to find the right card for you, you've come to the right place. 
Find your next credit card*
See cards tailored for you from over 12 banks and card issuers
No impact to your credit score
Get an answer in under 60 seconds
You will be leaving MoneySense. Just close the tab to return.
What do you need to apply for a credit card?
Basic application information
Whether you apply online or in person, you'll need to have the following on hand:
Full legal name
Date of birth
Email address
Canadian home address


In some cases, you might also have to supply data about how long you've lived there, plus past addresses.

Current employment status


This could be as simple as reporting your job title, but it might also include contact information for your employer. 

Gross annual income


This is the amount of money you earn annually, before taxes and deductions. If you aren't salaried, you can estimate your income—you aren't required to show proof. That said, do not make up a number. Lying about your income is a violation of credit card terms.

Social Insurance Number


While usually optional, you might be asked to provide your social insurance number.

Your residency status
If you want to apply for a credit card, you'll generally need to be a Canadian resident or citizen. There are some workarounds for newly-landed immigrants that might require extra information or a separate application process. Also, some banks offer financial services aimed specifically at new Canadians.
Find your next credit card*
See cards tailored for you from over 12 banks and card issuers
No impact to your credit score
Get an answer in under 60 seconds
You will be leaving MoneySense. Just close the tab to return.
At what age can you apply for a credit card?
You will need to be the age of majority to apply for a credit card. Your age of majority depends on the province you live in, and will be either 18 or 19 years old in Canada.
The age of majority is 18 years old in:
• Alberta
• Manitoba
• Ontario
• Prince Edward Island
• Quebec
• Saskatchewan
The age of majority is 19 years old in:
• British Columbia
• New Brunswick
• Newfoundland and Labrador
• Northwest Territories
• Nova Scotia
• Nunavut
Does applying for a credit card affect my credit score?
In a word, yes—but it goes both ways.
When you apply for a credit card, you'll go through what's called a hard credit inquiry, which results in a small dip in your score. The reasoning behind this is that if you are applying for credit, it shows that you have some measure of financial need. The impact of an application on your score, however, is insubstantial, temporary and will resolve itself within a few months.
Multiple applications over a short period of time have more of a negative effect, so avoid that by researching which card you want before you start applying. "If there are too many credit checks in your credit report, lenders may think that you're urgently seeking credit [and] trying to live beyond your means," reports the FCAC.
On the other hand, using a credit card responsibly will affect your credit score positively, and is one of the best ways to build a strong rating.
Also, in some cases receiving a new credit card boosts your credit score because it increases your combined credit limits and improves your utilization ratio. The utilization ratio is the amount of credit that you are using compared to what is available to you. But both are factors in determining your credit score. While this is a nice bonus, it's not recommended as a strategy, particularly if you expect to apply for another loan or mortgage in the near future. 
How to apply for the right credit card
Step 1: Assess your financial standing
Before you get to your applications, you'll need to have a good grip on where you stand financially.
Check your credit score
Checking your credit score is dead simple, and it can help guide you to which cards are right for you. Contrary to popular belief, you can check without it having any effect on your credit rating. There are several online services that let you check your score securely and for free, or you can go directly to Equifax or TransUnion, the two major credit bureaus—for a small fee. 
Credit scores are evaluated with a number between 300 and 900. The higher the number, the better your score and the less of a credit risk you are considered. To apply for conventional credit cards, you'll usually need a rating of at least 650. Those with higher scores have a broader selection of cards to consider and a better chance of being approved. (Need more help? Here's how to improve your credit score.)
Income and history of bankruptcy
Annual income is one of the factors that can affect which cards are available to you. Some have low or no income requirements, while others restrict applicants by income. This information is typically right on the application, so make sure you check that first. To be considered for most credit cards, you must have no history of bankruptcy within the past seven years.
Step 2: Identify the right credit card type for you
There are three main types of credit cards to consider, all with strengths and weaknesses. 
1. Secured credit cards: Designed specifically for those who have poor or no credit, or who have struggled to get other forms of credit in the past, secured credit cards require collateral at the time of application. That means you put money on the card before you use it. This deposit protects the lender, so virtually every applicant is guaranteed to be approved. When you use a secured card responsibly by paying your balance on time (and ideally in full) every month, you gradually improve your score over time and can eventually upgrade to a conventional unsecured credit card.
---
Canada's best cards for rebuilding credit
---
2. Rewards credit cards: People who have a good credit score and can expect to pay off their debt in full every month will benefit greatly from a rewards credit card. These cards give you either cash back or points to use toward future purchases, making card use a value-add. Often these cards come with attractive welcome offers or promotions, so they can effectively boost you spending power. That said, watch for interest rates, as the average is around 20%. So you should not use this type of card to carry a balance.
---
The best rewards credit cards in Canada
---
3. Low-interest credit cards: Low-interest credit cards are the best options for those who tend to carry a balance. Usually void of any perks or extras, they come with below-average interest rates so you will pay less in interest while you pay off your debt. The rates will still be relatively high compared to the interest rate on a mortgage or a line of credit.
---
The best low-interest credit cards
---
Picking the right type of rewards credit card 
As mentioned, if you can pay off your balance in full every month, you'll likely want to apply for a rewards card. But which is the best type for you?
Cash back
Cash back cards offer money back on your purchases. You will often find higher rewards rates for certain spending categories (on groceries or gas, for example) with these cards, but also a base rewards rate applied to all other purchases. Cash back cards tend to be straightforward, and because the reward is cash, it's simple to redeem—cash is usually applied directly to your bill, once per year or on demand.
Travel
Travel rewards cards let you earn points or miles that can be applied towards travel-related purchases. They frequently include valuable perks like more comprehensive travel insurance or airport lounge access.
Step 3: Look at what multiple banks offer
Now comes the fun part: Choosing the card you want to apply for. Remember, you can have a credit card and bank accounts from completely different financial institutions, at the same time. Don't limit your options to the bank you're currently using. Instead, compare credit cards from different providers to find the one that delivers the most value for you.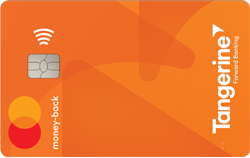 Annual fee: $0

Interest rates: 19.95% on purchases, 19.95% on cash advances, 19.95% on balance transfers

Earn rate: 2% cash back on up to 3 bonus categories of your choice; 0.5% on all other purchases

Welcome bonus: You can earn an extra 10% back on up to $1,000 in everyday purchases within the first 2 months. Must apply by January 31, 2024.
Income requirement: $12,000
Additional benefits:

Purchase assurance and extended warranty
Get more details about the Tangerine Money-Back Card*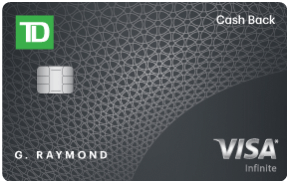 Annual fee: $139 (free for first year)

Interest rates: purchases 20.99%, cash advances 22.99%

Earn rate: 3% cash back on gas, grocery and recurring bill payments; 1% on all other purchases
Income requirement: $60,000 (personal) or $100,000 (household)
Additional benefits: TD Auto Club roadside assistance membership; travel medical insurance
Get more details about the TD Cash Back Visa Infinite*
Step 4: Consider your spending personality
The right card for you will depend on what you want from your credit card and how you use it. Let's call this your spending personality. 
Brand new applicants, or those with bad credit, are not shut out of the credit card game. If this is you, look into a secured credit card. In addition to the interest rate, also compare the sizes of deposit required and whether they have an annual fee.
If you're looking at cash back or travel, most rewards credit cards have accelerated earn rates on certain types of purchases. These spending categories can run the gamut, from groceries to drugstore purchases to streaming services. Your best bet is to review which cards offer the highest earn rates in categories you frequently use.
Don't forget to check out the perks. Some cards include benefits that can add up to hundreds of dollars per year. If you use your credit card selectively or you want to limit your credit card spending, then consider a no-fee rewards credit card, which will have fewer perks, but also costs you nothing to use.
If you carry debt, you'll want to find the card that helps you pay it off fastest. In addition to looking for a card with the lowest interest, check for promotions. Some low-interest credit cards offer promotions on balance transfers, which can buy you even more time to tackle your debt. 
From building (or rebuilding) credit to earning cash or rewards to gaining you access to valuable perks and benefits, responsible credit card use can do a lot for your financial picture. By taking the time to research your options before you apply for a credit card, you can be sure you select the very best card for you.
This article is presented by an advertising partner.
This is an editorially driven article or content package, presented with financial support from an advertiser. The advertiser has no influence on the creation of the content.
What does the * mean?
If a link has an asterisk (*) at the end of it, that means it's an affiliate link and can sometimes result in a payment to MoneySense (owned by Ratehub Inc.) which helps our website stay free to our users. It's important to note that our editorial content will never be impacted by these links. We are committed to looking at all available products in the market, and where a product ranks in our article or whether or not it's included in the first place is never driven by compensation. For more details read our MoneySense Monetization policy.