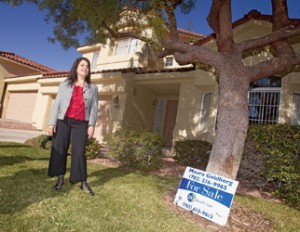 Jim Chuong didn't even visit Maricopa County in Arizona before he decided to purchase real estate in this desert locale. That's because Chuong wasn't purchasing a vacation home or a sunspot retreat—he was making an investment. All that mattered to him was whether the numbers added up.
Chuong's first U.S. real estate purchase was a sight-unseen, two-bedroom, two-bathroom condo in a good neighbourhood of Phoenix. He paid just $35,000 for a property that would have cost $145,000 at the height of the real estate boom.
Chuong isn't the only Canadian who is trying to cash in on the bargain prices in real estate south of the border. According to a BMO survey released in the spring of 2011, one in five Canadians was seriously considering purchasing a patch of American real estate, either for personal use or as an investment. That's because housing prices across the United States have plummeted by nearly a third, on average, since the market peak in 2006. And in some cases—like Choung's new condo in Phoenix—homes are selling for a small fraction of their former value.
Two other key indicators are suggesting that now is an excellent time to buy U.S. property. First, the ratio of house prices to yearly rents has nearly been restored to its pre-bubble average. Second, mortgage rates—both in the U.S. and Canada—are so low that owning real estate hasn't been this affordable in decades. When you combine these factors with a strong Canadian dollar, you spark the interest of would-be landlords and snowbirds alike.
But buying U.S. property can be fraught with unexpected expenses. If you're not careful, that steal of a deal in Florida could end up costing you tens of thousands extra in the long run. To make sure that doesn't happen to you, we've compiled the top five ways to minimize costs and frustrations when you buy U.S. real estate.
1 Don't be swayed by price alone
Properties across southern Florida are still selling for up to 60% less than their pre-recession values, and just about anyone with a pulse can find a condo for only $30,000. But cheap doesn't always mean a good deal.
"I could have bought a two-bedroom, two-bathroom condo for as cheap as $20,000 in Phoenix," says Chuong, "but my property manager would've probably been killed by a meth dealer."
The key, then, is to find a discounted property in relatively good shape, in a decent area, surrounded by amenities, and in a neighbourhood with a low crime rate. That's not easy. Chuong found that the City of Phoenix publishes a website with all the crime data plotted on a map. "Then I searched online for realtors who had experience working with Canadian buyers." After, he superimposed the listings provided by his realtor onto the crime data map. "I quickly realized that if I wanted to make a good investment, I'd have to stick with neighbourhoods that were tagged green—which meant little or no property crime."
A realtor can also act as your preliminary home inspector, providing advice about comparable units and a suggested list of upgrades that will make the place easier to rent.
Chuong examined rental rates, the municipality's current and future growth rate, and his own financial expectations for the property. He uses a simple formula to determine whether he's looking at a good investment. "I expect to turn a profit on half of my earnings," he explains. "Then I multiply that annual profit by the number of years I want to hold the property. If these numbers show a profit, then I buy the place."
For example, if you bought a condo and rented it for $1,000 per month, you should only assume a profit of half that amount ($500 a month, or $6,000 annually) after expenses. If you plan to hold the property for 10 years, then the most you should pay, according to Chuong, is 10 times your expected annual profit, or $60,000. (This doesn't include renos or upgrades you might need to do.) "I want to make sure I can get my money out in 10 years, or whatever investment horizon I've chosen," says Chuong. "Anything after that is gravy."
Maura Goldberg, a realtor in Las Vegas who specializes in international clients, offers another piece of advice to would-be investors. "Sure, you can pick up three condos for $25,000 each, but it might be a better investment to buy one condo in a much better neighbourhood for $75,000."
2 Get the right mortgage
Part of the reason why Canadians consider U.S. real estate investments so attractive is historically low interest rates on mortgages. But the attractive rates advertised to Americans—such as a 10-year fixed at 2.8%, lower than Canada's prime lending rate—are not usually open to Canadians. That's because most U.S. banks don't recognize Canadian credit history, and this can mean major rate hikes for borrowers.
"Mortgages don't work the same in the U.S. as they do in Canada," explains Alain Forget, RBC's vice-president of cross-border strategy. Forget explains that in Canada, a bank's posted rate is higher than what a good borrower will usually pay: you can expect to negotiate based on your income, work stability, assets, length of loan term and credit history. In the U.S., it's the other way around: the posted rate is the floor rather than the ceiling. If you want to borrow a large amount, expect to add another 25 to 50 basis points, says Forget. Add in your lack of a U.S. credit history, no U.S. assets and a foreign purchaser penalty and you could be looking at a rate of 4.55% or more for that same 10-year fixed mortgage.
One way to minimize these penalties is to deal with a Canadian bank that has an American subsidiary. For instance, RBC doesn't charge a premium to Canadians purchasing U.S. real estate: a savings of at least 1%. Also, the subsidiaries will often recognize a Canadian credit history, which saves at least another 0.25%. Finding a U.S. subsidiary of a Canadian bank isn't too hard in most states. You can also visit a Canadian branch to initiate a U.S. transaction.
Keep in mind that if you buy a property in the U.S. it will be considered a second home and you'll be required to pony up a larger down payment—typically 20%.
There's another big difference between mortgages in the two countries. While mortgages are often secured in as little as a few business days in Canada, the process can take up to three months in the U.S., because you're considered a foreigner, and this prompts added diligence from lenders, particularly if you have problems with title documents or a discrepancy in appraisal values. Even refinancing can take 30 days.
Of course, you can avoid all of this by paying cash, like Chuong did, so long as you're buying a relatively inexpensive property. For larger amounts, you could take out a home equity loan against your primary residence. As long as the Canadian dollar is strong, you can take advantage of the extra purchasing power. And, if the loonie's value starts to fall, you can hedge your loss with your U.S. rental income.
3 Don't underestimate the upfront costs
Perhaps the easiest way to get dinged with unexpected costs—and even expensive fines—is not thoroughly understanding the paperwork required to own U.S. property. "The first year is the roughest," says Chuong. "You have no idea what you're doing, you have to file a lot of paperwork and keep a lot of receipts, and it's expensive to get set up."
Chuong warns would-be investors that the cost of paperwork and one-time fees can exceed your rental income in the first year. "But you should be able to break even after that, because the process becomes routine."
Chuong wisely hired an accountant and a lawyer, both well versed in Canadian and U.S. tax laws. Professional fees can be approximately $300 per hour, and even if your record-keeping is orderly, you can expect to be billed an average of 10 hours annually. But the cost is worth it. The accountant went through Chuong's assets and outlined the required documents for both sides of the border. The lawyer helped Chuong file the necessary paperwork, including getting his ITTN, a U.S. tax identification number. You'll also be required to pay realtor fees, home inspection costs, title search fees and, in some states, a transfer tax.
Many realtors in depressed housing markets have switched to a flat fee rather than asking for a percentage-based commission. "My realtor was my local expert," says Chuong, "and to charge a 3% commission on a $35,000 condo would mean quite a lot of work for only $1,050." While fees will differ from state to state, you should expect to pay no more than $3,000 for a flat-fee realtor—which is still far less than the cost of selling a home in Canada.
A home inspection is critical. But, unlike in Canada, consider paying for two separate inspections. The standard home inspection will cost you $300 to $1,000, depending on the size and complexity of the property. Then, if you plan on purchasing in hotter climates, such as Arizona or Florida, arrange a separate termite inspection. These should cost about the same, but if you purchased a condo you won't need to pay anything extra if there's a problem. The homeowners' association—the equivalent to Canada's condo board—pays for termite remediation, explains Chuong. But check with your homeowners' association to be sure what it covers and what you're expected to pay. "In Phoenix, termites are so prevalent that condo associations will actually canvas and spray for termites once per month."
You should also brace yourself for one-time costs that come with the purchase of property. Budget between 1% to 2.5% of your mortgage amount—not the purchase price of the home—for title search and insurance. You can also save yourself a hefty fine by paying a $10 registration fee at the local county's assessor office to register your property as a rental. Forgetting to do so could result in a fine of as much as $3,000 in some counties.
Finally, know when to quit. If you buy more than six properties in any one complex or subdivision you'll need to file additional paperwork with the Securities and Exchange Commission. "Keep it under six and you can avoid the extra paperwork, hassles and fees," says Chuong.
4 Accurately calculate annual expenses
Like any savvy investor, Chuong knows he can't let his costs escalate out of control. He recommends that no more than 50% of annual gross rental income should go to pay for ongoing expenses. Would-be investors should factor in the following costs:
Approximately $350 to $800 for home insurance, depending on the size and location of the property.
About 7.5% to 10% of your gross annual rent for your property manager's fee. (Unless you plan on regularly inspecting the property yourself, hiring a manager is essential.) If you collect $800 in rent each month ($9,600 annually), you'll pay $720 to $960 a year for property management, which includes only minor maintenance. It won't include one-off charges, such as $300 to screen potential tenants, $200 to renew a tenant's lease, or $300 to evict a tenant. It also doesn't include property upkeep, such as painting and major repairs.
If you buy a condo, factor in the condo fees. "But these are relatively cheap," says Chuong, who pays $180 per month for his unit in Phoenix.
Finally, you'll need to include property taxes, which differ from state to state. "These taxes could be as low as 0.5% in Arizona or California, or as high as 2%, like in Florida," explains Forget. (Chuong pays only $500 a year in property taxes.) Also, find out whether the state charges extra non-resident taxes. For example, vacation or rental owners pay at least twice as much in tax as primary homeowners in Florida, and these rates can rise, sometimes quickly, with no cap.
5 Don't overpay on taxes
Perhaps the single largest reason a U.S. property investment turns sour is a lack of awareness about when or how to pay your taxes—both in the U.S. and in Canada. This is where you'll need a good accountant.
However, there are some general rules of thumb. For instance, if you're renting out your property for longer than 14 days each year, then you'll be subject to the IRS's withholding tax on the rental income.
The easy way to deal with this tax is to have your property manager hold and submit 30% of your gross rental income to the IRS. But with this simplicity comes a cost. "You'll almost always pay much more tax than you need to," explains Robert Keats, a Certified Financial Planner in both Canada and the U.S., and the author of The Border Guide.
Instead, you can file an annual return, showing your income and expenses, in both Canada and the U.S. "Do it right and you won't have to pay a withholding tax, and you'll end up paying significantly less in tax each year," explains Keats.
Keep in mind that certain deductions that can reduce your gross rental income in the U.S. (such as mortgage interest) are not allowed in Canada. The key is to keep accurate records and to make sure you get credited for the U.S. tax you do pay— because you can claim this as a credit on your Canadian tax return. (If your condo is for personal use only you won't need to worry about U.S. withholding or income tax.)
You may be concerned that holding U.S. property will trigger the U.S. estate tax (either upon your death, or when you transfer the property to another family member). However, unless your worldwide assets exceed $5 million—$10 million if you're a couple—you are not vulnerable to U.S. estate taxes. Keep in mind, however, that this threshold (and these rules) change frequently. If your portfolio does exceed these limits, you may want to consider a cross-border trust or getting a non-recourse American mortgage, both of which can mitigate estate and probate fees. Talk to a lawyer to learn more.
Don't think you can avoid taxes by gifting or transferring title on the property. "This is where Canadians can get themselves into hot water," says Keats. Unlike estate tax exemptions (which start at $60,000 per person) you only get a $13,000 gift exemption as a non-resident property owner. And if you transfer title on property in the U.S., you're immediately dinged with capital gains taxes. "These can be really nasty tax surprises," says Keats. For Chuong, the key was getting help from his accountant and lawyer, especially in the first years. Also, he continues to rely on a local realtor and an onsite property manager to keep on top of his affairs.
Since his first condo purchase, Chuong has snapped up an additional property in Phoenix: a three-bedroom home for $55,000. "I don't plan on selling anytime soon," he says. For this young investor, there should be a handsome payoff down the road.