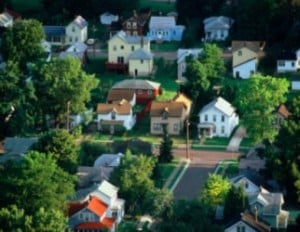 For many buyers, the Canadian housing market is becoming a scary place. Prices are sky high and surging higher by the month. Homes are selling for tens of thousands more than even the sellers expected. Many buyers fear that if they wait, they'll be priced right out of the market, while others worry that if they buy now, prices could tumble when mortgage rates start to creep up later this year.
Click here for the full list.
Click here for the photo gallery.
If you're a potential buyer or real estate investor, we have some tonic for your nerves. Yes, house prices in Toronto and Vancouver are stratospheric, and yes, as a whole, Canadian homes look less affordable than ever. But real estate is local—it always has been—and there are still many pockets in the country where you can find amazing housing deals.
To find out where, we decided to take a scientific approach. We figured we could unearth the bargains in the real estate market in much the same way we find the best buys in stocks and mutual funds: by sifting through reams of hard data. In this case we looked for homes that were priced reasonably, but were still increasing in price. In addition, we looked for markets that have strong economies, so we could be sure that prices will keep going up.
We started by collecting data on 35 major markets tracked by Canada Mortgage and Housing Corporation (CMHC). Next we crunched the numbers, and assigned a letter grade to each city for value, momentum and economy. Then we combined all that info to come up with each market's overall grade. Top cities earned an A, average prospects earned a B, while lackluster prospects were handed a C or worse.
Many individual factors went into each grade. To calculate value, for instance, we started by comparing average rents to average home prices, since we believe that one of the best indicators of a home's financial worth is how much rent it can generate for you. A higher rent-to-house-price ratio also means it's less likely that you're buying into a bubble. When the annual cost of owning a house is much higher than the cost of renting an equivalent house, it often means there will be a correction to close that gap.
Next, we looked at affordability. We looked at local wages and figured out the number of years of average household income that it would take to buy the typical local home. We downgraded communities where local residents can't afford to buy homes easily; we gave high marks to cities where they could. The differences between communities can be huge. In Windsor, Ont., it turns out, a family needs barely two years of average household income to buy a home; in Vancouver, a family needs seven.
But value isn't everything. No one wants to buy in a market where houses are cheap, but prices are dropping. We wanted cities that are on the rise—where you can get a house for a good price now, then sit back and watch your home's value climb. To find such places, we rated each of our 35 cities on momentum, a measure of how hot each market is. We did that by looking at home sales compared to new real estate listings. A higher number of sales for every listing indicates that homes are selling relatively quickly. We also looked at how fast home prices have gone up over the last year, and over the last four years. Lastly, we considered how much rents have gone up over the past four years, since rapidly rising rents indicate a community with a pent-up demand for housing.
Of course the same forces that drive up prices in a city can also turn in the opposite direction. To avoid being taken in by cities with weakening job markets, we devoted our final grade to the strength of the local economy. We looked at how fast each community grew in the last four years. We also factored in 2009 unemployment rates, discretionary income levels, and a CMHC unemployment forecast for 2010.
Finally, we rolled our grades for value, momentum and economic outlook into one overall grade for each community (giving the 'value' score a heavier weighting than 'momentum' and 'economy') and put together an all-star list of the cities offering the best real estate deals. We did that by selecting all the cities that earned a B+ or higher in their overall grade, but we didn't stop there. We noticed that some of our cities—namely Saguenay, Windsor, Trois Rivières and Thunder Bay—didn't get a high grade because they had uniformly high marks across the board. They placed well because they had dirt cheap homes due to high unemployment and a sagging local economy. So we decided to discard any city that earned less than a B- in any of the three subcategories.
As you can see in "Where to buy now" (below) that left us with two big winners— Moncton and Regina—each of which scored an A-. Both cities have relatively low home prices, strong sales and good economies. Coming in with a solid B+ were seven runners-up: Fredericton, St. John's, Ottawa, Gatineau, Winnipeg, Guelph and Saint John. All have reasonable home prices, strong momentum in the housing market and decent economic prospects.
Our research should cheer up many house hunters—it suggests that despite  soaring prices, you can still find bargains in every part of Canada. We caution you, however, to use our results with care. Nobody can know with certainty what a city's economy will be like in 10 years, and there may be mitigating factors in individual markets that weren't picked up by our data. Still, we think our ratings make a great starting point for both real estate investors and those looking to move to a city with more reasonable housing costs. Read on for a more in-depth analysis of each of this year's top places to buy.