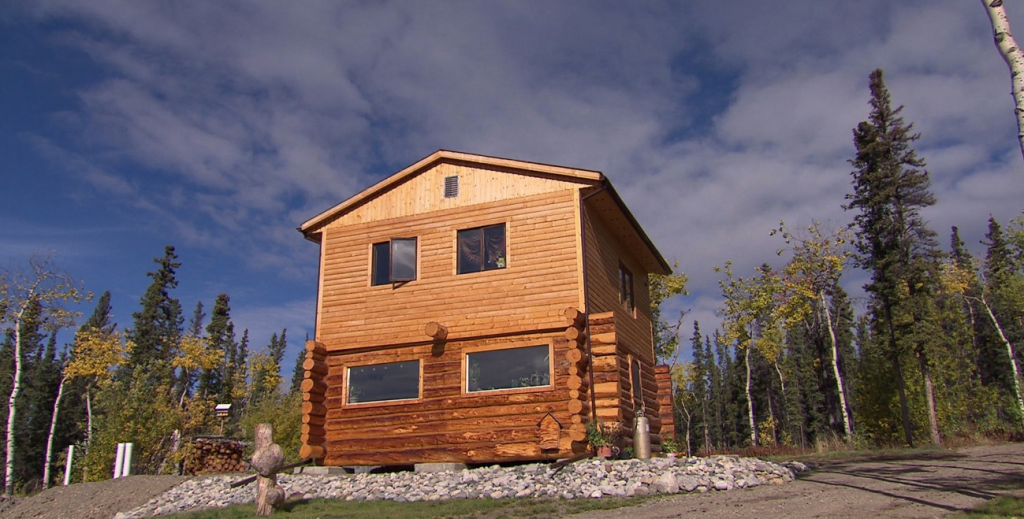 The ice cold arctic. Home to the rough and ready—and the backdrop to a number of popular reality TV shows including three of my favourites Gold Rush, Deadliest Catch and Yukon Men. (Others include: Ice-Road Truckers, Alaska-The Final Frontier, Escaping Alaska, Bering Sea Gold (aka: the angriest gold miners on planet earth), Alaska Monsters, Wild West Alaska (on Animal Planet), Railroad Alaska and Edge of Alaska.)
Enter one more: Yukon For Sale.
The show is less day-to-day survival and more about enduring the house hunt in one of Canada's remotest territories. Not a bad premise given how difficult it is to come up with an original concept when it comes to real estate reality TV shows. (Added feature: Canadian Country music singer George Canyon narrates this wild real estate ride that takes viewers out into the middle of North America's untamed wilderness.)
Premiering Saturday, June 13 at 9 p.m. EST (6 p.m. PST) the 30-minute show follows house hunting Yukoners, both native and newbies to the north, who are in search of unique properties to satisfy their northern living needs. Already there's a young couple seeking an off-the-grid existence, hunters with their sights set on a backyard full of game, and urban professionals hoping to find a condo in the middle of a northern town. It's a show about finding the perfect pad in a place where moose outnumber people by two to one.
In the episode I reviewed, Joe and Shelly are parents of two little tykes and they're looking for a log home with off-the-grid potential and close to the Aurora Borealis. (He's a photographer who specializes in shots of the Borealis. Tough job but someone's got to do it.) Housing prices for the three options they considered ranged from $449,000 to $695,000—so no rock-bottom deals for real estate hunters here.
One of the features I liked most about the show were the tidbits of information that pop up during your voyeuristic tour of the couple's house hunting. For instance, did you know the Yukon is home to the Great Klondike International Outhouse Race. Yeah. You read right: That's an outhouse on wheels racing other outhouses. It's billed a one-of-a-kind event and I believe it!
Yukon for Sale airs on Saturdays at 9 p.m. EST on Corus Entertainment (CMT) channels. Unfortunately, the premier goes up against Stanley Cup NHL Finals—it'll be tough to rip Canadians away from their beloved sport that night—and against HGTV's Income Property. But for a unique real estate perspective—and to learn fascinating tips, like install a metal roof so the slides down instead of an asphalt roof where you have to shovel the snow off—tune into Yukon for Sale.
8 quirky questions Yukon buyers ask realtors
#1. How do we get water?
Outside of the capital city of Whitehorse many home owners are responsible for supplying their own water. There are three ways this can be done: (1) drill a well on the property, (2) pick up water from the local fire station and fill a holding tank on the property that connects to the home's plumbing, (3) pay to have water delivered by a third party company.
#2. Is there cell service?
No matter what direction, if a person travels more than 30 minutes outside of Whitehorse or Dawson City they will lose cellphone reception. Anyone living outside of these two major cities must have a landline to stay connected.
#3. Is there wood heat?
Even if a home has electric heat, most Yukoners prefer a wood stove as a back up heat source. The Yukon is not connected to the nation's electrical grid—and power outages happen, a lot, often for long stretches at a time. Without back up heat, home owners could freeze, as could their plumbing.
#4. Have there been any bear attacks in the area?
Being bear aware is a necessity for Yukoners. There are more than 10,000 black bears and 7,000 grizzlies in the Yukon. Roughly, that equates to two people for every bear. For that reason, Yukoner home owners need to secure their garbage or make frequent trips to the dump so as not to attract bears.
#5. How close is the hospital?
The Yukon territory is 482,443 square kilometres—larger than the state of California. Yet, this northern Canadian territory has only three hospitals to service the 37,000 residents.
#6. Is the house hooked up to electrical power?
With rolling black outs, Yukoners have come to rely on other forms of energy. A popular option in the summer months is solar power. During the summer there is more than 20 hours of daylight each day—plenty of time for solar panels to gather energy and then store it in battery banks. These banks are then hooked up to the home to power everything from lights, to appliances, to heating and cooling systems. In the winter, when there is significantly less daylight, home owners rely on generators to charge the batteries that provide power to the home.
#7. What kind of roof does the home have?
The Yukon gets approximately 142 cm of snow per year. This is why most Yukoners prefer a home with a metal roof. As the heavy snow melts it will slide down a metal roof on its own. If the roof is made of asphalt shingles the home owner has to shovel the roof by hand or risk the roof caving in from the weight of the snow.
#8. Where can I hang my meat?
Any gamesman will tell you: the Yukon has world-class hunting. For that reason, many residents will install a pulley system in their garage to hang, skin and dress meat. Usually you will find a chest freezer in Yukoner garages where the butchered and packaged meat can be stored.
(All questions and answers were supplied by CMT)