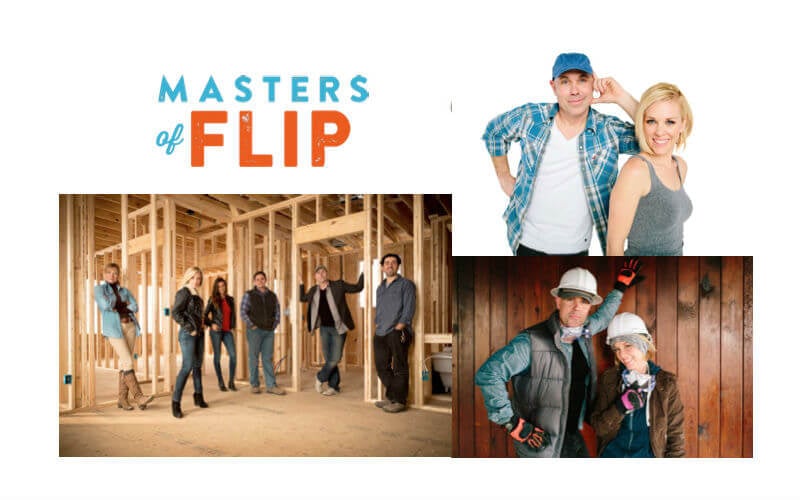 The back story is the stuff of fairytales: Two teenagers from two completely different smaller Ontario towns have big dreams to be singers. Independent of each other they set off for Nashville, Tennessee. Not only do they both sign recording deals, but they meet, fall in-love, record music, star on a TV-show and start a family.
Then life hits. After the entire U.S. economy tanked in 2008, Kortney and David Wilson found themselves scrambling for any work that paid the bills. Perhaps it's those humbling days waiting tables that gives this now-famous family a lot more humility than most. A humility that comes through on and off the set of their new reality property show: Masters of the Flip (which premieres tomorrow night, May 12, at 10 p.m. EST on W Network).
The premise behind the show is simple: Can a pair of Canadians find happiness flipping homes in America's music city? Watch an episode or two and you'll quickly answer that question yourself.
Truth is, though, home flipping—whether it's in Nashville, TN, or Scottsdale, AZ, or Toronto, ON—is becoming tougher and tougher.
"Nashville has undergone a complete transformation from when we first bought into the market in 1998," explains Kortney. "Back then we opted for a neighbourhood that had not yet 'arrived' but had potential." The gamble paid off. "We had neighbours who bought their home for $15,000 (after the devastating 1998 hurricane)," says Kortney. "These days they could easily sell the home for $700,000."
But the big numbers and bright lights don't wash away the couple's desire to make a living—and help others do the same. Even more impressive is that the numbers at the end of each episode are realistic.
"We don't take pro-bono work," says Dave. "It's a bad business model." When pressed, Dave answers simply: "We don't believe anyone should work for free."
So that means everyone gets paid: from carpenters, to electricians, to drywallers, to tapers, to cleaners and stagers. The only costs that are not taken into consideration are the transactional fees: land transfer taxes, legal fees, realtor fees, property taxes, etc.
OK. I know. Closing costs and realtor fees add up. But these are also costs of doing business that any house flipper, real estate investor, or home buyer will need to take into consideration. I'm just impressed that the Wilsons pay their trades and report closer to accurate construction costs on each episode. You and I both know this is not the case for a large number of reality shows on the air. Also, at no point do they sugar-coat the house-flipping business and they are quick to add that this already tough business model is getting tougher and tougher. Kortney explains: "Nashville is a booming market and it now feels like it's on everybody's radar."
It's this down-to-earth honesty that leaves me with the impression that the Wilsons aren't trying to convince people that flipping real estate is a great way to make money. They just want to share their adventures with other people, not convince people to pick up a hammer and try their hand at real estate speculation. That approach is refreshing even if there are two-dozen other property shows on the air. (It also helps that Kortney's designs are eye-popping and trendy.)
To sum up: The Masters of Flip will offer us a snappy, fun and funny glimpse into the gritty, stressful business of flipping houses. It's a refreshing watch…and I'm sure my PVR will end up with more than few of these episodes in the coming weeks. But I'll confess: I really am a sucker for people who can weather a storm well and come out smiling.
Read more from Romana King at Home Owner on Facebook »