Would you pay $1 per month for extra protection of your rights as a condo owner (or when buying a condo)? The Minister of Government and Consumer Affairs is betting you will.
In an announcement this morning, Ontario's Minister of Government and Consumer Affairs, David Orazietti, introduced new legislation that would increase protections for condominium owners in Ontario, improve how condo corporations are run and ensure that condo boards are governed professionally.
"In recent years, Ontario has seen huge growth in condo development, and it has become increasingly obvious that our current Condominium Act is not providing enough protection for those living in condos," said Orazietti. His announcement comes just days after a St. Catharines, Ont. man was charged with defrauding 13 condo corporations in Hamilton and Burlington of $4.1 million. "Some people will say these [fraudulent incidents] are rare occurrences, but no, no, no, no, it's not," said Anne-Marie Ambert of the Condo Information Centre, an organization dedicated to changing the current Ontario Condominium Act.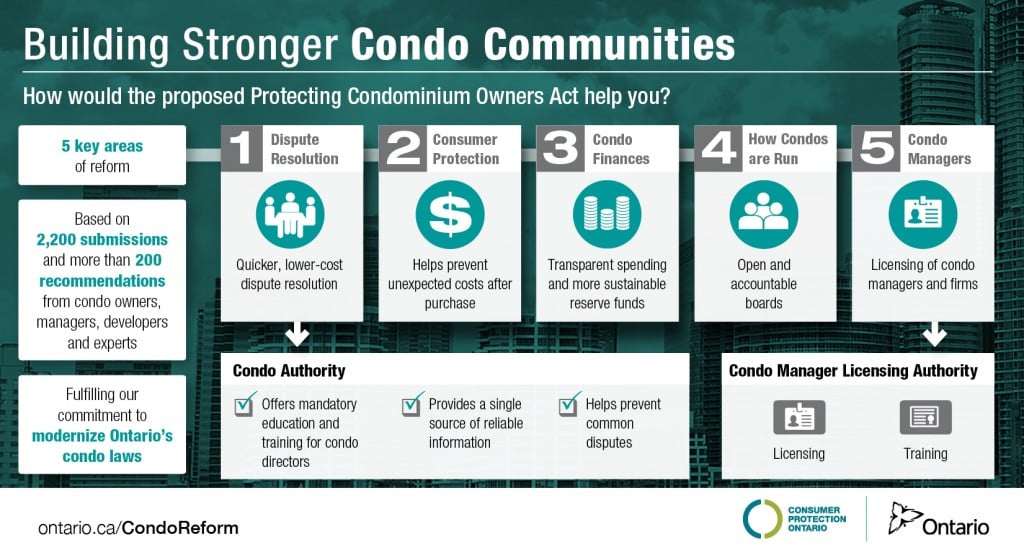 Under the new legislation the 1.3 million Ontario residents who currently live in condos and strata townhomes will get:
 –> the establishment of a new Condominium Authority that will oversee all the changes and ongoing dispute resolution process
–>  a less costly mediation service to help resolve disputes such as noise complaints, bylaw infractions or an inability to get financial documents from the condo board of directors. At present, condo owners are forced to use the court system if difficulties arise
–> a new Condo Manager Licensing Authority will be set up to provide training and regulate the 2,500 property managers who manage the 10,000 condominium developments in Ontario. Right now there are no qualifications to become a condo manager, so this new licensing system along with a new code of ethics will help standardize management across the province
–> changes to the current Condominium Act that will tighten rules on how fees are charged or increased. This will help avoid surprise hikes in condo fees (for instance, it could limit or restrict the developers from putting clauses into condo contracts that enable them to own common areas, such as the lobby, then lease these areas back to the unit holder prompting big increases in monthly fees)
–> new rules on how condo boards are run to make them more transparent and accountable, with new qualification requirements for directors that will require some basic training. For example, condo corporations would be restricted from finalizing maintenance or upkeep contracts, such as replacing a roof, unless certain procurement processes have been followed
–> changes that will make is easier for individual owners to attend board meetings or call for a vote of the condo board on an issue. For instance, condo owners will no longer have to pass a by-law to hold a meeting through conference calls or using similar off-site technology
–> require condo boards to issue reports to owners on a regular basis on topics such as insurance or any legal proceedings. For example, the amendments will require developers to give condo buyers a copy of an easy-to-read guide to condo living at the time of sale
–> regulations will be clarified to spell out the amount of an adequate reserve fund for each condo development, which should also help eliminate surprise hikes in fees or special assessments levied against each owner
In addition to these proposed updates to the current Condominium Act, the new amendments will also enable unit owners of condo conversion access to Tarion's new home warranty program for eligible limited coverage. Until now, all condo conversions were excluded from the home warranty program.
The current Ontario Condominium Act was passed in 1998. But in the last two decades the the size and complexity of Ontario's condo market has changed dramatically. Today, Ontario has just under 700,000 condo units and 10,000 condo corporations. Currently about 1.3 million Ontarians live in a condo and more than half of new homes under construction in this province are multi-family developments (aka: condos or townhomes with strata status).
"For the average person, it's not a level playing field right now and our legislation will significantly strengthen consumer protection for condo owners," said Orazietti.
After years advocating for change, Anne-Marie Ambert is pleased with this step forward. "This new legislation is a tremendous step towards protecting and overseeing the rights of condo owners in Ontario. It will be a great source of security to owners and will give them a place to turn to when their rights are violated, while providing easier access to information." Ambert adds, "it is a great insurance policy for all owners, now and in the future."
To fund all these changes and services, the Condo Authority would have the power to set its own fees, including a small feee for all condo corporations, which would work out to about $1 per unit per month. This new fee would be collected from unit owners as part of their monthly maintenance fee and would start being collected once the Condo Authority's dispute resolution services are in place.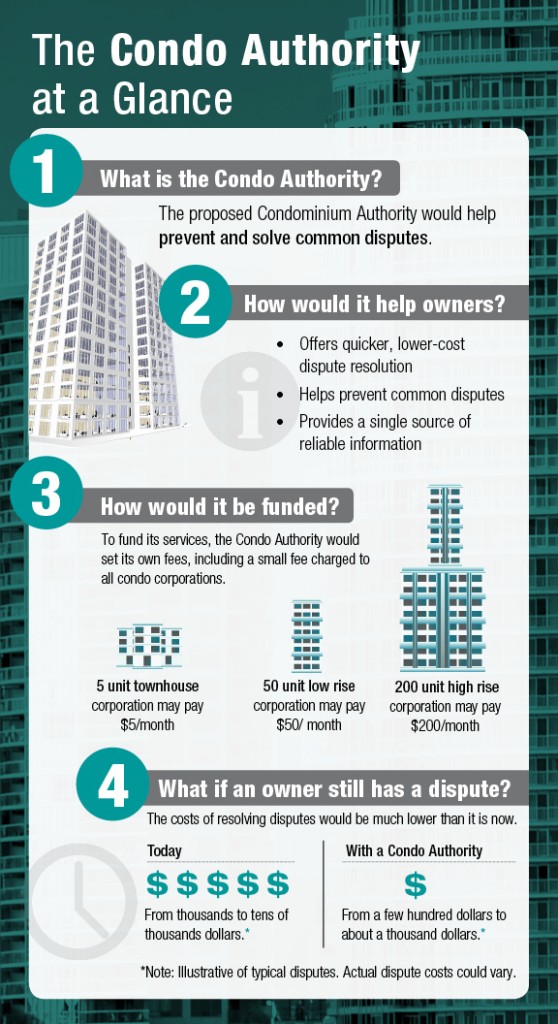 Read more from Romana King at Home Owner on Facebook »