Would you pay $1 per month for extra protection of your rights as a condo owner (or when buying a condo)? The Minister of Government and Consumer Affairs is betting you will.
In an announcement this morning, Ontario's Minister of Government and Consumer Affairs, David Orazietti, introduced new legislation that would increase protections for condominium owners in Ontario, improve how condo corporations are run and ensure that condo boards are governed professionally.
"In recent years, Ontario has seen huge growth in condo development, and it has become increasingly obvious that our current Condominium Act is not providing enough protection for those living in condos," said Orazietti. His announcement comes just days after a St. Catharines, Ont. man was charged with defrauding 13 condo corporations in Hamilton and Burlington of $4.1 million. "Some people will say these [fraudulent incidents] are rare occurrences, but no, no, no, no, it's not," said Anne-Marie Ambert of the Condo Information Centre, an organization dedicated to changing the current Ontario Condominium Act.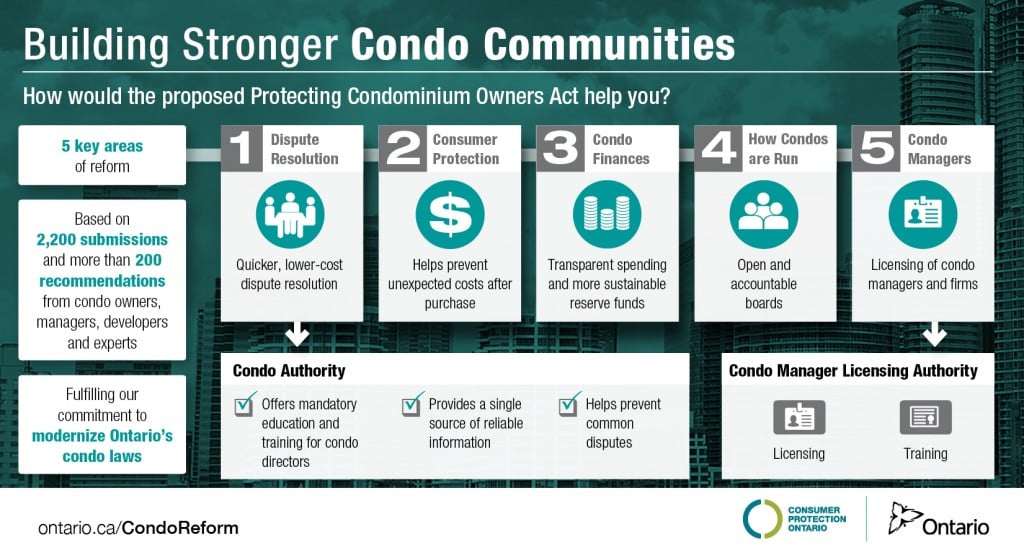 Under the new legislation the 1.3 million Ontario residents who currently live in condos and strata townhomes will get:
 –> the establishment of a new Condominium Authority that will oversee all the changes and ongoing dispute resolution process
–>  a less costly mediation service to help resolve disputes such as noise complaints, bylaw infractions or an inability to get financial documents from the condo board of directors. At present, condo owners are forced to use the court system if difficulties arise
–> a new Condo Manager Licensing Authority will be set up to provide training and regulate the 2,500 property managers who manage the 10,000 condominium developments in Ontario. Right now there are no qualifications to become a condo manager, so this new licensing system along with a new code of ethics will help standardize management across the province
–> changes to the current Condominium Act that will tighten rules on how fees are charged or increased. This will help avoid surprise hikes in condo fees (for instance, it could limit or restrict the developers from putting clauses into condo contracts that enable them to own common areas, such as the lobby, then lease these areas back to the unit holder prompting big increases in monthly fees)