The federal Department of Finance is seriously considering weighing in on Canada's housing market by raising the minimum down payment on a home purchase from 5% to up to 10%. Their recommendation to the Minister of Finance could come as early as January 2016.
According to RateSpy founder and independent mortgage broker Robert McLister, government policy-makers are considering a graduated minimum down payment threshold based on either the home value or the mortgage amount. Homes/mortgages under $500,000 would only require a 5% down payment, while those between $500,000 and $700,000 would require 7% down and anything over $700,000 would require 10% down.
Apparently, the rationale for this new graduated scale is two-fold:
→ Tougher lending requirements should help cool the housing market, particularly in red-hot Toronto and Vancouver.
→ It would also help minimize the exposure taxpayers have to insured mortgage default losses.
Currently, if a person buys a home with less than 20% down the lender is legally required to take out mortgage default loan insurance. This insurance reimburses the lender the full mortgage amount should a person default on the loan. The money used to reimburse the lender comes from taxpayer coffers.
While this sounds like a win-win—and there are certainly positive elements to this tiered down payment system—there may also be a few unintended consequences.
Pro: Cool the country's two hottest housing markets
We know from past experience that any regulatory change has a real impact on the housing market. For instance, prior restrictions to mortgage rules had the government withdraw coverage (ie: availability of mortgage loan insurance) to homes that cost $1 million or more. The government also tightened amortization lengths—removing the 40, 35 and 30 year options. (Home owners that can put down 20% or more still have the longer amortization options but typically pay a one-time fee and may be subject to a higher mortgage rate.) The impact of these restrictions can still be felt almost five years later, explains Will Dunning, chief economist for Mortgage Professionals Canada (formerly known as Canadian Association of Accredited Mortgage Professionals).
These new changes, then, will certainly have an impact. "Marginal borrowers will be squeezed again and some buyers will have to defer their home purchase into the future, so they can save up that extra 5%," explains McLister."So this potential change will slow the market. We just don't know by how much."
Pro: Help Canada's condo market
One market segment that could get a bit of a boost is the condo sector. "Those buyers with only 5% down payment saved will focus on homes under $500,000 and in the larger cities, such as Vancouver and Toronto, these segment is dominated by condos," explains independent mortgage broker Jake Abramowicz.
Con: Hurt the rest of Canada's housing market
Still, the rest of Canada's housing market may not fare well with this speculative changes to the minimum down payment. "Prices are way up in Toronto and Vancouver, but sales and prices in the rest of the country are faltering," explains Abramowicz, who describes the nation's real estate sector as a "two-speed housing market."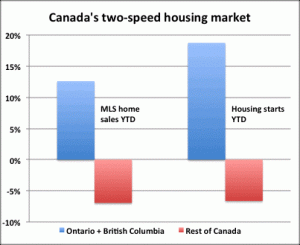 While B.C. and Ontario continue to experience a surge in housing prices and new builds, pricing and builds in the rest of Canada has either stagnated or dropped. Calgary, Regina, Saskatoon, Montreal, Quebec City and Halifax all reported a drop in housing prices, year-over-year, by September 30, 2015.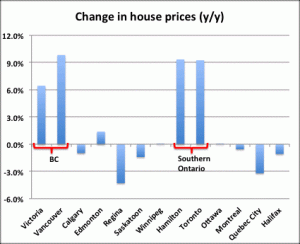 Con: Other market factors not addressed
Abramowicz is concerned that changes to mortgage down payments won't actually address the lack of inventory both Toronto and Vancouver. "Despite escalating prices, sales are up in these two cities as are the number of listings," says Abramowicz, "but inventory is very low."
It's a fear shared by Dunning. "Any policy change that restricts housing purchases won't actually address the biggest problem facing Toronto and Vancouver: a lack of supply."
Other problems that won't be addressed by potential changes to down payment minimums include: ongoing access to cheap debt (due to historically low interest rates) and the impact of cash-investors.
Con: Could create a fat middle-market
Finally, by creating a tiered down payment system, the government could artificially increase demand for homes valued under $500,000. Buyers who don't have 10% saved up for home over $500,000 may opt to pursue a purchase in the lowest down payment tier (homes that are $500,000 or less). An increased number of buyers for these homes will create increased demand and this could, eventually, lead to price increases.
At the same time, homes worth $500,000 or more may see a decreased number of potential buyers; this could reduce the demand for these homes, which could lead to decreased prices for this segment of the market.
The upward pressure for cheaper homes and the lack of demand for homes over $500,000 could create a fat middle: more buyers competing for some over-valued and some under-valued homes in the mid-range market. It's possible.
This pressure may also increase the use of shadow lenders—private lenders that provide buyers with loans at much higher rates than traditional lenders. As such, Abramowicz strongly advises borrowers to seek guidance from a mortgage professional and to do their own budget analysis and stress-testing.
As for the Finance Department? As expected, they had no real comment on the issue stating: "The Department does not comment or speculate on possible policy actions or discuss what might be under consideration." They go on to state: "The Government continuously monitors the housing market and regularly reviews the merit of actions to support the long-term stability of Canada's housing market and financial system. Mortgage insurance rules have been adjusted in the past to protect Canadian families who hold wealth in their homes, and Canadian taxpayers, who support home ownership through government-backed mortgage insurance."
I guess we'll need to wait for a formal public announcement.
Read more from Romana King at Home Owner on Facebook »
Correction: The Department of Finance will make a recommendation to the Minister of Finance as early as January 2016. The original article, published Dec. 4 stated that the Department of Finance would announce any proposed down payment in January 2016.