Want to save more than $53,000 on the purchase of a home? Then be prepared to comparison shop for the best mortgage rates and terms. According to a new RateHub.ca survey, consumers that shopped around for the best rates saved $53,089 (based on a $500,000 mortgage, amortized over 25 years)—the difference between a lender's posted mortgage rate and the discount rate, over a five-year term.

Canadians are actually beginning their mortgage search earlier with the help of technology. Two separate RateHub.ca user surveys showed that the majority of searches still originated using a home computer (either laptop or desktop). Still, mobile searches using smartphones increased in the last few years: In 2013, only 25% used a phone or tablet when accessing RateHub.ca. This increased to 37% by 2015.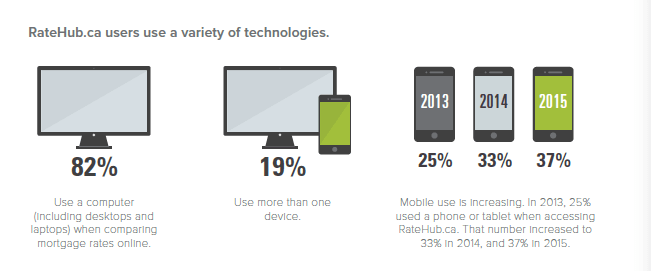 According to Google search analytics, Canadians search for mortgage-related keywords more than 700,000 times each month. The CMHC 2015 Mortgage Consumer Survey showed that 78% of Canadians now go online to find mortgage information. The most popular searches are for mortgage calculators and mortgage rates, but affordability, banks and brokers are also common mortgage search terms.

Searches for mortgage rates tended to surge when the Bank of Canada made interest rate announcements—usually in January and July—or when the target for the overnight rate (the rate that impacts variable rate mortgages) was lowered.