Want to save more than $53,000 on the purchase of a home? Then be prepared to comparison shop for the best mortgage rates and terms. According to a new RateHub.ca survey, consumers that shopped around for the best rates saved $53,089 (based on a $500,000 mortgage, amortized over 25 years)—the difference between a lender's posted mortgage rate and the discount rate, over a five-year term.

Canadians are actually beginning their mortgage search earlier with the help of technology. Two separate RateHub.ca user surveys showed that the majority of searches still originated using a home computer (either laptop or desktop). Still, mobile searches using smartphones increased in the last few years: In 2013, only 25% used a phone or tablet when accessing RateHub.ca. This increased to 37% by 2015.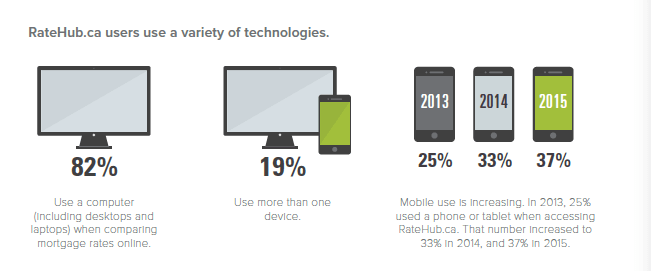 According to Google search analytics, Canadians search for mortgage-related keywords more than 700,000 times each month. The CMHC 2015 Mortgage Consumer Survey showed that 78% of Canadians now go online to find mortgage information. The most popular searches are for mortgage calculators and mortgage rates, but affordability, banks and brokers are also common mortgage search terms.

Searches for mortgage rates tended to surge when the Bank of Canada made interest rate announcements—usually in January and July—or when the target for the overnight rate (the rate that impacts variable rate mortgages) was lowered.
Another trend was the rise in popularity of variable rate mortgages. Historically, fixed rates were the preferred favourite of home buyers, as it offers some insulation from rising mortgage rates. However, in 2015, 42% of all RateHub.ca user requests were for variable rate mortgages—a clear signal that persistent low rates are enticing to home buyers looking to lower their monthly housing costs. Another casualty has been the 10-year fixed term mortgage. In 2012, 13% of mortgage requests were for 10-year fixed term rates; in 2015 this had dropped to just 1%.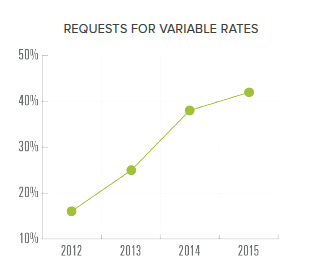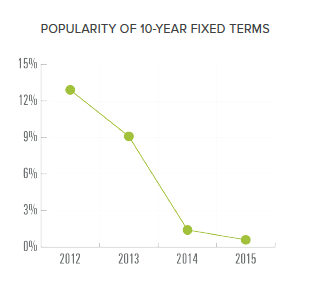 So, with rates continuing to remain low is there any point to being vigilant in your mortgage rate comparison shopping? Absolutely. Improving economic conditions in the U.S. and changes announced by the Federal Reserve should prompt a rise in U.S. fixed rates. This doesn't automatically mean a rise in Canadian variable rates (particularly given that economic analysts and the Bank of Canada don't anticipate any near term changes to the overnight rate). Still, this doesn't mean there won't be changes to mortgage rates now or in the next 12 to 18 months. Just last week, RBC announced a rate increase—and other banks and lenders are expected to follow suit. So, keep shopping. It could mean a savings of $10,000 or more for each year of your mortgage term.
Read more from Romana King at Home Owner on Facebook »