The number of months of inventory (MOI) is an important measure for determining the supply and demand equilibrium in the housing market. This ratio represents the number of months (or days) it would take to completely sell the homes that are currently listed for sale, based on the area's current rate of sales activity.
According to the Canadian Real Estate Association (CREA), there were 4.8 months (144 days) of inventory on a national basis at the end of August 2016. In CREA's national statistic package release it's noted that the MOI has been trending lower since early 2015, "reflecting increasingly tighter housing markets."
How to calculate MOI (months of inventory)
Active listings for a given period / number of sales for a given period = # MOI
Type of market
It's a seller's market if there are four months (approximately 120 days) of inventory or less.
It's a balanced market if there are four to six months (approximately 120 to 180 days) of inventory.
It's a buyer's market if there are six months (approximately 180 days) or more of inventory.
What type of market are we in?
Housing in Canada is regional and there can even be differences from province to province, city to city and even neighbourhood to neighbourhood.
At present, most of the major urban centres in Canada are either in a seller's market or a balanced market, with the exception of the Atlantic provinces. The East Coast housing markets remain in a buyer's territory.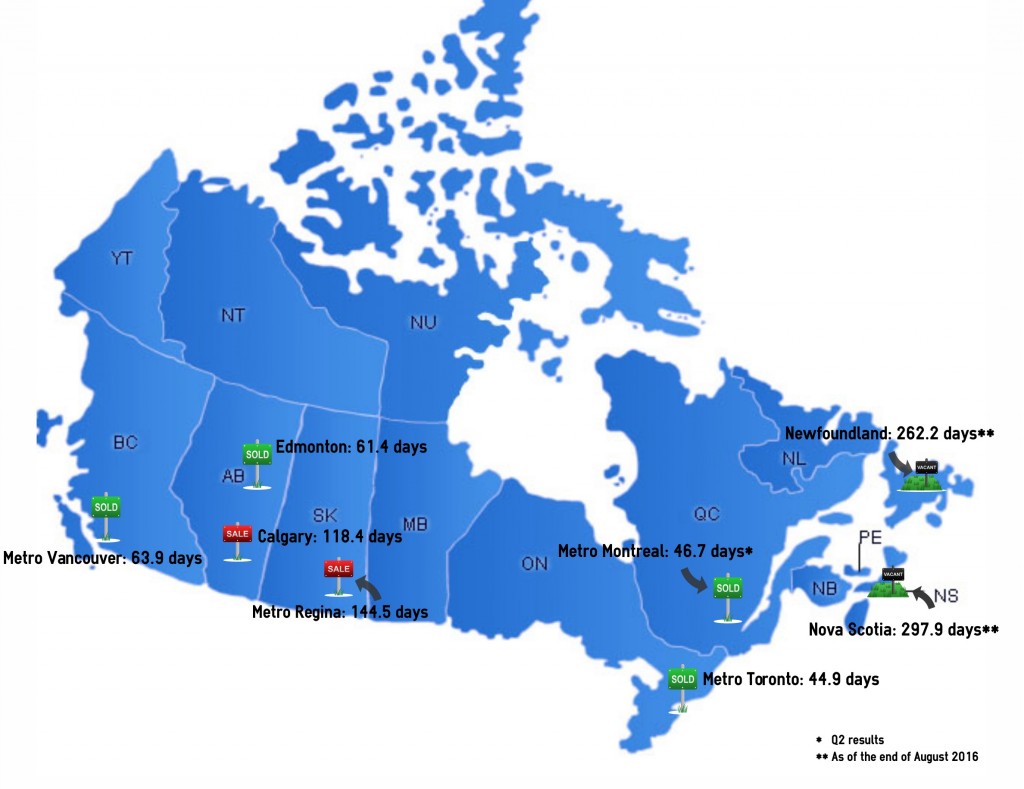 Sources: Toronto Real Estate Board,

Saskatoon Regional Association of Realtors, Association of Regina Realtors,

Real Estate Board of Greater Vancouver, Nova Scotia Association of Realtors, Canadian Real Estate Association
| | | | | |
| --- | --- | --- | --- | --- |
| Province | City | Days of inventory | MOI (months of inventory) | Type of market |
| Nova Scotia** | | 297.9 | 9.9 | Buyer |
| | | | | |
| Newfoundland** | | 262.2 | 8.7 | Buyer |
| | | | | |
| Quebec | Montreal Island* | 46.7 | 1.6 | Seller |
| | Quebec City* | 51.2 | 1.7 | Seller |
| | | | | |
| Ontario | Hamilton | 36.8 | 1.2 | Seller |
| | Oshawa | 36.8 | 1.2 | Seller |
| | Pickering | 38.5 | 1.3 | Seller |
| | Burlington | 38.8 | 1.3 | Seller |
| | Brampton | 40.3 | 1.4 | Seller |
| | City of Toronto | 44.9 | 1.5 | Seller |
| | Central Toronto | 46.1 | 1.6 | Seller |
| | Markham | 46.5 | 1.6 | Seller |
| | | | | |
| Manitoba | Winnipeg | 77 days | 2.6 | Seller |
| | | | | |
| Saskatchewan | Saskatoon | 77.1 | 2.57 | Seller |
| | Regina City | 144.5 | 4.8 | Balanced |
| | | | | |
| Alberta | Edmonton | 61.4 | 2.1 | Seller |
| | Calgary | 118.4 | 4 | Balanced |
| | | | | |
| British Columbia | Metro Vancouver | 63.9 | 2.1 | Seller |
| | Victoria | 79.2 | 2.6 | Seller |
* As of end of Q2, 2016


** As of August 31, 2016
Ask your property or real estate question here »
---
Read more from Romana King at Home Owner on Facebook »