MoneySense's Best Places to Live 2013 is our most comprehensive data-driven snapshot of Canadian cities yet. This year, we expanded our list to 200 cities, up from 190 cities last year. We also added 11 new categories to our process, bringing the total number of categories we track to 33 to get an even better picture of what life is like in each community.
While we can't gauge many of the elements that people enjoy in their cities, the nearness of family, the friendliness of neighbours or even great sunsets, we have measured what can be measured and compared what can be compared from towns and cities across our provinces and territories.
To come up with the ranking, we gathered information on Census Metropolitan Areas (CMA), Census Agglomeration (CA) and Census Subdivisions, (CSD) as defined by Statistics Canada. All of the demographic data was supplied by Environics Analytics, Demographic Estimates and Projections 2012. Additional data sources are noted below.
The pie chart below illustrates how we weigh each category group for the main list: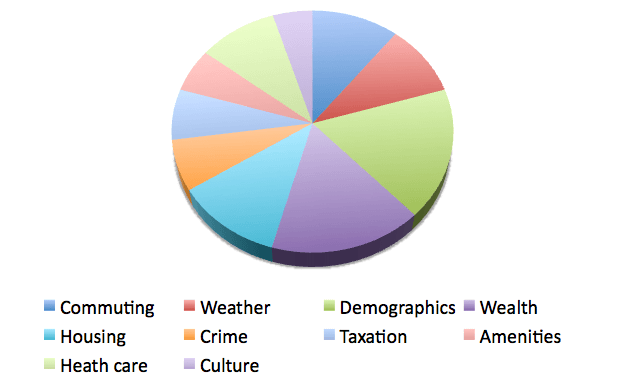 New this year
This year we ranked each city against its peers and overall. A small city is defined by a population below 100,000, a mid-size city has population of between 100,000 and 400,000 and a large city has a minimum population of 400,000.
Eleven new categories were added to help us come up with our ranking. To accommodate the new categories we have updated our scoring system. Some categories like weather for instance, now have a smaller weighting in our ranking than in previous years, while other categories have been expanded. Categories new to our list this year include: household net worth, the number of days of precipitation, the number of days where the temperature is above 20 degrees C, the five-year change in crime rate, property tax measures, movie theatres and whether a city is within close proximity to an airport serviced by Air Canada or WestJet.