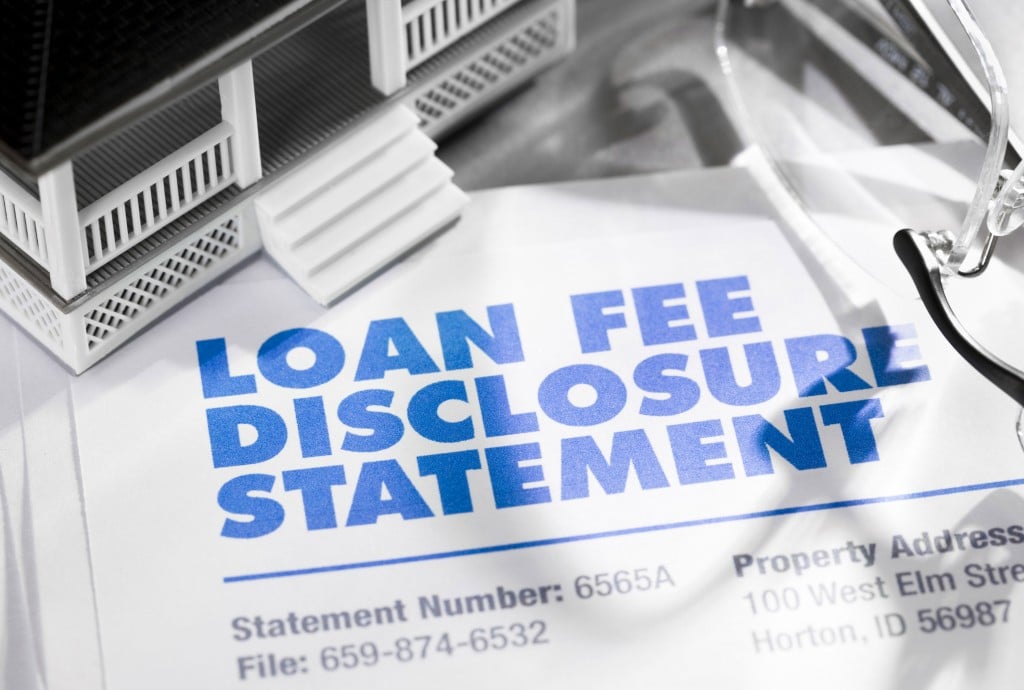 We recently got an email from a reader who was quite perturbed. He had saved his money was diligent about his budgeting, and was set to purchase a modestly priced home near Ottawa. But when he went to use the Canada Mortgage and Housing Corporation's mortgage calculator to figure out his final costs, he was surprised to see an additional $2,500 tacked on to his mortgage. Here's why:
Q: Every resource I've consulted says that a down-payment of 20% or more on a home waives any mortgage insurance premium that I would be required to pay if I were putting down less of a down-payment. However, when I use the CMHC mortgage affordability calculator, and enter a purchase price of $250,000 with a down-payment of $50,000 (20% of the home's value), it gives me a mortgage insurance premium of $2,500 not $0. My question is why are home buyers told that a 20% or more down-payment is sufficient to avoid mortgage insurance fees, if that's not the case? —Peeved with Premiums
---
Click to compare home insurance quotes from some of Canada's top providers*
---
Dear, Peeved with Premiums: You have a right to be concerned. Home buying is a stressful process and every dollar counts, so it would certainly come as a surprise to learn that despite saving up a 20% down-payment you're still expected to pay a mortgage insurance premium.
But there's good news: You won't have to pay.
Any property purchased in Canada that has less than a 20% down-payment is required, by law, to have mortgage insurance. This insurance is to protect the lender, not you, and the fees drop as your down payment gets larger. In Canada there are currently two entities that provide lenders this insurance: Genworth and Canada Mortgage and Housing Corporation (CMHC).
But don't be confused. The laws to purchase this insurance don't actually impact you—they impact your lender. In other words, federal laws demand that lenders purchase this insurance from Genworth and CMHC. Federal laws don't stipulate whether or not lenders have to pass on this cost to Canadian home buyers. That decision is up to the lender.
But before you get out the placards and set up a protest, let's put this in perspective. A conventional mortgage is where you put 20% of your own money (or more) as collateral towards owning a home. But it's a large purchase and 20% can be tough to save up (particularly in a hot real estate market where prices keep going up). That's why the federal government came to an agreement with CMHC and Genworth to offer mortgage default loan insurance (the official name) to lenders who were willing to accept a less than 20% down payment when it came to a home purchase. When a borrower qualifies to purchase a home using a non-conventional or high loan-to-value mortgage, the federal law requires mortgage loan insurance and this cost is passed on to the borrower.
Simply put: It's a fee passed on to you for the benefit of owning a home with less than 20% down.
Ask Home Owner columnist Romana King your real estate question »
BANKS PASS ON THE COST TO BUYERS
Still, it's pretty much an industry standard for lenders to pass on the cost of mortgage insurance to their borrowers who put down less than a 20% down-payment.
What's not typical is to pass on this cost if a home buyer puts down 20% or more as a down-payment on a property. But that doesn't mean it doesn't happen. Fact is even when you purchase a home with more than 20%, many lenders will still opt to purchase the insurance. Why? It helps defray the downside risk of mortgaging a more expensive property. Think: Toronto and Vancouver where average prices for detached urban homes reach or surpass $1 million.
But in only a few cases, will a lender decide to pass on the cost of this mortgage insurance when a borrower puts down a 20% or more as a down-payment. "It's not typical," says one mortgage broker, "but it can happen."
It will only really happen if the borrower moves from the A-list (of high quality borrowers) to the B-list (riskier borrowers) and red flags for getting on the B-list include: bad credit rating, you're self-employed or have a spotty employment history, you carry a large debt load that's close to the threshold (to understand mortgage ratios, read my blog on the basics of debt ratios and qualifying for mortgages.)
THE MORTGAGE CALCULATOR IS NOT WRONG
Of course, none of this applies to Jon our reader. He's been steadily employed for decades, he doesn't carry an exceptional debt loan and the size of the mortgage on the property is not only manageable, but conservative given the current real estate market.
For that reason, I reached out to the CMHC to ask, specifically, why their calculator would include this fee. Karine LeBlanc, media relations officer with CMHC, responded:
"It is important to note that CMHC's mortgage affordability calculator is for general illustrative purposes only. The amounts it projects are based upon assumptions and estimates made according to generally accepted principles for mortgages in Canada. CMHC cannot guarantee the projections. Actual payment amount must be obtained from a person's lender."
In other words: Don't take any mortgage calculator at face value.  Talk to your lender. And if you find that your bank feels it necessary to pass on the fee, I would suggest shopping around. The mortgage business is hyper-competitive these days and finding a lender with a great rate that doesn't pass on extraneous fees should be easy as 1-2-3.
Read more from Romana King at Home Owner on Facebook »
(Just a heads up: Mortgage insurance premium rates recently went up both at CMHC and Genworth and investors, those with vacation homes or second mortgages will want to pay attention to the different rates that Genworth applies to these types of properties.) Here's the standard rate charts for both Genworth and CMHC.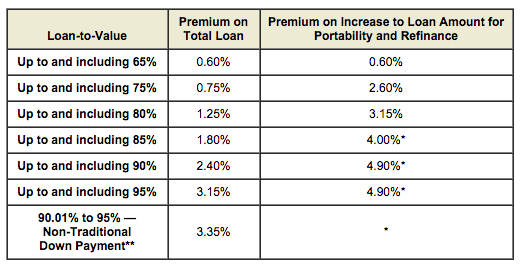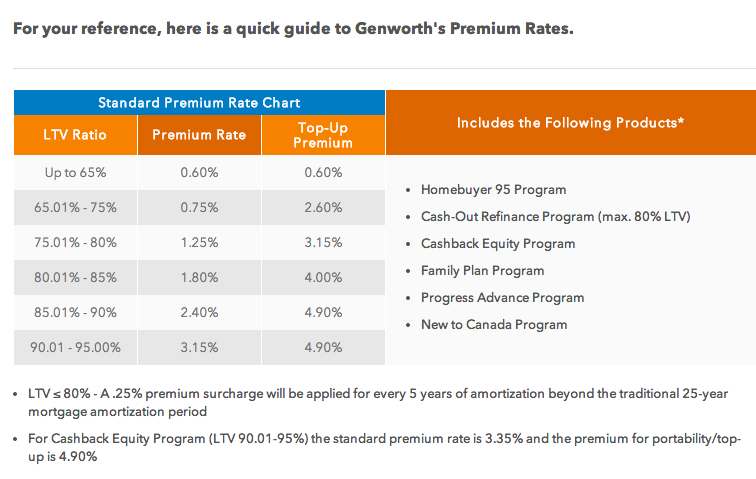 What does the * mean?
If a link has an asterisk (*) at the end of it, that means it's an affiliate link and can sometimes result in a payment to MoneySense (owned by Ratehub Inc.) which helps our website stay free to our users. It's important to note that our editorial content will never be impacted by these links. We are committed to looking at all available products in the market, and where a product ranks in our article or whether or not it's included in the first place is never driven by compensation. For more details read our MoneySense Monetization policy.