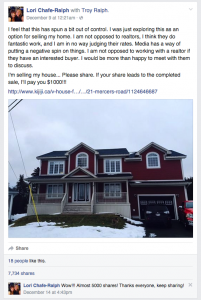 A woman from Newfoundland and Labrador is using social media to help sell her home. Lori Chafe-Ralph has advertised it for sale on Facebook with the promise to pay $1,000 to anyone who helps her sell it. "If your share leads to the completed sale, I'll pay you $1,000!" she wrote on her Facebook page earlier this month. At the time of writing, there were over 7,000 shares.
The 4,200 square foot home has 4 bedrooms, 4 bathrooms and sells for $589,000. It is also listed on Kijiji. While Chafe-Ralph told CBC News that listing the house this way will allow her to save up to $30,000 in realtor fees, her real motivation to simply get her home sold. With thousands of shares through her website, she's obviously been able to market the home to some extent herself, without a realtor.
Going FSBO: How to sell a house by yourself »
And she's not alone. Gord Dan Redmonday is also selling his 3-bedroom Jaffray, B.C. home on Facebook, as well as listing it on other sites. "Realtors charge way too much just to put one ad on the MLS and wait for a response," he writes.