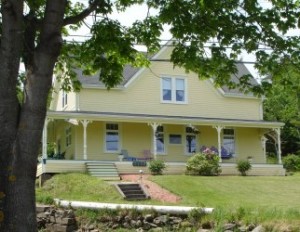 Location: A one- to two-hour drive from | Halifax Price for a waterfront cottage: $85,000 to $400,000
Retirees, young families and people returning from jobs outside of the province are the major purchasers of recreational properties in Nova Scotia. Featuring sandy beaches and a close proximity to Halifax, the South Shore area runs southwest from Halifax Harbour, through the Lunenburg area and the towns of Bridgewater and Shelburne. Dozens of lighthouses and quaint fishing towns with historic streetscapes are scattered all along the shoreline.
Prices for waterfront properties can climb as high as $850,000 in some areas, but according to the Re/Max report, you can find great values in small oceanside communities, where modest cottages can be bought for $120,000. "Things have slowed down considerably this year," says Bert Price, a realtor with Tradewinds Realty in Chester, N.S. "The lakefront cottages are holding steady in price."
The more popular lakes include Big Mushamush Lake, Lake Torment, and Fancy Lake. These lakes are within an hour and a half of Halifax and have several picturesque cottages listed for sale between $200,000 and $350,000. Or have a look at some of the cottages located on the South Shore's many coves, including cottages on Hubley, Hackett's and South Cove.
"The spectacular panoramic views are very appealing to vacationers looking for a recreational property," says Monica Sontrop, a real estate agent with Tradewinds Realty in Chester. If you feel inspired to build your own oceanfront paradise, check out the 1.25-acre lots with 240 feet of frontage on Frost Fish Cove, which start at an affordable $265,000. Then roll up your sleeves and build the cottage of your dreams.