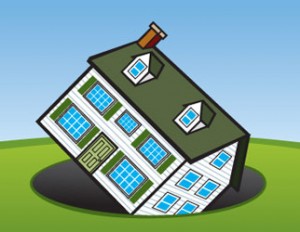 Derek Malcolm freely admits that the last time he got into a real estate bidding war he made some rookie mistakes. It was 2007 and the Toronto condo market was on fire. Nine people were vying for the place he wanted, but it eventually came down to him and another bidder. "Emotions took over," he says. "And then you just keep adding $5,000, and then another $5,000."
He got the place, but it cost him. He estimates he overpaid by about $20,000. "We were unprepared and got caught," he says.
Last month Malcolm was back in a familiar spot. He was bidding on a house and found himself fighting 13 others for it. But this time, the magazine editor gave his top offer and left it at that. If his offer got rejected, he'd walk away. He figured the house would go way above asking, but to his surprise he had the winning bid.
"The key," he says, "was that we were prepared leave it. We bid what we thought was a fair price, and in our price range, and we weren't going higher."
Bidding wars, which are still a common occurrence in some of Canada's major markets, often force people to overpay for their homes. While it's easy to justify increasing a bid by a few thousand dollars—$10,000 won't have a huge impact on monthly mortgage payments—there can be consequences for paying too much.
The biggest problem is figuring out where you'll get the extra money for that abode. Mark Fidgett, the Vancouver-based mortgage broker behind NotaPennyDown.com, says that he generally approves people for the maximum amount, but can't do much for his clients if they bid more for a house than it is really worth.
"If you overpay, you have to come up with the cash," he says. "You won't get more money." For this reason, Fidgett cautions people to not waive their financing conditions in a bidding war. Some will remove all conditions to get a better chance of getting the house, only to find out later that they can't squeeze any more money out of their mortgage lender.
Another problem with overpaying is that if the house goes for above asking, the Canada Mortgage and Housing Corporation could send an appraiser to assess the value of the property. If the appraiser says the house is worth less than the selling price, you may not get as much of a mortgage loan as you had hoped.
Fidgett explains, people who put less than 20% down on a house have to have their place insured by the CMHC or another mortgage insurance company. The CMHC will agree to insure, at most, 95% of home's value, based on the asking price. But if the insurance company appraises the value of the house at less than asking, your financial institution may reduce what it's willing to give you since it will no longer be insured for the amount it originally intended to lend.
You can still buy the house, of course, but you'll have to make up the difference. If you were only putting 5% down on a $650,000 house, the bank's original loan would be $617,500, or 95% of the asking price—the amount it's insured for. If the appraised value is $550,000, the bank can still give you 95% of the price, but that loan will have dropped to $522,500. If you want the home badly enough you'd have to find $127,500 yourself.
This potential mess can be avoided if you spend $400 to hire an appraiser before you bid, says Ann Bosley, vice-president of Toronto's Bosley Real Estate. It's less important if you're putting 25% down, but if you don't have any extra dough, and the house is determined to be worth less than what you've been approved for, then you may be out of luck. Talking to an appraiser before getting into a bidding war will also make it easier to walk away if the bids get out of control.
However, Bosley does point out that overpaying isn't necessarily a bad thing, depending on how long you want to live in the house. "If you're in there five years, you're fine," says Bosley, who points out that that home prices in the Greater Toronto Area increased, on average, 8% in 2011.
If you're buying the home you'll live in for 30 years then the price tag becomes even less important, she explains. "Look at how much a house cost three decades ago," she says. "It was under $100,000."
Of course, no one wants to be house poor, so paying too much for a home, even if it's the one you'll be in for years, isn't a wise idea. As badly as Malcolm wanted to own a house, he wasn't prepared to put his family at financial risk.
"This buying experience was a lot different than my first one," he says. "We really liked the house, but we weren't going to get sucked in. We had to be honest with ourselves. We crunched the numbers, did the math and went in with what we could afford."