In the market for a condominium in Toronto and curious how much it will cost you? We collected data on more than 7,000 sales to answer that exact question by pinpointing the average price per square foot of condos across the city.
The study's findings put front and centre how the price per square foot (ppsf) in Toronto has never been higher. The city-wide average for Toronto was found to be $629, a 26% jump from the same time last year.
Arguably the most shocking fact was that average sold prices of condominiums in downtown hit $801 psf – up an even more pronounced 28%. However, prices of course vary by neighbourhood (as showcased in the chart).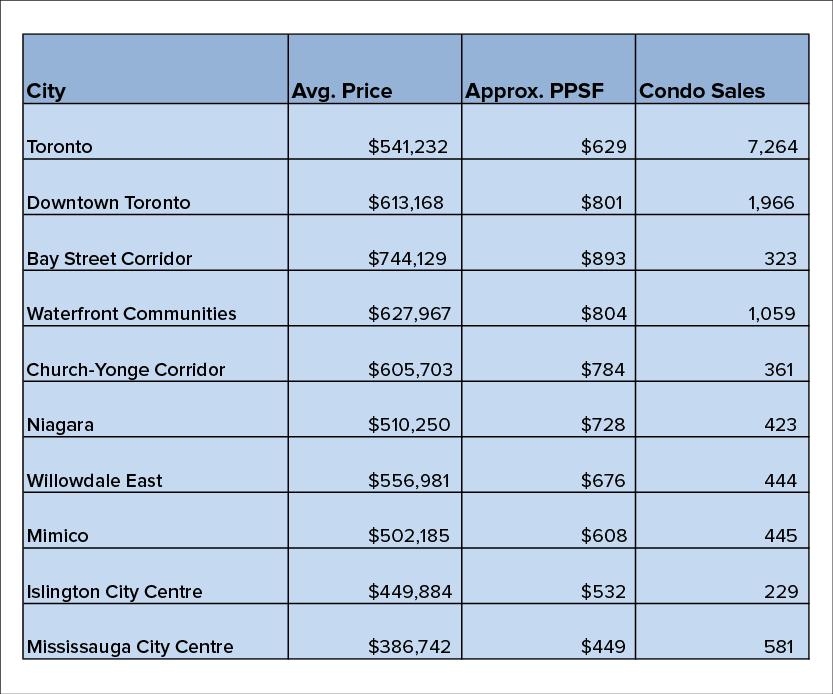 Notes:
Waterfront Communities primarily overlaps with downtown's Fashion and Entertainment Districts
Niagara includes notable areas Liberty Village and Fort York
Why psf is the measure to watch
By analyzing prices of condos relative to their dimensions, buyers and sellers are made more aware of what units are going for and can, therefore, make more informed decisions with a relevant comparison.
For example, if a one bedroom condominium is priced at $300,000 and the overall average price of units in the area is $400,000, it may seem like you're getting a deal.
However, when accounting for size, you may find you are paying $700 psf, while other units tend to go for $600. As a result, it is actually overpriced relative to how big (or more appropriately, how small) the condo is. Moreover, price psf makes it easier to compare prices across different areas. Especially if one neighbourhood has smaller properties compared to another.
How we crunched the data
In simple terms, price per square foot is calculated by taking the average sold price of condominiums in a particular area and dividing that figure by the average size of units. (The Multiple Listings Service (MLS) provides square feet information based on ranges.)