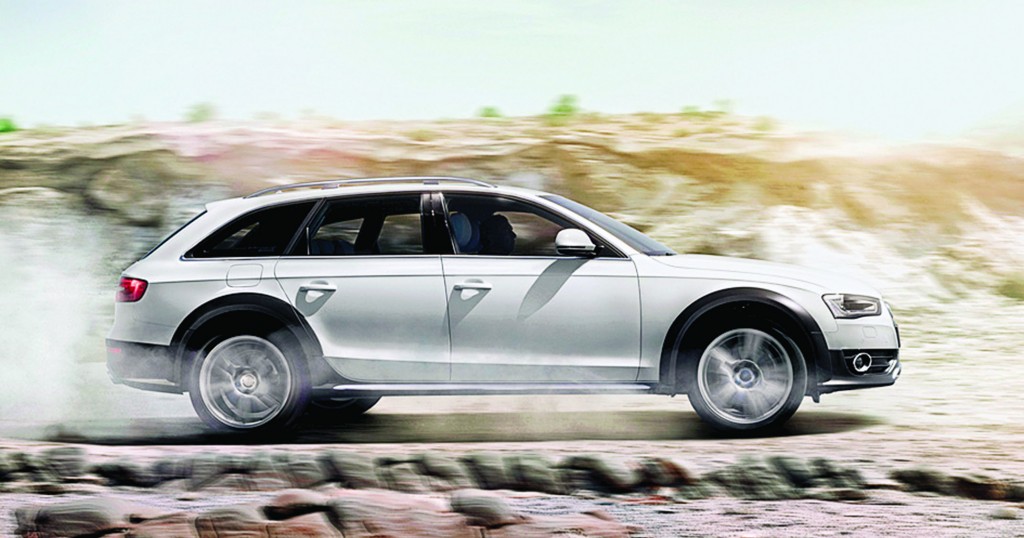 If you grew up in the '70s, station wagons conjure up memories of bumpy road trips with a sibling poking you in the ribs while dad threatens to turn the car around. Today, those same siblings have kids of their own and they're looking for vehicles that blend the road manners of a sedan with the practicality of a compact SUV. Enter the new breed of station wagons. Sporty and stylish, the modern wagon can handle all the luggage you can throw at it and still move you about with a surprising amount of fun. Our auto panel takes a look inside five of the top wagons for 2015.
Audi A4 allroad $46,600-$53,000
Our top pick, the allroad model is basically an Audi A4 sedan on steroids with a higher ground clearance, all-wheel drive and some lower body cladding. It's a safe bet for ploughing through the worst of winter. Automotive Report's Tim Dimopoulos lauds the car's "great fuel economy, very good poor-weather performance and fantastic transmission." The Globe and Mail's Petrina Gentile likes the allroad's rugged good looks and elegant cabin. "I love the design, styling and practicality of it. But what really sets it apart is its upscale interior. It's well-crafted and elegant in its execution." Motivating the allroad is a two-litre, turbo-charged, four-cylinder engine. Ron Corbett of the Automobile Protection Association (APA) says the motor provides "good power and a massive wallop of torque" but it isn't particularly smooth or quiet.
Subaru Outback $27,995-$40,095
Subaru is famous for its rally-inspired engines and dependable all-wheel-drive system. It also compares very favourably with cars costing much more. "The Outback accomplishes it all for a better price," says the Toronto Star's Nika Rolczewski. Automotive talk show host Dave Redinger stresses that the Outback inspires fierce loyalty among owners, "because it really doesn't have any flaws." It's also built on a bigger frame than most competitors, which makes for a roomier ride for passengers and a more spacious trunk.
BMW 328i xDrive Touring $47,850-$51,100
Corbett says the BMW Touring comes with a cargo area "that is versatile and nicely trimmed." It also doesn't disappoint on driving dynamics. "It's agile, nimble, sporty and fun to drive," Gentile says. A turbo-charged, four-cylinder engine replaces the six-cylinder powerplant in previous models, but Redinger says the smaller engine outperforms the old one while delivering better fuel economy. Just watch the options: Dimopoulos says the price can shoot up fast.
Volvo V60 T5 AWD $42,000-$51,200
The Volvo V60 wagon attracts buyers who prize both aesthetics and safety. "Volvos used to be the cars Chicken Little would buy for safety, but they have gone from boxy to sexy," says Rolczewski. The V60 all-wheel-drive is more of a "stylish, lifestyle conveyance" than a backwoods adventurer, says Corbett. Redinger, a retired mechanic, stresses the engines are bulletproof. "When I was on the bench and a Volvo came in for service the odometer readings were unbelievable. A 15-year-old car with 300,000 km ran like new."
Toyota Venza $29,510-$33,065
The Venza has the biggest cabin on our list with enough room in the back for three adults to squeeze in with reasonable comfort. "It has a spacious and well-designed cabin with easy entrance and egress into the vehicle, which is a benefit for the aging population," notes Gentile. It's available with either a four- or six-cylinder engine, but while the smaller powerplant is the most popular choice with buyers, Dimopoulos says the bigger engine is nearly as frugal on gas. On the road, the Venza is tuned for comfort.
EXPERT PANEL
Petrina Gentile automotive journalist for the Globe and Mail
Ron Corbett automotive editor at the Automobile Protection Association
Dave Redinger automotive expert and radio host
Nika Rolczewski automotive columnist for the Toronto Star
Tim Dimopoulos host of the Automotive Report on 680 News
HOW WE CAME UP WITH THE RATINGS
Scores listed are out of 10; the higher the number, the better. Cost of ownership data and predicted reliability data comes from Consumer Reports. Safety data comes from the Insurance Institute for Highway Safety and the U.S. Department of Transportation. Driving experience is the average of scores provided by our expert panel. To determine our top car, we allocated 20% of the overall score to cost, 20% to predicted reliability, 10% to safety and 50% to driving experience.