With fuel costs hitting record highs this summer, you'd think big SUV owners would be abandoning them by the side of the road and hitchhiking home from the cottage. Instead, sales of full-size sport utility vehicles are skyrocketing along with the price at the pumps. That's because these brawny trucks offer the passenger and cargo space of a minivan—but without the soccer mom stereotyping. They also offer lots of pull for any towing need. But which of these behemoths deserves MoneySense's "Best Deal" designation? Our expert panel weighs in.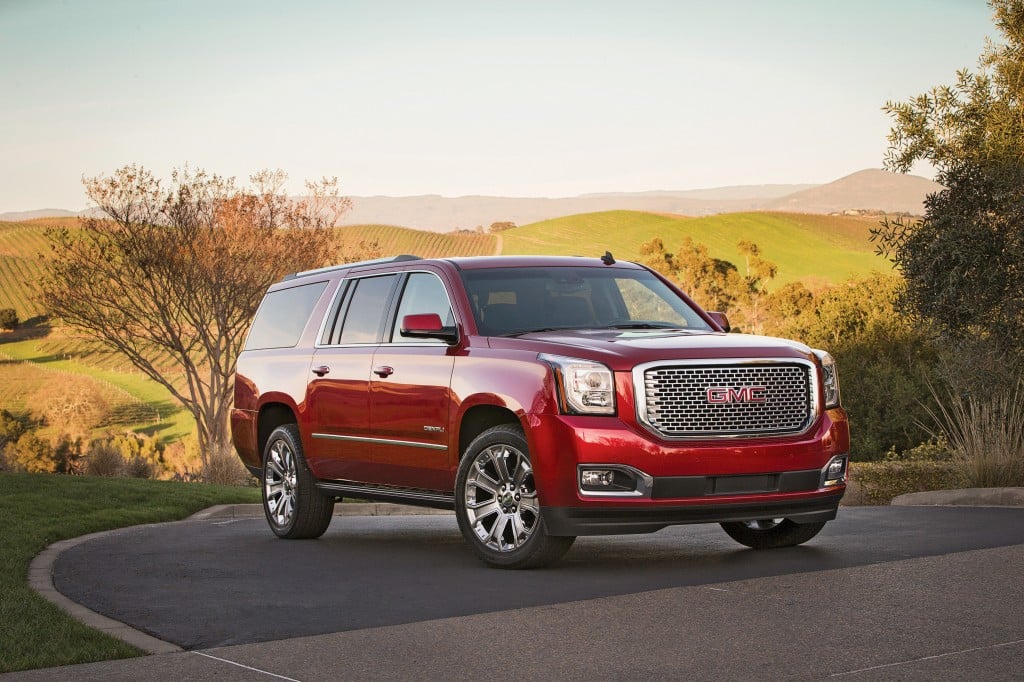 Best Deal!
Chevy Tahoe/GMC Yukon | $46,565-$73,540
These Chevy and GMC twins are by far the biggest sellers in Canada and they're also our big winners this month. They're a little pricey, but the XL versions can stuff up to nine adults inside and handle any road in any condition. And with a new interior and other improvements for the 2015 model, the competition is going to have an even tougher time keeping up. "The new Tahoe looks crisp and tailored and the cabin is a big upgrade from the trucks they replace," says Ron Corbett of the Automobile Protection Association. For those with a boat or camper to hitch up, the towing capacity on the all-wheel-drive model is a generous 8,300 lbs. "The Tahoe/Yukon is meant to pack and haul, and it's never intimidated by bad roads or weather," says automotive writer Nika Rolczewski.
Cost of ownership: 2
Safety: 9.5
Predicted reliability: 8
Driving experience: 8.5
2nd place
Dodge Durango | $39,995-$52,495
Running a close second, the Durango looks smaller than most of the competitors here, but Corbett of the APA says it actually makes better use of its interior space thanks to a traditional SUV design that borrows heavily from the popular Jeep Grand Cherokee. It's also a pleasant drive. Available in a V6 or V8 version, both engines can pull a substantial load. It has the lowest starting price of our five picks, but automotive expert Dave Redinger cautions that the cost can rise quickly with options "if you tick all the boxes."
Cost of ownership: 2
Safety: 9
Predicted reliability: 6
Driving experience: 8
3rd place
Ford Expedition | $49,524-$63,681
The Expedition received a freshened look for 2014 but hasn't changed much in the last seven years. A makeover in 2015 should boost its fortunes, but truck expert Howard J. Elmer says Ford is still a smaller player in the full-size SUV segment. "GM owns most of this market but for Ford purists it does the full-sized SUV thing very well," he says. Ford's Ecoboost engine helps to numb the pain at the gas pumps and our experts also liked the nicely appointed interior and pleasant road manners.
Cost of ownership: 2
Safety: 8
Predicted reliability: 6
Driving experience: 7.5
4th place
Toyota Sequoia | $53,385-$68,275
The Sequoia can run with the big boys. It seats eight and has a full menu of tech options for comfort and safety. Redinger describes the Sequoia as "a well-assembled machine with a nameplate that oozes reliability" and Elmer calls it "top of the line in every respect." But the truck disappoints on price and towing capacity. The standard V8 engine is no more powerful than the V6 Durango for hauling and the engine is noisy when pushed. And though it has aged well since its 2008 debut, it's due for a revamp.
Cost of ownership: 2
Safety: 8
Predicted reliability: 8
Driving experience: 6.5
5th place
Nissan Armada | $59,178
The Armada is a bit player in this segment despite having the highest towing capacity at 8,900 lbs of pulling power. But it gets poor marks for its dated styling and mechanics. "The Nissan Armada does all it strives to do but the competition does it better," says Rolczewski. "Unlike cheese and wine, the Armada doesn't improve with age." The Globe and Mail's Petrina Gentile also faults the truck for a bone-jarring ride on backroads and cramped seating in the third row. It's available in just one take-it-or-leave-it model.
Cost of ownership': 2
Safety: 6
Predicted reliability: 2
Driving experience: 7
How we came up with the ratings
Scores listed are out of 10; the higher the number, the better. Cost of ownership data and predicted reliability data comes from Consumer Reports. Safety data comes from the Insurance Institute for Highway Safety and the U.S. Department of Transportation. Driving experience is the average of scores provided by our expert panel. To determine our top car, we allocated 20% of the overall score to cost, 20% to predicted reliability, 10% to safety and 50% to driving experience.
Expert Panel
Petrina Gentile: Automotive journalist for the Globe and Mail
Ron Corbett: Automotive editor at the Automobile Protection Association
Dave Redinger: Automotive expert and radio host
Nika Rolczewski: Automotive columnist for the Toronto Star
Howard J.Elmer: Journalist and organizer of the Canadian Truck King Challenge