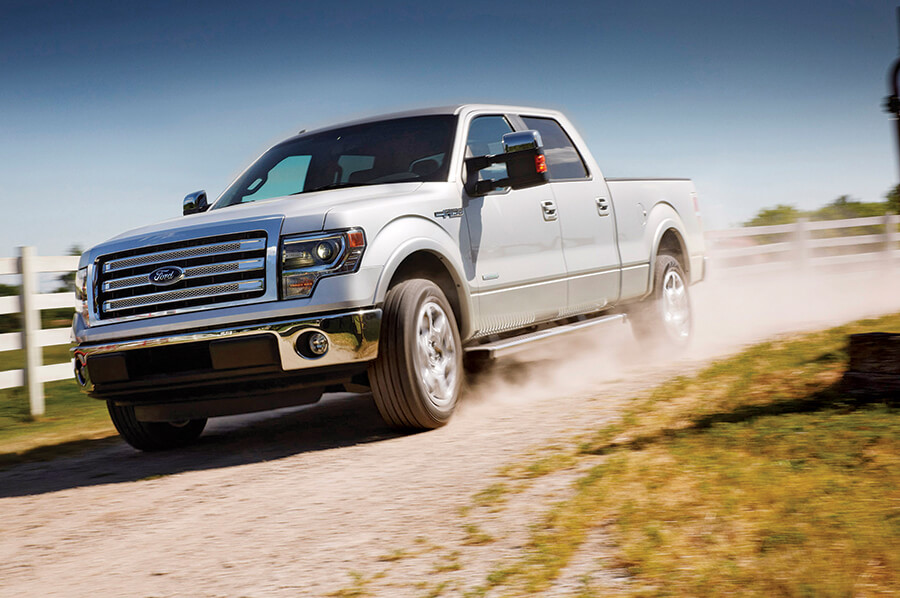 They're big, brutish and fuel-thirsty, yet their popularity remains undiminished. Full-sized pickup trucks account for the largest number of new vehicles sold in this country each year and a good chunk of those sales are to everyday Canadians who neither own a farm nor work in construction. The perennial sales champ is the Ford F-150, outselling not only every other full-size truck, but also every other vehicle of any kind. But does it really deserve the crown it has worn year after year? We asked our expert panel to put the top five trucks to the test to see which one is really king of the hill.
BEST DEAL!
Ford F-150 | $19,999-$68,195
It would be easy to coast on your laurels after an incredible 47 years as the best-selling truck in Canada, but Ford continues to innovate and improve the much-vaunted F-150. "Ford's tech efforts (particularly the V6 EcoBoost engine) have made it the one to beat and its current spot as market leader has inspired its competitors in ways that will pay off nicely for consumers," says Howard J. Elmer, journalist and organizer of the Canadian Truck King Challenge. Available in 10 different trim lines, there is an F-150 for every need and budget. And with hefty factory discounts of up to $12,000, this truck may also offer the best value of the bunch. Still, Ron Corbett of the Automobile Protection Association (APA) says Ford has now fallen "behind GM and Ram in regards to quietness and 'shudder' over bumps."
2nd place
Dodge Ram 1500 | $19,995-$42,595
This big beast wins on looks with many of our experts and owns bragging rights to the Motor Trend Truck of the Year award. "It's arguably the best-looking and offers that bulletproof Hemi engine," says auto writer Jil McIntosh. The exterior of the Ram is certainly distinctive, but it's what's under the hood that counts. "The incredible improvements in performance, technology and driveability overshadow the minimal design changes on the exterior," says Nika Rolczewski. Dodge also claims best-in-class fuel efficiency.
3rd place 
GMC Sierra/ Chevrolet Silverado | $27,205-$43,875
These two entries from General Motors were lumped together by our panel because they are essentially identical under the skin. For 2014, both models were revamped from top to bottom. "GM has always been a contender, but the new interiors, powertrains and fuel-saving engines now make it a challenger," says Elmer. The APA's Corbett calls the Silverado "the standout" of its recent testing of full-size trucks. Discounts aren't as generous as the Ford F-150 yet, but our experts predict bigger savings down the road.
4th place
Toyota Tundra | $26,750-$53,700
Japanese automakers are still struggling to make a serious dent in full-size truck sales and Toyota hopes its retooled Tundra will do the job for it. Mohamed Bouchama of Car Help Canada likes what he sees but laments the high sticker price. "The Tundra is probably the best truck but the price is too expensive." Our other experts felt the Tundra couldn't compete with the category leaders. "I just can't see a rugged cowboy driving a Tundra," says Rolczewski. "There are much more capable vehicles out there."
5th place
Nissan Titan | $33,898-$39,898
While it has proven to be a reliable choice, few people have chosen to park a Titan in their driveway. With a design that's now 10 years old and an engine that guzzles gas, the Titan is an old school heavy hauler. "It hauls well enough, but is showing its age with a dated interior and older driving dynamics," says McIntosh. A makeover is on the way next year, but our experts say the Titan has a lot of catching up to do. "On the road, the cabin is noisier than the other vehicles and the ride is significantly choppier," says Corbett.
Expert panel
Howard J. Elmer: Journalist and organizer of the Canadian Truck King Challenge
Ron Corbett: Automotive editor at the Automobile Protection Association
Mohamed Bouchama: Executive Director of Car Help Canada
Nika Rolczewski: Automotive columnist for the Toronto Star
Jil McIntosh: Auto writer with the Toronto Star and Metro
How we came up with the numbers
Scores listed are out of 10; the higher the number, the better. Cost of ownership data comes from Edmunds.com. Safety data comes from the Insurance Institute for Highway Safety and the U.S. Department of Transportation. Reliability data comes from Consumer Reports. Driving experience is the average of scores provided by our expert panel. To determine our top car, we allocated 20% of the overall score to cost, 20% to reliability, 10% to safety and 50% to driving experience.