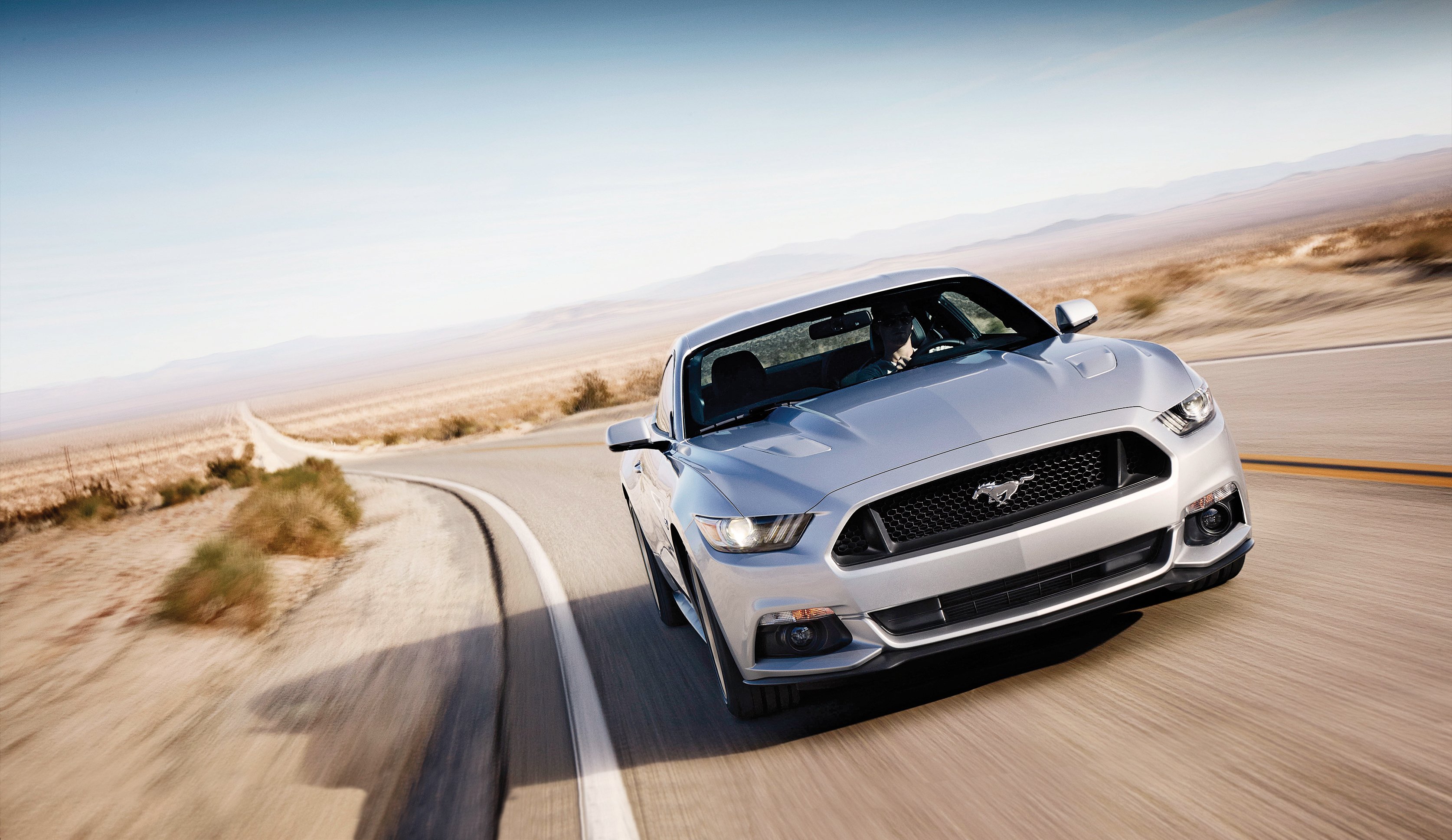 For some, a new vehicle must first and foremost be practical and affordable. But for others, a new car is a chance to release your inner race car driver. If you're the type who gets mesmerized by TV ads highlighting gleaming chrome and the sound of finely tuned engines, you're probably in the latter category. We asked our expert panel to pit five muscular machines against each other to see which offers the best balance of white-knuckle thrills and solid value. The results prove that nostalgia and modern technology can create a winning combination.
Best deal!
Ford Mustang | $21,999–$61,699
Our top pick has timeless looks and a heritage that oozes cool. The aptly named Mustang also has plenty of horses under the hood and a definite edge on pricing, according to Ron Corbett of the Automobile Protection Association. "It's the bestseller by a large margin and it has the cheapest monthly payments." For many, the Mustang is a chance to relive their youth by acquiring the car they dreamed of owning as a teen. "You may forget Grade 12 algebra, but you will never forget your first drive in a Mustang," says freelance auto writer Nika Rolczewski. Even the smaller V6 engine gets praise and the retro looks just seal the deal for our critics. "The inside looks as good as the outside, and it's fantastic fun on the road, which is ultimately what you want any sports coupe to be," says auto journalist Jil McIntosh.
2nd
Dodge Challenger | $26,995-$50,195
The Dodge Challenger is another retro revival and the roomiest of our five picks. It can accommodate five adults in reasonable comfort and still stuff more into its trunk than the competition. "It's big, it's heavy and it works best in a straight line," says McIntosh, "but I like retro cars, and this one updates the original 1970 to 1974 Challenger in near-perfect proportions without being a carbon copy." Pricing starts higher than the Mustang on the V6 models, but the Challenger has a lower starting price on the more powerful V8 versions.
3rd
Chevrolet Camaro | $28,495-$77,400
Rounding out our top three is yet another ride through North American automotive history. The Oshawa, Ont.-built Camaro has been a big hit for GM with its '60s-themed dashboard and low-slung profile. This one is a bit pricier than our top two picks, but Corbett says the payments are comparable on the V6 engine models. The Globe & Mail's Petrina Gentile praises the Camaro's "serious muscle power and good all-around looks," but notes the rear seats are useless for adults and the small back window makes rearward visibility difficult.
4th
Hyundai Genesis Coupe | $26,499-$38,799
If nostalgia isn't your thing, this coupe is an affordable way to put some thrills into your daily drive. The two-door version impresses with its driving dynamics and five-year comprehensive warranty. McIntosh calls it "big, brawny and sporty," while Rolczewski declares it "a very polished car with all the gadgets you would expect on a vehicle double the price." Corbett says reliability is expected to be average or better, but there is little data on owner complaints and crash test results.
5th
Infiniti Q60 Coupe | $46,800-$49,300
Similar to the Genesis, the Q60 is technically more of a sports coupe than a muscle car, but this Japanese-built beauty makes a statement with its power and style. Gentile likes the car's sharp handling and spirited ride, while auto radio host Dave Redinger gives top marks for the Q60's sophisticated interior. Still, all that luxury comes with a premium entry price. Some of our writers found the Q60 a little "sterile," lacking the passion for driving that some of our top picks inspire.
Expert Panel
Jil McIntosh: Auto writer with the Toronto Star and Metro
Dave Redinger: Automotive expert and radio host
Nika Rolczewski: Freelance writer and former racecar driver
Petrina Gentile: Producer of CTV and BNN's Car/Buiness
Ron Corbett automotive editor at the Automobile Protection Association
How we came up with the numbers
Scores listed are out of 10; the higher the number, the better. Cost of ownership data and predicted reliability data comes from the Automobile Protection Association. Safety data comes from the Insurance Institute for Highway Safety and the U.S. Department of Transportation. Driving experience is the average of scores provided by our expert panel. To determine our top car, we allocated 20% of the overall score to cost, 20% to predicted reliability, 10% to safety and 50% to driving experience.