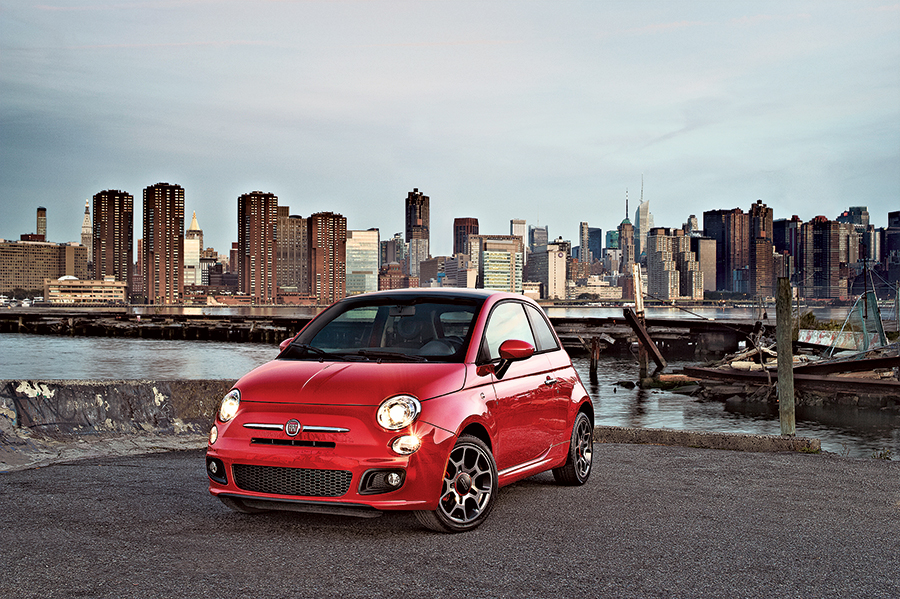 Driving a tiny car is a sure-fire way to make heads turn, but these vehicles offer more than just novelty—they can be incredibly practical for urban living. For one thing, cars like the smart fortwo or the similarly minuscule Mini Cooper are a breeze to park and sip fuel with such dainty elegance they would probably raise a pinky at the pumps if they could. If you tend to travel solo or as a couple, and don't have bulky loads to haul, a pint-sized vehicle may just be the thing for you. We asked our expert auto panel to test drive the top tiny cars on the market. Here are the best of the bunch, based on cost of ownership, safety, reliability and driver experience.
BEST DEAL!
Fiat 500 | $13,495 – $23,495
Oozing style and retro chic, the rebirth of the Fiat brand in North America has captured the imagination of buyers who adore this attention hog. "I own a (Fiat 500) Abarth and love it," says auto writer Nika Rolczewski. "My car is a magnet for smiles and conversation." Built by Chrysler in Mexico for the Canadian and U.S. markets, the 500 is powered by a peppy 1.4-litre engine and can seat four, although the back is best reserved for smaller passengers on short outings. Ron Corbett of the Automobile Protection Association (APA) says the six-speed automatic transmission helps the Fiat gather speed quickly and notes the car "handles highway speeds with ease." Pricing for the 500 starts south of $14,000, but the APA recommends the Sport model at $20,395 as the best value.
2nd
Mini Cooper | $23,950 – $36,900
This retro revival is the car our panelists enjoyed driving most. Thanks to oversight from BMW, our panelists say the Mini offers maximum performance and driving thrills. "It's the most fun and one of the best designs on the road," says Quebec-based journalist Nadine Filion. It's the roomiest of our picks inside but also has one of the priciest stickers on the outside. Mohamed Bouchama of Car Help Canada cautions buyers that reliability may be a sore point for some owners.
3rd
Scion iQ | $17,115
Built by Toyota, the Scion iQ is a more dependable choice and the smallest four-seater you can buy in Canada. Auto writer Jil McIntosh says its handling is surprisingly good but there is no trunk space at all if you have the rear seats in place. Attempting to fit two adults in the back also requires some unnatural folding of limbs, but those tight dimensions do make parking and navigating tight urban streets a breeze, says the APA's Corbett. Only one model is offered but it has a decent level of standard options.
4th
Smart fortwo | $14,400 – $20,900
The original modern micro car in Canada, smart fortwo, is so small-minded it doesn't even require capital letters. First launched on our shores in 1999, the car is getting a little long in the tooth but some of our experts say it's a surprisingly comfortable and capable highway cruiser. Rolczewski, however, calls it a "glorified shopping cart," while others lament the lack of a back seat and an anemic, 70 horsepower engine that struggles to get going and shifts a little harshly.
Expert panel
Nadine Filion: Award-winning automotive journalist based in Montreal
Ron Corbett: Automotive editor at the Automobile Protection Association
Mohamed Bouchama: Executive director of Car Help Canada
Nika Rolczewski: Automotive columnist for the Toronto Star
Jil McIntosh: Auto writer with the Toronto Star and Metro
How we came up with the numbers
Scores listed are out of 10; the higher the number, the better. Cost of ownership data comes from Edmonds.com. Safety data is from the Insurance Institute for Highway Safety and the U.S. Department of Transportation. Reliability data comes from Consumer Reports and J.D. Power. Driving experience is the average of scores provided by our expert panel. To determine our top car, we allocated 20% of the score to cost, 20% to reliability, 10% to safety and 50% to driving experience.