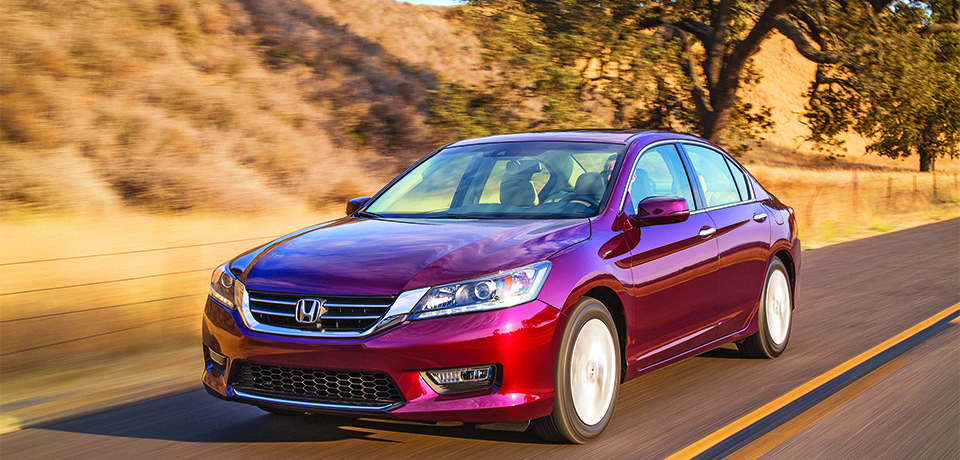 Long before minivans and SUVs began crowding driveways there were the ubiquitous mid-sized sedans. They were big enough to take a family of five on the road and yet still easy to park and relatively painless to fill at the pumps.
Since those days, sedans have slipped in popularity as bigger and brawnier people movers began to populate dealer lots. But for quite a few people, sedans are still a sensible choice that strikes a good balance between performance and practicality. For those buyers, we asked our expert panel to rank their top five picks in the mid-sized sedan segment.
Honda Accord
$24,050-$34,130
Typically at or near the top of every comparison ever written about mid-sized sedans, the Accord is our best pick this year for its class-leading dependability, value and comfort. "The Accord does nearly everything well and has very few faults," says Ron Corbett of the Automobile Protection Association. Available with a four- or six-cylinder engine, our experts say most drivers should be content with the more economical engine, but the bigger power plant can add a little excitement to your daily drive. The 2015 Accord also comes with some innovative features like Honda's Lane Watch system, which displays a view of the car's right-hand blind spot when you activate your turn signal. For added peace of mind, the Accord has also earned top honours in rollover and crash testing.
Toyota Camry
$23,850-$34,550
Running a close second is the Camry. A total makeover in 2015 means improvements in ride, handling and styling. But it's the Camry's reputation for "bullet-proof reliability and proven engines," says auto journalist Tim Dimopoulos, "that makes it a solid, no-regret choice for most buyers." Still some of our experts find the Camry a little sleep-inducing at the wheel. "It's comfortable and secure but it's not as exciting to drive as some competitors," laments auto writer and TV regular Petrina Gentile.
Hyundai Sonata
$23,999-$34,799
The South Korean upstart is nipping at the heels of its competitors. A big part of that success can be traced to the Sonata's sense of style, value for money and Hyundai's impressive five-year warranty. "It's well-built and feature-rich which makes it well worth the sticker price," says Dimopoulos. Corbett says the newest design is "visually less flamboyant than its predecessor" but the interior is chic. It gets top marks for fuel economy but auto columnist Nika Rolczewski found "driving for a long period of time uncomfortable."
Ford Fusion
$21,999-$40,599
Despite placing fourth, the Fusion is the top-selling mid-sized sedan in Canada thanks to its pleasing looks and attractive base price. Rolczewski calls it a "wolf in sheep's clothing" while Gentile praises its "great styling and handling." "There are a lot of engine choices, but the naturally-aspirated 2.5-litre gives you enough power for most driving," advises auto writer Jil McIntosh. Panelists like the Aston Martin-style grille and the self-park features but they weren't impressed with the glitchy MyFord Touch system.
Chevrolet Malibu
$25,040-$34,815
At No. 5 is a car whose nameplate harkens back to the 1960s. Recent refinements enhanced the styling, legroom and powertrain and, along with a new 2.5-litre, four-cylinder engine, makes the Malibu a "quick, quiet and solid drive with a pleasant ride-handling balance for a family sedan," says Corbett. McIntosh calls the Malibu an "underrated model that deserves a second look" while Gentile says its innovative OnStar with 4G and LTE service can turn your car into a portable Wi-Fi hot spot for the whole family.